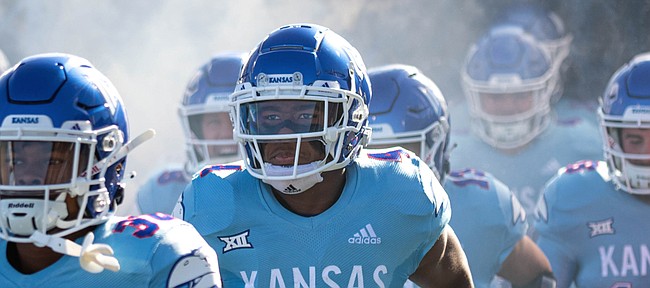 Midway through his first season with the Kansas football program, true freshman Devin Neal — KU's third option at running back in Week 1 — has become an integral part of what the Jayhawks want to do offensively.
His coaches say Neal, a former star at Lawrence High and the top-rated prospect in KU's freshman class, ascended not only because he started running more physically and confidently over the course of the past couple of months, but also because he now has a much better handle for all that goes into playing running back at the college level.
KU head coach Lance Leipold said Neal's understanding of his responsibilities in blitz situations and pass protection has improved, as well as his feel for the offense's blocking concepts and the patience that's needed at times as a runner.
"All of those things, he's just going to keep getting better and better," Leipold forecasted.
As KU enters perhaps its most daunting game of the season, a Saturday matchup with No. 3 Oklahoma (7-0 overall, 4-0 Big 12) at David Booth Kansas Memorial Stadium (11 a.m., ESPN), Neal has established himself as the focal point of the Jayhawks' rushing attack.
Prior to Neal's emergence, KU's running game was behind schedule. So much so, in fact, that quarterback Jason Bean spent the first five games as the team's leading rusher on the season, before Neal finally surpassed Bean (65 rushes, 303 yards) in KU's most recent loss to Texas Tech.
Halfway through the 12-game schedule, Neal leads KU with 69 carries and 318 rushing yards (4.6 yards per carry and 53 yards per game), and he has scored two touchdowns on the ground. What's more, the freshman's numbers are better since Neal became the starter in Week 4, after junior Velton Gardner left the program and entered the transfer portal. In starts against Duke, Iowa State and Texas Tech, Neal is averaging 81.3 yards per game and 5.19 yards per carry.
Neal's 107 yards on 17 rushes at Duke gave him the most rushing yards by a Jayhawk this season and were the most by any KU rusher since Pooka Williams ran for 116 yards versus Baylor in the team's 2019 season finale.
The progress Neal has made since the first game of the season, when he only had one carry for one yard, he said has a lot to do with him trusting the play and the offensive line when he gets the ball.
"We just keep getting better, I think, as an entire unit, just executing the plays that are on the game plan. I'm just going to keep building off that," Neal said. "I"m not really too concerned with my own individual performance. As long as I can do anything to help my team win the game or (do) what our job is, to score points, then I'm satisfied."
Scoring hasn't come easily for KU this year, especially in Big 12 play (9.3 points per game). None of the Jayhawks' starters had much to be happy about following this past week's 41-14 homecoming loss to Texas Tech. As the entire offense struggled to produce, Neal ran 15 times for 54 yards.
As Leipold put it after the latest loss for the Jayhawks (1-5, 0-3), the stats weren't "eye-popping" for Neal.
"But I think he continues to run hard," Leipold added.
Before Neal worked his way up the depth chart, there were aspects of his running style that coaches told him needed to be addressed, such as his pad level, making decisive cuts and running north and south, Leipold said.
The young 5-foot-11, 210-pound running back listened.
"He's really embraced being coached," offensive coordinator Andy Kotelnicki said. "He's a super-coachable young man. He understands there's plenty of room for growth and he's doing some things really well."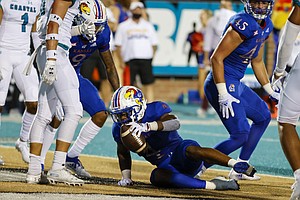 One quality Neal has shown in recent weeks, Kotelnicki added, is a "fall forward mentality" when he's finishing a play.
"If someone's going to tackle me," the O.C. said of Neal's approach, "I'm going to be running through arm tackles."
Kotelnicki said Neal has come "a long way" as a running back just since the season began, and keeps taking steps forward.
Leipold said sometimes the individual improvements of a player can go under the radar with everything that's happening during a season. The head coach said he has really enjoyed watching Neal's growth.
"That's exciting for our future," Leipold said.
Neal had what lies ahead for the long struggling program in mind when he decided to play for his hometown team. The true freshman said after KU's loss to Texas Tech he obviously was disappointed.
"But at the end of the day I came here for one reason, and that's to turn things around," Neal said. "We've just got to stay tight as a unit."
Heading into the last half of the season, Neal said KU's offensive players need to focus on "the little details of each and every play" more.
"Because sometimes we're just one block away or one small detail away from making a small gain into a big play," Neal said. "We've just got to keep getting better at doing that."