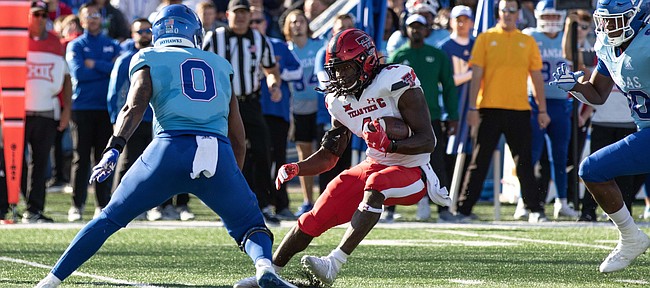 As head coach Lance Leipold summed it up after his Kansas football team's 41-14 loss to Texas Tech on Saturday, "a lot of different things in a lot of different areas" didn't go as planned for the Jayhawks.
Defensively, one of KU's more significant problems was a lack of third-down stops. The Red Raiders cruised to a road win with the help of a 9-for-11 success rate on third downs.
Leipold expressed his disappointment with that part of the game in particular, noting Tech (5-2 overall, 2-2 Big 12) set itself up for success by regularly operating in manageable situations when faced with a third down.
In fact, the Red Raiders converted five times on third-and-1, once on third-and-2 and twice on third-and-4. They also picked up a third-and-11, but failed on a third-and-8 and third-and-14.
Junior linebacker Rich Miller said after the fifth loss in a row for KU (1-5, 0-3) that the defense made too many mistakes.
"Sometimes we'd have them bottled up, it might be third-and-medium or something," Miller said. "We just couldn't capitalize and get off the field. It's just something little that we probably practiced. But we just slipped up and gave it up."
Tech only had 11 third-down plays on its 10 possessions — and Tech just took a knee to finish the game on its final series — and didn't punt once against the Jayhawks. Even in KU's blowout losses to Baylor and Iowa State, the Bears punted twice and the Cyclones kicked it away three times.
Getting off the field on third downs has been difficult for KU's defense throughout the team's losing skid. Entering Week 8 of the college football season, the Jayhawks rank 130th — dead last — in third down defense, with opponents converting 56.52% of their chances.
Veteran safety Kenny Logan Jr. said following KU's latest one-sided conference loss that the defensive players have to keep striving to get better.
Logan, a junior defensive back in a mostly young secondary, said the Jayhawks can't allow themselves to be demoralized after a loss like they just had.
"I just think it's something we've got to do internally," Logan said. "Just keep our heads up and go to the next week. We've got to keep fighting. We can't hang our heads on something like that."
Grunhard returns
After missing four games due to injury, offensive lineman Colin Grunhard returned for the Jayhawks in the homecoming loss to Texas Tech.
Although redshirt freshman Michael Ford Jr. remained KU's starting right guard, Grunhard came in late in the game, along with many other reserves, for the Jayhawks' last two possessions, both of which resulted in touchdowns.
A 6-foot-1, 290-pound graduate transfer from Notre Dame, where he was a walk-on, Grunhard started in KU's Week 1 win over South Dakota. The veteran O-lineman was slowed by an injury during the preseason and tried to play through some pain in the opener. KU's staff then decided Grunhard should take some time off in order to get healed up.
Early start for KU-OU
KU will have its first 11 a.m. kickoff of the season on Saturday, when No. 3 Oklahoma visits David Booth Kansas Memorial Stadium.
The matchup between the Jayhawks and the unbeaten Sooners (7-0, 4-0) will air nationally on ESPN.
Night game in Stillwater
The Jayhawks' second of back-to-back matchups with Big 12 powers from the state of Oklahoma will come under the lights in Stillwater, in Week 9. The Big 12 announced Monday the KU-Oklahoma State game on Oct. 30 will kick off at 6 p.m. and be televised on FOX Sports 1.
Currently ranked No. 8 in the country, the Cowboys (6-0, 3-0) are coming off a 32-24 win at Texas and will play at Iowa State this Saturday, ahead of their home game with the Jayhawks.
The KU-OSU matchup will be the fourth night game for KU this season.