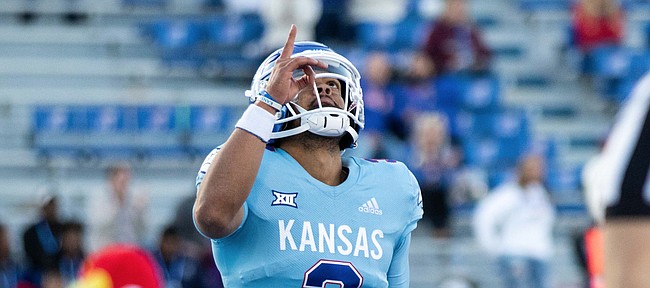 By the time the Kansas football offense finally reached the end zone Saturday in a 41-14 loss to Texas Tech, starting quarterback Jason Bean's day already had come to a close.
Reserve Miles Kendrick ended up being the QB who got the Jayhawks on the scoreboard — twice in the game's final minute.
"The score's 41-0," KU head coach Lance Leipold said of his decision to go with Kendrick late and allow Bean, the No. 1 QB, to sit.
"Unfortunately we had a similar situation at Iowa State," Leipold added, referring to another blowout loss that allowed some of the Jayhawks further down the depth chart to get on the field.
"We've got a lot of guys, whether it be veterans or younger guys, that work hard," Leipold said, adding such situations give the coaches further opportunities to evaluate those players.
Kendrick finished 4-for-7 through the air, for 48 yards and two touchdowns while playing on KU's final two drives.
Added Leipold of the handful of late-game positives in KU's fifth consecutive loss: "It was great to see a guy like Edwin (White-Schultz), a true freshman, get a fumble recovery."
It was the safety's takeaway, after a Ra'Mello Dotson forced fumble, that gave KU (1-5 overall, 0-3 Big 12) one extra offensive chance before the game ended.
"Scoring two touchdowns in less than a minute in a situation like that at least shows that our guys are still getting in, still competing," Leipold said. "I was real happy with the way Miles competed."
The coach also praised the late-game play of receivers Luke Grimm, Tristan Golightly and Lawrence Arnold. Both Grimm and Arnold caught a TD pass from Kendrick.
Les returns
The man whom Leipold replaced was in the house for homecoming on Saturday. Former head coach Les Miles was down in the area behind KU's bench after the game concluded, greeting a few of his former players.
Miles and KU, of course, parted ways back in March, once sexual harassment allegations from years past involving the former LSU football coach came to light.
Miles' youngest son, Ben, is still on the KU roster. A senior fullback, Ben Miles didn't suit up for the game against Texas Tech, though he has appeared briefly in three games for the Jayhawks this season.
Large group of recruits in attendance
Outside of Saturday's result, the homecoming game also had possible ramifications for the program's future, with dozens of high school players in attendance to see the Jayhawks up close.
Jon Kirby of Jayhawk Slant reported that more than 140 visitors were expected to be in Lawrence for the matchup between KU and Texas Tech.
The vast majority of the prospects were on unofficial visits, and most of those on campus to check out the stadium and the program's facilities were from the 2023 and 2024 recruiting classes.
The prospects were on the field, lined up beyond the south end zone, roughly an hour before the game so they could watch the Jayhawks go through warmups.
There was one official visitor in attendance, too. Class of 2022 commit Joey Baker, a three-star prospect according to Rivals, made the trip up to KU from Southlake, Texas.
Baker is one of six high school seniors currently committed to KU in its 2022 recruiting class.
Whittemore back to see Jayhawks
Homecoming weekend drew some former KU football players to David Booth Kansas Memorial Stadium on Saturday, including former KU starting quarterback Bill Whittemore.
In a video posted to social media by KU football, Whittemore said he and his family made the trip to Lawrence from Tennessee this week for the first time.
Whittemore played 19 games for the Jayhawks during the 2002 and 2003 seasons. In his final year at KU, Whittemore helped the Jayhawks, coached by Mark Mangino, reach a bowl game. KU finished 6-7 that season, with a loss to North Carolina State and Philip Rivers in the Tangerine Bowl.
Some other more recent Jayahwks were in attendance for homecoming, too, including former QB Carter Stanley and a hometown linebacker, former Free State High standout Keith Loneker Jr.