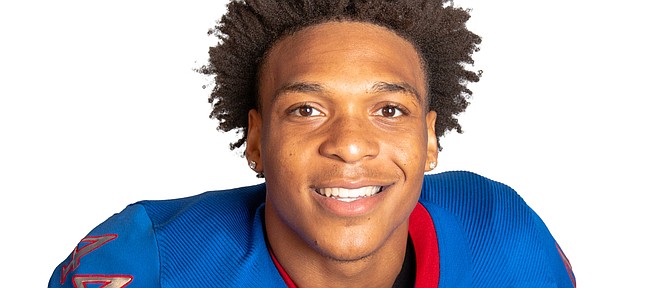 Although former Michigan reserve linebacker Cornell Wheeler hasn't yet broken into the rotation during his first season with the Kansas football program, defensive coordinator Brian Borland described Wheeler as an "up and comer" behind the scenes.
After sitting out the first four games, Wheeler, rated a four-star prospect in the Class of 2020 by Rivals, finally got onto the field for the Jayhawks during their Week 5 loss at Iowa State. The 6-foot, 225-pound redshirt freshman made one tackle late in the game, when the backups were on the field.
While it has taken some time for Wheeler, who redshirted during the 2020 season at Michigan and didn't appear in any games, to adjust to his new surroundings and a different scheme, Borland said the linebacker's trajectory is pointed upward.
"He's getting more reps with the defense. He used to be an exclusive scout team guy. He's pretty much up with the defense now and away from scout team," Borland said of Wheeler, who joined the program via the transfer portal this past summer.
Wheeler also is becoming more involved with KU's special teams, a result of the coaches rewarding him for the progress he has shown during the team's practices.
"He's certainly a guy that's got some speed, got some quickness, got some strength," Borland said. "He can get to the ball, and when he does he's probably one of our more physical players, one of our more physical tacklers. He's really willing to stick his nose in there and mix it up."
At this point, Borland said the only thing Wheeler lacks is experience. KU's D.C. said the redshirt freshman linebacker continues to work on mastering all aspects of the Jayhawks' defensive packages.
"He knows bits and pieces and he knows his part of it, but there's a bigger picture that he just needs more reps and seasoning," Borland explained. "(Experience is what) we're trying to get him. I think the more we do, the more he shows. He's one of the guys to be pretty excited about for what the future will hold."
Grunhard practicing
Another transfer who joined KU football this year, former Notre Dame walk-on Colin Grunhard, continues to progress toward a return to the lineup.
Offensive coordinator Andy Kotelnicki said Grunhard, who started at right guard for the Jayhawks in Week 1 but has been out due to an injury since, practiced this week.
"He's coming along good," Kotelnicki said. "How much he'll play is probably TBD a little bit, but he's been out practicing. It's exciting to get him and get some depth back at the O-line spot."
A 6-1, 290-pound junior who joined the Jayhawks this past January as a graduate transfer, Grunhard was slowed by an injury during the preseason and tried to play through some pain in the opener. KU's staff then decided the graduate transfer should take some time off in order to fully heal.
Redshirt freshman Michael Ford Jr., a transfer from Buffalo, has started at right guard the past four games.
Head coach Lance Leipold said previously he hoped Grunhard would be on the field for a game sometime this month.
Kotelnicki praised the veteran interior lineman for how he's dealt with the situation: "His attitude and his approach toward things is fantastic. The more that you can have guys like that around the better."
Hometown NIL deal for Neal
A former Lawrence High star, KU starting running back Devin Neal announced this week an NIL partnership with a hometown business he knows well, Johnny's Tavern.
"Pizza and sports are a few of my favorite things, so you know Johnny's Tavern is at the top of my list of places to go to enjoy some food and watch games," Neal posted to Twitter on Thursday, along with a photo of him in front of the restaurant's West Lawrence location.
Neal, who also is on the KU baseball team, isn't the first KU athlete to partner with Johnny's Tavern. The local chain also has NIL deals with KU basketball veteran David McCormack and KU volleyball sophomore middle blocker Caroline Crawford.
Jayhawks avoiding penalties
As the Jayhawks return to action Saturday versus Texas Tech (3 p.m., ESPN+) after their bye week, they will look to continue to be one of the better teams in college football at steering clear of the officials' yellow flags.
Through their first five games, the Jayhawks (1-4 overall, 0-2 Big 12) have committed 22 total penalties, averaging 4.4 per game. Entering Week 7's slate of games, that rate ranked ninth among all FBS teams and first in the Big 12.
Leipold said opposing coaches have remarked to his staff about the Jayhawks cleaning up that portion of the game this year. KU's head coach thinks the lack of penalties so far is a good sign and one of the things he's been satisfied with amid the team's four-game losing streak.
"I look at a lot of those things within the discipline (the coaches demand) in our daily activity in our program," Leipold said.
Alternative uniforms on deck
Don't adjust the picture settings on your TV, tablet or smartphone if you don't immediately recognize KU's uniforms Saturday afternoon for the homecoming game versus Texas Tech (4-2, 1-2).
The Jayhawks will debut their "Hail to old KU" uniforms against the Red Raiders. Adidas designed the alternative outfits with some throwback elements in mind. The powder blue jerseys reference the days when Gale Sayers "The Kansas Comet" suited up for the Jayhawks. The jerseys also include the "angry Jayhawk" logo from the 1940s on the shoulders, and there's a "bowtie" K, which was used in 1929, on the helmets.
"Those are some nice jerseys," KU safety Kenny Logan Jr. said recently. "I really was excited to see those. We can't wait to wear those."
Added Logan: "Just the way the design and the numbers are, it's kind of different, and I like it.