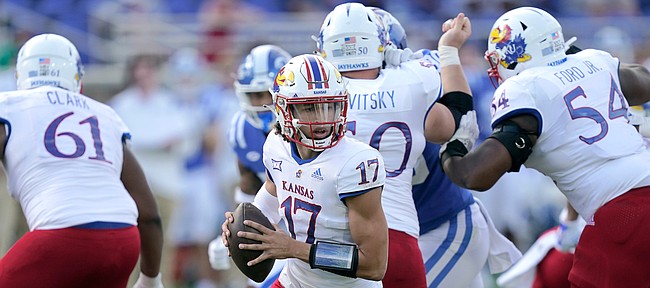 When Kansas football quarterback Jason Bean got sacked five times during a Week 2 loss against Coastal Carolina — the team's first FBS opponent of the season — no one knew for sure how much of an issue protecting the QB would be for the Jayhawks.
In the three games since then, however, the play of KU's offensive line has improved, and Bean has only suffered one sack.
Head coach Lance Leipold said the whole unit is playing better up front, while pointing out that left tackle Earl Bostick Jr. and right tackle Bryce Cabeldue in particular have improved "immensely" in recent weeks, as they become more comfortable in the offense.
Cabeldue, a redshirt freshman, said after Bean got sacked so often in the Coastal game, the O-linemen wanted to put an end to those issues.
"We can't let this happen," Cabeldue said. "We've got to take pride in what we do. No matter what we need to (keep) him off the ground."
Since then, Bostick, left guard Malik Clark, center Mike Novitsky, right guard Michael Ford Jr. and Cabeldue have helped Bean stay relatively clean and less bothered in the backfield. The QB wasn't sacked at all during KU's Big 12 losses to Baylor and Iowa State and was only taken down once in defeat at Duke.
"As an offensive line we're becoming a closer brotherhood," Cabeldue said. "Our number one goal is to protect our quarterback. We have to be able to love that guy and take pride in protecting him. It's just a huge thing."
The man benefiting from the O-line's improvements, Bean said ahead of the Jayhawks' return to action this Saturday versus Texas Tech (3 p.m., ESPN+) that he expects the blockers will continue to get better in the weeks to come, too.
He said the O-linemen deserve credit for helping keep his sack numbers low.
"I think it's just the trust that they have in each other, knowing that they're going to get the right call out to each other and execute the blocks," Bean said. "And also me gaining more trust in them and knowing that they're going to handle the protection."
Leipold noted that offensive coordinator Andy Kotelnicki and KU's assistants also have found ways to make sure Bean is getting rid of the ball quickly. As the season has progressed for KU (1-4 overall, 0-2 Big 12), Kotelnicki said the staff has gained a better understanding of the O-line's capabilities.
Minimizing pressures was a main objective coming into the season, too, Kotelnicki said, because as the staff examined issues that had cost the program in recent years, the coaches found turnovers and QB pressures were areas to clean up as they tried to steer the Jayhawks away from playing bad football.
Kotelnicki also made it clear the offense has to do better at staying out of predictable situations, alluding to third-and-longs, in order to help Bean even more.
The O.C. said he does the best he can to not put too much stress on Bean's blockers, and it helps that the coaches now really understand Bean's strengths as a QB, too.
"Obviously he's able to make some plays with his feet, keep some plays alive. I think that's all pretty good," Kotelnicki said.
Through five starts, Bean is averaging 170.4 passing yards and 57.8 rushing yards per game. Through the air, the junior QB has completed 66 of his 119 throws (55.5%) for 852 yards, with five touchdowns and three interceptions. He also has rushed for two TDs.
While KU's sack numbers have improved, the Jayhawks got blown out in each of their first two conference games, losing 45-7 to Baylor and 59-7 at Iowa State.
Said Leipold: "Holistically, I think (the O-line) continues to get better. But we need it to equate to more points on the board, as well."