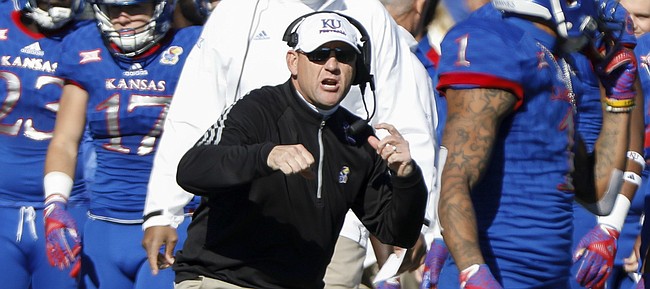 Officially cleared by the NCAA of any wrongdoing during his tenure as the head football coach at the University of Kansas, an at times emotional David Beaty on Thursday said he's eager to finally return to the profession he loves.
Beaty spoke to reporters via video press conference from Dallas, along with his lawyer, Michael Lyons, to announce the IARP sent the former KU football coach and his attorneys a letter that stated he is no longer involved in the NCAA's case against the KU athletic department.
"Today's a great day, because when you get your name back, man, you only get one of those. So getting your good name back, I'm very fortunate, because a lot of times it doesn't happen," Beaty said.
The low-level violation that Beaty was accused of — using more coaches than permitted under NCAA rules — was a part of the university's larger infractions case centered primarily on the men's basketball program. The NCAA's case against KU, which includes allegations of five Level 1 infractions in men's basketball, a charge of head coach responsibility and a tag of lack of institutional control, was accepted by the IARP on July 1, 2020, and remains ongoing.
Said Lyons: "What David wants to make crystal clear after three years of an ensuing debacle, there is no finding that David has violated any NCAA rule. There's not even an allegation that David has violated an NCAA rule. This is vindication for David Beaty."
Reached for comment by the Journal-World, Dan Beckler, a spokesman for KU Athletics, said the department wouldn't comment on the matter with KU's IARP case still in progress.
Lyons said since Beaty's firing in 2018, the former head coach has been unable to get a job in football "because of what Kansas set in motion." Now "free from this saga," as Lyons put it, Beaty hopes to soon rejoin the coaching ranks.
Beaty thanked members of what he described as the coaching fraternity, including former Ole Miss head coach Houston Nutt, whom he called "a great confidant of mine," for helping him get through the past few years.
During that time, Beaty said he has done some consulting in college football, and was offered "a lot of opportunities," but those didn't pan out. He said he wants to "get back on the sidelines and help young men become better men one day at a time."
He nearly joined former Texas head coach Tom Herman's staff, Beaty stated previously during a deposition that was part of his lawsuit, but that didn't come to fruition as the NCAA at the time was investigating the allegations tied to his time at KU.
The Notice of Allegations KU received from the NCAA in September of 2019 listed alleged misconduct by the football program, citing the use of a non-coaching staff member, then video coordinator Jeff Love, in a coaching role.
It alleged Beaty didn't demonstrate that he monitored the KU football staff, because he knew Love, from Dec. 2017 through mid-Oct. 2018, spent time with the quarterbacks on the team, both in position meetings and during practices. It also alleged Beaty observed Love "alone" with the quarterbacks during a film session.
Back in June of 2020, after a 15-month legal battle, KU and Beaty reached a $2.55 million settlement in Beaty's lawsuit over his disputed firing.
Beaty was fired in November of 2018. He sued KU in March of 2019, accusing KU and then-Athletic Director Jeff Long of improperly firing him for cause and "concocting" alleged NCAA violations in order to withhold a $3 million buyout included in his contract. The settlement in 2020 ended up being close to half a million dollars less than the original buyout that Beaty sought.
Despite the lengthy court battle and NCAA investigation, Beaty said he and his family remain "so grateful for our time at the great University of Kansas. Man, the Jayhawks have been some of the finest people we've ever come across in our lifetime."
The once embattled KU coach said the KU fans he has met since being fired have "been nothing but classy and terrific to our family."
"And we know what we're getting into when we get into this business. Sometimes things don't work out," he said. "But it's very rarely about the people of the school. Sometimes it has to do with maybe the leadership."
Beaty's time at KU began when former KU Athletic Director Sheahon Zenger hired him in December of 2014. Beaty went 6-42 as the Jayhawks' head football coach over the course of four seasons (2015-18).
KU's 3-9 mark in his final season was its best under Beaty, who had three years remaining on the contract extension he signed in 2016 when the deal was terminated by Long.
Two weeks after firing Beaty, Long hired Les Miles, the former head coach at LSU and Oklahoma State, as Beaty's replacement. By March of 2021, both Miles and Long were out at KU, once sexual harassment allegations from years past involving the former LSU football coach came to light.
When Long's involvement in what transpired with Beaty came up during the press conference, Lyons said, "I'm not going to make this about Mr. Long. I would say, I'll answer that with a question: Is Jeff Long the athletic director at Kansas?"
During his downtime the past few years, Beaty said some consulting opportunities allowed him to be around high level programs and "stay up with the times" about where the best recruits are located, and he thinks that will serve him well moving forward.
"I'm excited about getting back on the sidelines and doing what I love. It's a privilege, not a right. I just can't wait to do it again," Beaty said, trying to restrain his emotions.