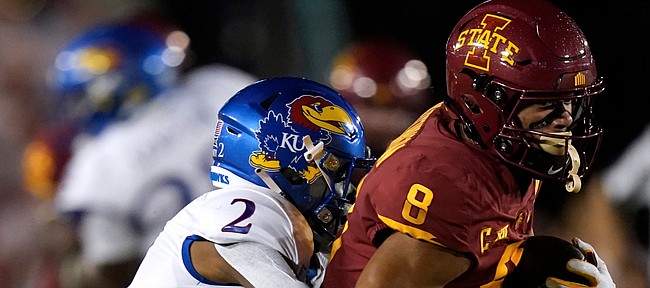 As Iowa State rapidly piled up points en route to hammering Kansas, 59-7, Saturday night at Jack Trice Stadium, the Jayhawks' pass defense opened plenty of throwing windows for the Cyclones.
ISU quarterback Brock Purdy set a school record with four touchdown passes in the first quarter alone. By halftime Purdy had completed 15 of his 18 throws for 216 yards and the Jayhawks were in a 38-point crater.
KU head coach Lance Leipold said after the loss while discussing ISU's first half air attack that the Jayhawks' corners — freshman Jacobee Bryant and redshirt freshman Ra'Mello Dotson started — "get a little tentative" at times. Leipold noted the defense has some young players in the secondary — true freshmen Jayson Gilliom, who made his first career start, and O.J. Burroughs also were involved at safety — who are still learning.
One of KU's early mistakes in the blowout came in the secondary. Bryant tried to jump a Purdy pass for a potential interception on ISU's first drive. He didn't pull it off or create a deflection, and the play turned into the first of ISU's eight touchdowns on a night the Cyclones posted a season-high 564 yards (274 passing).
Photo Gallery
KU football at Iowa State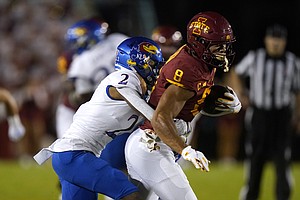 Photos from KU football's loss at Iowa State, on Oct. 2, 2021.
"Jacobee tried to make a play," Leipold said. "One thing that's a balancing act is I want our guys to continue to be aggressive and play with confidence and try to make plays."
Leipold pointed out the ISU offense, through using motions and shifts and creating gaps, did a great job of forcing the Jayhawks' defense to communicate and make checks.
With where the KU defense is at five games into Leipold's rebuilding project, the players are still trying to get comfortable and confident in defensive coordinator Brian Borland's system, the head coach said.
"(The Cyclones) have a tendency to get you when the communication's not all there where you want and you're susceptible to some bigger plays," Leipold said.
Following the fourth consecutive loss for KU (1-4 overall, 0-2 Big 12), Leipold also couldn't ignore a recurring issue for the defense.
"Tackling in space is something we've got to continue to work on holistically," he said. "Not just there, but our second line defenders, our second level defenders. Everywhere."
Veteran Burt 'closer' to returning
KU super-senior nose tackle Sam Burt, who hurt his right arm in the season opener and has been sidelined since, no longer has his arm in a sling.
With the Jayhawks having some extra time before their next game — Oct. 16 versus Texas Tech — Leipold was asked how soon Burt might be back playing again.
"He's getting closer," Leipold said.
KU's athletic training staff, the coach added, updates him on Burt and lets Leipold know what the veteran defensive lineman can and can't do physically as Burt goes through the recovery process.
"He's started to do some things," Leipold said. "We'll see where it gets him."
Burt, a 6-foot-4, 295-pound former walk-on, started at nose tackle for KU in Week 1. Redshirt freshman Caleb Taylor has taken over that starting job in Burt's absence.