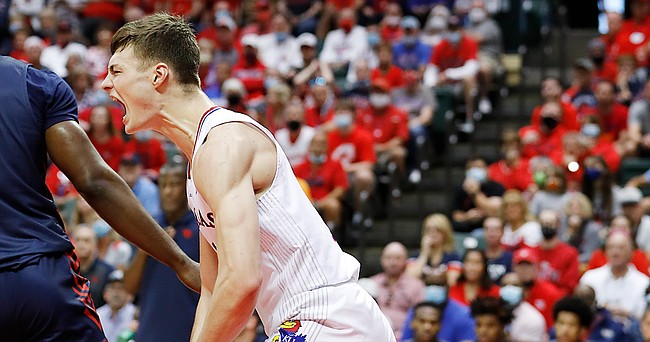 Kissimmee, Fla. — Throughout the early portion of this Kansas basketball season, KU coach Bill Self said he thought junior guard Christian Braun could elevate his game to another level in a couple of key areas.
Braun did just that during the team's recent trip to Orlando, earning all-tournament team honors while helping lead the Jayhawks (5-1) to a third-place finish at the ESPN Events Invitational.
While Braun and his teammates were not happy with the third-place prize, they were pleased with the way the Burlington native played throughout the week.
Photo Gallery
KU vs. Iona - ESPN Events Invitational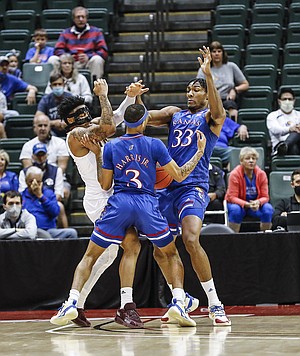 KU basketball vs. Iona at the ESPN Events Invitational
Braun's 51 points were second only to leading scorer Ochai Agbaji's total of 56. But Braun filled up the rest of the stat sheet in ways Agbaji did not. He averaged 17 points, 6.7 rebounds, three assists and 2.3 steals during KU's wins over North Texas and Iona and the loss to Dayton.
"You could say he was probably our best performer down here and Och second," Self said after Sunday's win over Iona. "I thought he was pretty solid in all the games. He got numbers. I still think he's a little careless, but for the most part I thought Christian played well."
Self's claim about carelessness was backed by Braun's seven turnovers in KU's two victories. But in his best game at the tournament — last Friday's loss to Dayton — Braun finished with five assists and zero turnovers, stacking those numbers on top of 17 points, eight rebounds and four steals.
"It felt better than what I had been playing," Braun said after the win over Iona. "But there's certain things I can obviously improve on."
Such as?
"I would tell you that I need to play better defense," he said.
On the offensive end, though, Braun asserted himself in Orlando in ways that he had not done consistently during the Jayhawks first few games of the season.
In many ways, that was by design and the result of a conscious effort by Braun to become a bigger part of KU's offensive attack.
"Just being aggressive, letting it fly, playing loose," he said of the key parts of his production. "But also my focus and everybody else's focus on the team is getting back to playing defense the way that Kansas normally does."
Said super-senior forward Mitch Lightfoot of Braun's ability to put up points, including a season-high 18 vs. Iona: "I thought he played well today. He scored the ball really well. I think that's what we were looking for him to do, to get downhill and score the ball, shoot the ball."
For the season, Braun is now averaging 13.8 points, a team-best 7.2 rebounds and three assists in 31.2 minutes per game. He's shooting 61.4% from the floor, 33.3% from 3-point range and 80% at the free throw line.
Per KenPom.com, Braun ranks in the top 100 nationally in effective field goal percentage (65.8), true shooting percentage (67.2) and 2-point field goal percentage (71.4).
Effective field goal percentage gives 50% more credit to 3-point makes, and true shooting percentage accounts for a player's trips to the free throw line and converts those into a portion of overall shooting percentage.
Next up, Braun and the Jayhawks will head to New York to take on St. John's in the Big East-Big 12 Challenge at UBS Arena on Friday night. Tipoff is set for 6 p.m. on Fox Sports 1.