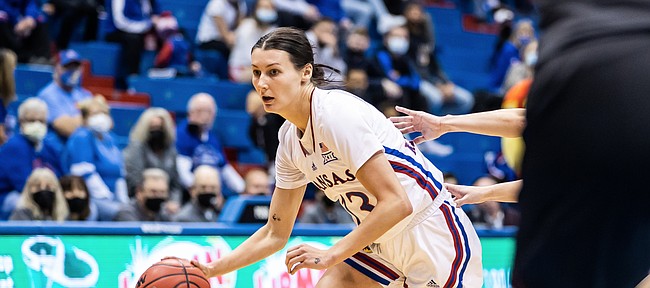 After sticking within striking distance of 11th-ranked Tennessee for much of Friday's game at the South Point Shootout in Las Vegas, the Kansas women's basketball team suffered its first loss of the season, 68-58.
Junior KU guard Holly Kersgieter scored a season-high 19 points and led all scorers, but the Volunteers (5-0) held the Jayhawks to 31% shooting on the evening and outrebounded KU, 55-38.
The Jayhawks (4-1) trimmed Tennessee's lead to five with more than three minutes to play in the fourth quarter, following successful layups by Kersgieter and junior center Taiyanna Jackson (eight points).
But KU only made one field goal from there, and had a couple of turnovers as the Vols closed out the win.
Tennessee only led by three at halftime and 47-40 entering the fourth quarter.
A 12-0 KU run that spanned the end of the first quarter and the opening couple minutes of the second helped the Jayhawks take their only lead of the game, 15-13, before Tennessee answered with an 11-0 run and never trailed again.
"I thought we competed really hard," KU head coach Brandon Schneider said afterward. "We understood the physicality of the game that was going to take place. And we never backed down. And probably most importantly, I thought we played with great belief, and I thought we played with an understanding that we belong on the floor with a top-10 team."
Tennessee improved to 4-0 all-time versus KU with the win. It was the first matchup between the programs since 2012, when they met up in the Sweet 16, in Des Moines, Iowa.
The Jayhawks will wrap up their trip to Vegas with a game against UTEP on Saturday night (8 p.m., FloSports).