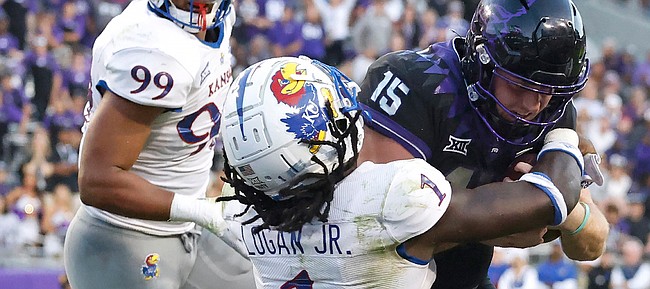 — Kansas (2-9 overall, 1-7 Big 12) vs. West Virginia (5-6, 3-5) • 6 p.m. kickoff, David Booth Kansas Memorial Stadium • Game-time forecast: 52 degrees, clear, 0% chance of rain • TV: FOX Sports 1 • Radio: KLWN, FM 101.7 / AM 1320
Keys for Kansas
1. Turn the corner with tackling
Even as Kansas stopped getting blown out and began playing a competitive brand of football the past two weeks, the Jayhawks' defense has still given the team some problems.
And, wouldn't you know it, the missed tackles KU coaches and players alike have bemoaned all season proved costly again in a 31-28 road loss at TCU last week.
Head coach Lance Leipold called what transpired "our poorest tackling performance" of the year. Leipold first gave credit to the Horned Frogs' scheme for looking to put pressure on the perimeter with their play-calling. But he also said KU defenders made some fundamental errors.
"Many times it's our feet, and keeping our feet alive and moving," Leipold said.
Defensive coordinator Brian Borland said many of KU's young players weren't making stops when they could have out on the edges.
"When the ball shows up, you've got to tackle it, and we weren't able to do that," Borland said.
"You've got to be able to close space to the guy (you're) going to tackle and not give him room to operate and move on (you)," the coach went on, adding, "because invariably we stop our feet and lunge."
It's not that those problems have gone unidentified or unaddressed this year, Borland said, but the defenders' execution was lacking at TCU.
The Jayhawks won't be able to afford such mistakes against West Virginia. Leipold called the Mountaineers "a physical football team," with "a big running back" in 6-foot, 216-pound senior Leddie Brown (4.5 yards per carry, 12 rushing touchdowns).
"He's impressive. He's going to be a load to take down," Leipold said of Brown.
The Jayhawks' run defense has struggled throughout this season, too. KU has allowed 248.8 rushing yards per game and 6.15 yards per carry (129th out of 130 FBS teams) on the year. In Big 12 games, those averages are actually worse: 259.75 yards allowed per game and 6.66 surrendered per carry.
In every game WVU has won this year, the Mountaineers have rushed for at least 100 yards. They're averaging 177.4 yards in those games and are 5-0 when hitting the 100-yard mark.
2. Hang on to that newfound resiliency
Ask a Jayhawk about the team's improved play here late in the season and inevitably he'll bring up how quick the team has been to bounce back in tight games versus UT and TCU.
When the Longhorns recovered from their 21-point deficit to force overtime on Nov. 13, the Jayhawks still prevailed. And when TCU went up two touchdowns in the fourth quarter, KU had the game tied a little less than seven minutes later.
Said super-senior receiver Kwamie Lassiter II of the Jayhawks' recovery at TCU: "When we were down 14, we didn't quit. We came back, we scored one drive, we got the ball back, scored on another drive. So I like that we didn't quit."
Leipold also appreciated that a slow start for the offense at TCU — back-to-back three-and-outs to open the game — didn't shatter his team's confidence, either.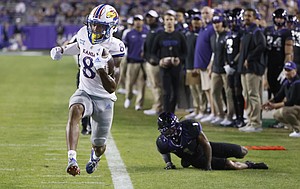 "Those are some of the little things that we couldn't do before," Leipold said.
Super-senior defensive end Kyron Johnson said he didn't know exactly how the team became more resilient late in the season.
"Something just clicked, I guess with everybody. I know something clicked with me," Johnson said.
While the veteran and team captain laughed and said "it sounds weird," Johnson said he found himself more irrepressible after having a conversation with himself, alone in his room, in the week leading up to the Texas game.
"I was like, 'Come on, Kyron. Is something going to change in your life or what?'" he related.
KU's speedy D-end followed up his soliloquy with an eight-tackle, two-sack game at UT in which he forced two fumbles and recovered one, and then an eight-tackle, one-sack game at TCU.
Borland said one positive he took away from the three-point loss at TCU was the fact that the Jayhawks felt they should've won the game. It was a far cry from earlier in the year, when they were routinely losing by 20-plus points.
Former Buffalo center Mike Novitsky said the Jayhawks' resiliency was an example of the culture the staff has been implementing since Leipold arrived.
"It was awesome to see that, it was awesome to be a part of that," Novitsky said. "But, you know, we don't have moral victories. We still lost the game in the end. But there's some good things to take away from it."
3. Get creative offensively
The Jayhawks could be without one of their most important offensive players, starting running back Devin Neal, for their season finale versus WVU. And if Neal, who got hurt during the second quarter at TCU last week, can't return to the lineup, Leipold said, "We have to find other ways."
Since they got to KU more than six months ago, Leipold and Kotelnicki have spoken about the need to build a versatile offense and use the players who are available while highlighting those players' strengths.
That could be challenged in the 12th and final game of their first season in Lawrence, with the depth at running back and tight end depleted by injuries in recent weeks.
One example of Kotelnicki's adaptability came when he used former starting QB Jason Bean in the same backfield with the new No. 1 QB, Jalon Daniels, at TCU. KU's O.C. said he wants to get talented players on the field and be creative with finding ways to move the ball down the field.
The Jayhawks might need even more wrinkles and surprises versus WVU if Neal is out. And Kotelnicki said at this point of the year, he wants to have an adaptive approach anyway.
"Your offense has to grow and change and has to be able to evolve, and can't just stay static," Kotelnicki said. "So you have to have some creativity and imagination. And it might be because of personnel issues. It might be because of how you match up. Might be because of how you've reflected and evaluated on things that you've already been doing on offense throughout the course of the year."
Since Daniels took over at QB, KU's offense has played at a different level, scoring at least four touchdowns in each of the past two games — the Jayhawks failed to do that once in each of their first six Big 12 contests.
From Daniels, to walk-on tight end Jared Casey, to senior offensive lineman Joey Gilbertson, the Jayhawks have found productive players when they needed to make changes in recent weeks.
"Sometimes, quite candidly, they'll surprise you," Kotelnicki said.
Prediction
WVU 41, KU 31