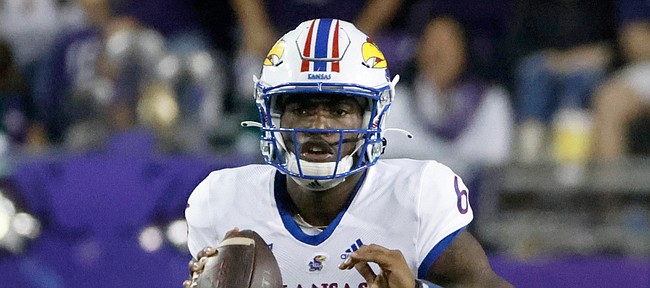 Jalon Daniels had another productive start for the Jayhawks this past weekend at TCU, but the Kansas football quarterback didn't leave the narrow road loss completely unscathed.
Daniels wasn't a full participant at Tuesday's practice, because the staff wanted the sophomore QB to rest his throwing arm "a little bit."
"Got a few nicks in the game, (while) trying to make some plays and ended up messing up my arm in the game," Daniels said of the reason he didn't make all the throws he typically would during a practice.
"Somebody fell on me in the game, so that's just something that I'm trying to help," Daniels added.
In his second consecutive start, Daniels went 22-for-30 passing, with 255 yards, two touchdowns and an interception. He was sacked twice — one of those was the result of an intentional grounding penalty when the QB chased down an errant snap and got rid of the ball.
Daniels connected on eight of his final 10 throws at TCU, and made both of his TD passes in the fourth quarter as KU rallied to tie the game before the Horned Frogs kicked the winning field goal with 6 seconds to play.
The QB wasn't worried about the hits he took in the process, though.
"My arm is doing good," Daniels said.
In his two starts this year — an overtime win at Texas and a three-point loss at TCU — Daniels has completed 43 of his 60 throws (71.7%), for 457 yards, with five TDs and one interception.
KU (2-9 overall, 1-7 Big 12) will play host to West Virginia (5-6, 3-5) on Saturday (6 p.m., FOX Sports 1).