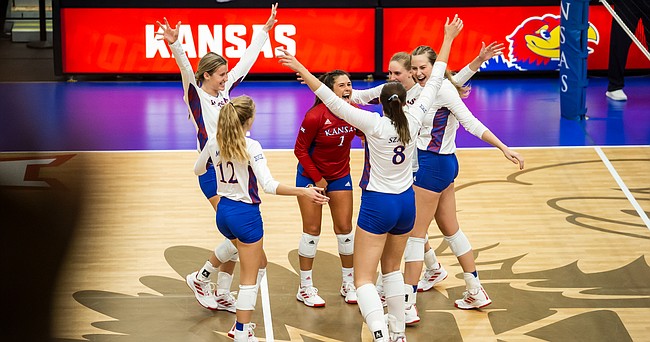 The Kansas volleyball team completed its sweep of visiting TCU with a four-set victory at Horejsi Family Volleyball Arena on Saturday evening, 25-15, 25-18, 23-25 and 25-20.
One day after knocking off the Horned Frogs in five sets, the Jayhawks took care of business a set earlier on Saturday.
For the second day in a row, KU (14-11 overall, 6-8 Big 12) won the first two sets and lost the third. This time, however, the home team regrouped a little quicker, winning the fourth set instead of needing all five.
The Kansas defense made sure TCU (8-16, 2-12) never threatened in this one, recording 21 blocks as a team and forcing the Horned Frogs to hit .060 for the match.
Senior Jenny Mosser led the Jayhawks with 13 kills. She also added five digs and five blocks.
Freshman Caroline Bien was right behind Mosser with 12 kills and seven digs, and sophomore Caroline Crawford added 10 kills and 10 blocks while hitting .350 for the match.
As a team, the Jayhawks hit .220.
This weekend's series featured a senior celebration for five Jayhawks who were playing their final home matches at Kansas — Sara Nielsen, Lacey Angello, Rachel Langs, Audri Suter and Mosser.
KU will travel to Manhattan next week (Nov. 26 and 27) to close out the regular season against in-state rival Kansas State. The two matches figure to play an important role in determining KU's postseason fate.
Both matches will begin at 6:30 p.m. and be shown on Big 12 Now via ESPN+.