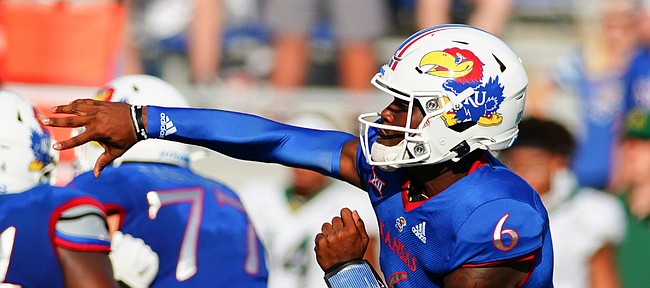 — Kansas (2-8 overall, 1-6 Big 12) at TCU (4-6, 2-5) • 3 p.m. kickoff, Amon G. Carter Stadium • Game-time forecast: 76 degrees, mostly sunny, 0% chance of rain • Streaming: ESPN+ • Radio: KLWN, FM 101.7 / AM 1320
Keys for Kansas
1. Strain to seize every opportunity
Kansas football offensive coordinator Andy Kotelnicki often mentions how just a handful of plays can ultimately decide a game's outcome. In an overtime thriller at Texas last week, there was no shortage of crucial snaps. But given the Jayhawks' struggles this season and how important it was to get off to a positive start, Kotelnicki was asked whether the third snap of the game — a Jalon Daniels rush on third-and-7 — was a game-altering play.
"Hell, yes," Kotelnicki replied. "That was a big deal."
KU avoided the dreaded three-and-out to open the game as Daniels fought for an 8-yard gain, the first of KU's 11 third-down conversions on the night. With that, the Jayhawks were off and running, and they produced a game-opening TD drive on the road for the first time all season.
Kotelnicki said the way Daniels made it happen, fighting and getting past the sticks for a first down, was another crucial element.
"In straining to fall forward to get it, that's a big deal. And I'm excited as a coach and as a teacher, because you've got a player who's doing it and you have an opportunity for them to execute and do exactly what we're emphasizing in practice," Kotelnicki said.
If Daniels doesn't put in the effort to keep the opening drive alive and KU punts, does the upset win even happen? Maybe. Maybe not.
Head coach Lance Leipold and his assistants routinely speak of strain and how that's a cornerstone of what they're trying to build with the program.
Kotelnicki highlighted another instance of a player, backup offensive lineman Joey Gilbertson, taking on that challenge at UT. It was a play the O.C. said "no one's going to talk about," but he showed it to every offensive player during a team meeting.
On tight end Trevor Kardell's memorable third-down catch in the fourth quarter (three plays before KU went up 49-35), Daniels had to scramble to make the pass. Kotelnicki said UT brought pressure on the inside, with a late twist between a linebacker and a defensive lineman.
"Joey Gilbertson leaves his feet — dives — with just great strain, and gets just a little shove on the back. Like hardly anything at all, but just enough to knock (the defender) off a quarter of a yard. And Jalon Daniels escapes by the shoelace," Kotelnicki said.
It was another what-if flash point in KU's rare Big 12 road win.
"And you think about those moments in games, at any point when you lose or win a game like that," KU's O.C. said. "One of those plays is the difference."
That type of effort is what the coaches expect and demand from the players, and exactly what the Jayhawks will need as they try to win in the Lone Star State for the second week in a row, this time at TCU.
2. Keep riding Daniels
For whatever reason, Leipold didn't want to announce this week who would start at QB for the Jayhawks against the Horned Frogs. Even so, Leipold did everything but name Daniels the starter, gushing about the sophomore's willingness to abandon his redshirt plans and even saying that Daniels will play at TCU.
The 6-foot sophomore from Lawndale, Calif., sparked a marquee victory for the program at Texas, and there's no reason to go away from him now.
Said Kotelnicki of Daniels, who went 21-for-30 as a passer, threw for 202 yards and three touchdowns, and ran for 45 yards and another TD: "He played unbelievable. And I'm so happy for him."
Kotelnicki said Daniels and walk-on tight end Jared Casey, KU's breakout star, embody what the coaches want the program to be about.
"If you just kind of stay gritty and you stay with it," he said, "next thing you know, good things are going to happen for you."
Kotelnicki said the 19-year-old Daniels, in his first start of the season, looked like a veteran.
"He had command, he managed the game well, he obviously made great plays with his feet and his arm. He distributed the ball really well," the coordinator said.
And it was that last part that Kotelnicki really liked. In last week's victory, Daniels connected with eight different teammates: Kwamie Lassiter II, Lawrence Arnold, Mason Fairchild, Trevor Kardell, Devin Neal, Trevor Wilson, Steven McBride and Casey.
Leipold this week spoke to the importance of having so many players contributing on both sides of the ball, saying that goes into the foundation of building the program.
"When multiple guys get opportunities, it also helps your locker room," Leipold said. "It helps the morale in the locker room, especially when you are still fighting through some tough times in a long season."
The players in the locker room saw what an impact Daniels made in Austin, Texas, and the buzz it created. Now they want to follow the young leader into another hostile environment.
3. Take another step defensively
As much as the Jayhawks were thrilled to prevail at Texas, defensive coordinator Brian Borland will tell you his unit still has a long way to go.
Even so, there were aspects of how KU's defense played at UT that pleased Borland.
"You can look at it like, well, you gave up 56 points, which is a heck of a lot. But the ability to create some of those turnovers, really, all those turnovers were all created," he said.
Super-senior defensive end Kyron Johnson forced two fumbles with his two sacks, and true freshmen came through in the secondary for KU, with safety O.J. Burroughs coming away with an interception and cornerback Jacobee Bryant delivering a pick-six near the end of the first half.
"They didn't hand us anything," Borland said of KU's four takeaways. "So to to be able to create some of those things and and get ourselves off the field, give the offense a short field, score on defense, I think those are all kind of encouraging things, because we've lacked a little bit of that this year — some big play ability on defense."
The coaches talked with KU's defense throughout the week leading up to the Texas game about playing with more tenacity and confidence. Borland said the players did that in some big moments against the Longhorns.
The way KU's defense has played most of this season — the Jayhawks are surrendering 490.7 yards per game (127th out of 130 FBS teams) and KU opponents are averaging 44.1 points (worst in FBS) — once again creating takeaways will be a critical component of the team's latest upset bid at TCU.
Kotelnicki certainly appreciated what the defense did last week in Austin, Texas.
"You've heard me say 1,000 times and you'll hear me say it 1,000 more: if you can take care of the football and you create turnovers, you will always have a chance to win games," the O.C. said.
Of course, Borland wants to put his players in position to get stops, too, not just rely on turnovers (KU has 12 takeaways on the year, which is tied for 87th).
The D.C. thought KU's first half, when Texas only scored 14 points, was "pretty good." But Borland said the Jayhawks' execution faltered too frequently in the second half.
"We didn't necessarily think we were going to shut them out, but we need to be able to slam the door a little bit better than that we do sometimes," Borland said.
That could be challenged against a TCU them that has converted 47% of its third downs this season (14th in the country).
Prediction
TCU 38, KU 23