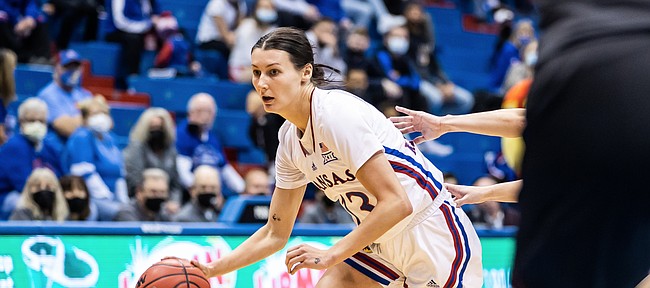 A lopsided third quarter in the Jayhawks' favor helped the Kansas women's basketball team defeat Omaha, 81-56, Wednesday night at Allen Fieldhouse.
The Jayhawks led by seven at halftime, before stepping up in the third quarter, going 10-for-15 from the floor and outscoring the Mavericks, 24-8, in the process.
KU junior guard Holly Kersgieter led the surge to open the second half, scoring nine of her 16 points in the third.
Kersgieter knocked down KU's lone 3-pointer in the period, while the home team did much of the damage inside. Layups by senior guard Aniya Thomas and sophomore forward Ioanna Chatzileonti opened the third. Soon after, Kersgieter, junior guard Zakiyah Franklin and freshman center Danai Papadopoulou each scored inside, as well, during an 8-0 run that stretched the lead to 17.
On the night, KU won points in the paint, 40-22.
Omaha (0-3) shot 41% from the field in the road loss, and especially struggled in the third quarter, going 3-for-11 with seven turnovers.
The Jayhawks (3-0) had four players in double figures, led by Kersgieter and starters Thomas (11) and Franklin (11). Sophomore guard Chandler Prater scored 12 off the bench.
Only one KU player, Chatzileonti (four rebounds), had more than three boards, and Omaha won the battle on the glass, 33-24.
KU has one more game left in its four-game, season-opening home stand: Sunday at 2 p.m., versus Saint Louis (ESPN+).