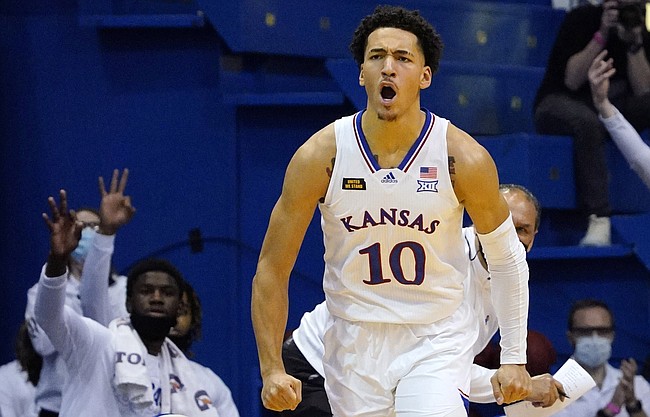 University of Kansas basketball player Jalen Wilson was formally charged with a DUI in Douglas County District Court on Tuesday.
Wilson, 21, of Denton, Texas, is accused of unlawfully operating a vehicle while under the influence of alcohol, which is a misdemeanor, according to a charging document provided to the Journal-World.
Wilson did not appear in court on Tuesday. His attorney, Hatem Chahine, appeared on his behalf. Chahine told the court Wilson should be eligible for diversion and plans to file an application for one next week.
A diversion is a process whereby someone accused of a crime is "diverted" from the usual legal procedures and instead completes the terms of an agreement, which may include some sort of rehabilitation program or fine. If the program is successfully completed, the criminal charges are dropped.
Wilson is next scheduled to appear in court on Jan. 19.
Wilson, who was 20 at the time, was arrested hours after the Kansas men's basketball team participated in a closed-door scrimmage in Tulsa, Okla., on Oct. 31.
As the Journal-World previously reported, jail records showed the redshirt sophomore was booked into the Douglas County Jail at 2:16 a.m for driving under the influence in the 400 block of West 23rd Street. He was released a little less than two hours later, at 4:02 a.m., on $250 bond.
A Douglas County Sheriff's spokesman said at the time that Wilson was pulled over at 1:48 a.m. after a sheriff's deputy observed his vehicle not maintaining a proper lane in the 400 block of West 23rd Street. Wilson was arrested after the deputy administered a field sobriety test at the scene.
After his arrest, Wilson was suspended for four games — an exhibition game and the first three regular season games, the Journal-World previously reported. Kansas basketball coach Bill Self said Wilson would also do community service during his suspension.
On Nov. 2, Wilson released an apology on Twitter, saying he was "truly sorry."
"I accept full responsibility for my actions," Wilson wrote, "and am extremely remorseful in my lack of judgment. "I know it wouldn't be fair for me to ask for forgiveness right now, so instead I plan to show you the true man I am and my true character through my actions and behavior moving forward."
During a media day session prior to an exhibition game against Emporia State, he emphasized both his disappointment in himself and his desire to make up for it.
"My main focus now is just to really take responsibility and own up to what I've done," he said. "And really just to gain the trust back of the community, my coaches, my teammates, my family (and) everybody in Lawrence. I know I let them down."
Wilson is expected to return to the lineup Nov. 25, when the Jayhawks play North Texas. He is in his third year with the KU program. After missing nearly all of his true freshman season because of injury, he started 26 of the 29 games he appeared in last season.