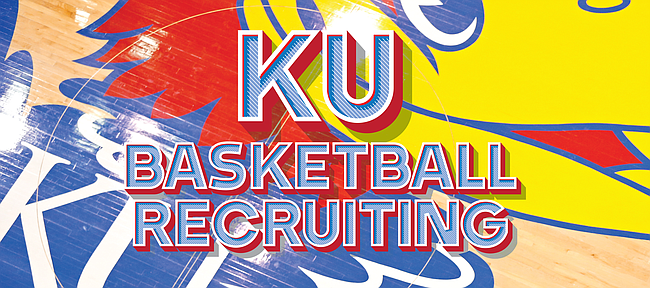 The Kansas men's basketball program received letters of intent from four members of its 2022 recruiting class on Wednesday, sparking a celebration by head coach Bill Self.
"Overall, this is an outstanding recruiting class," Self said in a Thursday news release announcing the signings. "I feel great about these four (signees) because they are all impact players for us next year."
Self said signing four players in the early signing period was "a good step for us" because the Jayhawks, in his estimation, could lose as many as eight players from this year's roster to graduation or early entry before next season. There's also always the possibility of a transfer or two, now more than ever because of the transfer portal.
Five-star wing Gradey Dick (6-7, 195), of Sunrise Christian Academy, and four-star forward Ernest Udeh Jr. (6-10, 232) were the first to sign, around noon on Wednesday.
Five-star guard MJ Rice (6-5, 200) and four-star big man Zuby Ejiofor (6-8, 220) made their commitments official just after 5 p.m. Wednesday.
"I'm pleased with those guys," Self said. "I think we got two big guys that could help immediately and I think we got two wings that are potentially starters right off the bat."
Like so many newcomers on this year's roster, the quartet of early signees possesses the kind of positional versatility that could allow them to fill a variety of roles as Jayhawks.
"I think so," Self said. "I'd like to say it's all that well thought-out, but you get the best guys you can and you plug them in how you can plug them in."
In the release, Self said the Jayhawks were not done recruiting "by any means."
The early signing period wraps up next Wednesday and the regular signing period runs from April 13, 2022 through May 18, 2022.
Here's Self's quick take on each individual early signee.
On Gradey Dick:
"Gradey is a terrific prospect. He has skill, athleticism, size and I believe he can be an outstanding collegiate player here early in his career. He's one of the best prospects to come out of our state since I've been at Kansas. I anticipate him making an immediate impact and playing a huge role his freshman year."
On Zuby Ojiofor:
"Zuby is a combo forward that can play to 4 or the 5 spot. He reminds me of a Jamari Traylor, Darnell Jackson-type player. He plays with unbelievable energy. He's got good size. He's an athlete that can rebound about as well as anybody. His skill level is improving and I believe he can become a very efficient shooter. We're very fortunate to have him in the fold and he will be a terrific player for us."
On MJ Rice:
"MJ is a big-time scorer. He's got good height, has a very strong, mature body and is very explosive. He can flat out score the ball and would be your prototypical 2 or 3 guard. I believe MJ has a chance to be a top scorer for us early in his career. I'm not saying he is (former Kansas State and NBA star) Mitch Richmond, but he reminds me of a very young Mitch Richmond."
On Ernest Udeh Jr.:
"Ernest is big, long, athletic and he's coming into himself as a basketball player. I would consider him one of the best true big men in the country with a chance to move up on that list as he gets more and more comfortable with the game. He will be an impact player for us considering what we will be losing. In time, he can become a presence on both ends much like some of the best big guys that we have had here at Kansas."
KU women ink 2
The Kansas women's program also signed two future Jayhawks in the early period, adding 5-8 guard Bella Swedlund, from Winner, S.D., and 6-3 forward Zsofia Telegdy, a native Hungarian who plays at Trinity Christian in Georgia.
"Bella and Zsofia come from very competitive and supportive families," KU coach Brandon Schneider said in a release announcing the signings. "Both have terrific work ethic and love being in the gym. Their skill level, versatility and competitive nature make them a great fit for our program."