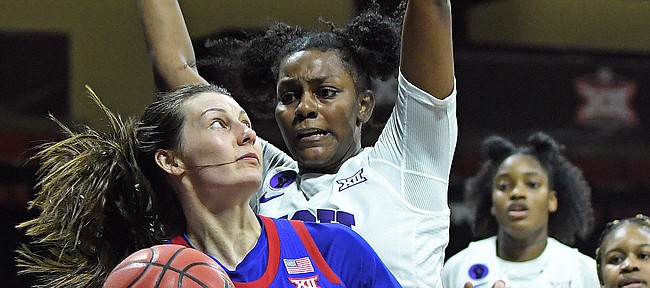 As Kansas women's basketball coach Brandon Schneider enters his seventh season leading the program, he's bringing a core of experienced players with him into the Jayhawks' 2021-22 debut.
Led by junior guard Holly Kersgieter, a preseason All-Big 12 selection, KU has four returning starters and a number of key rotation players Schneider can turn to this year, beginning with Wednesday's season opener at Allen Fieldhouse versus SIU-Edwardsville (7 p.m., ESPN+).
Last season, the Jayhawks went 7-18, while dealing with not only unexpected gaps in the schedule caused by the pandemic and COVID protocols, but also player opt outs.
Through it all, Kersgieter, junior guard Zakiyah Franklin, senior guard Aniya Thomas and sophomore forward Ioanna Chatzileonti — KU's four returning starters — all got in-game experience in several tight Big 12 contests. So did five returning rotation players: super-senior guard Julie Brosseau, sophomore guard Mia Vuksic, redshirt sophomore guard Chandler Prater, junior center Chisom Ajekwu and sophomore forward Katrine Jessen — all of whom played in at least 19 games and averaged double-figure minutes.
Seven of KU's 18 losses during the 2020-21 season came by four or fewer points.
Kersgieter's 17 points per game led KU last season, and she averaged 6.7 rebounds and 2.0 assists, as well.
The Jayhawks were picked by the conference's coaches to finish 10th in the Big 12 this season. Schneider's all-time record at KU is 61-115. KU's only winning season during that time came in 2019-20, when the Jayhawks went 15-14.
KU hasn't made the NCAA Tournament since 2013, when Bonnie Henrickson was the head coach.