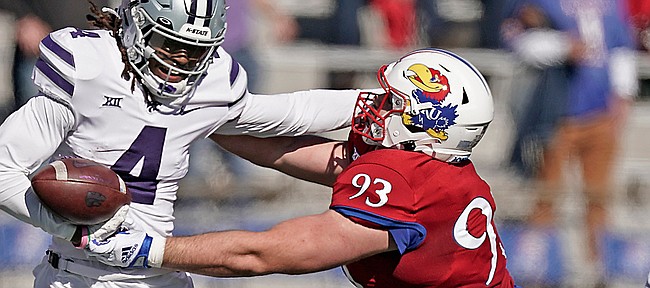 The arm injury that knocked super-senior defensive lineman Sam Burt out of the Kansas football starting lineup minutes into the season opener will actually end up extending the former walk-on's college career.
KU head coach Lance Leipold made it known Tuesday that Burt plans to use this as a redshirt season and return for one more year in 2022.
A team captain for the Jayhawks (1-8 overall, 0-6 Big 12), Burt injured his right arm in the first quarter of KU's Week 1 home win over South Dakota. The veteran nose tackle wore a cast on the arm for several weeks, and then a wrap, while letting the injury heal.
The 6-foot-4, 288-pound D-lineman from Abilene finally made his return to the lineup this past week against Kansas State, making two solo tackles and a quarterback hurry off the bench, after leading the team onto the field prior to the game, carrying a KU flag and waving it at midfield.
It turns out, though, Burt's return was delayed by choice, not due to lingering pain.
"Full disclosure, he's been available now for a couple of weeks," Leipold said during his weekly press conference.
Earlier in the year, while Burt was recovering, the coaches spoke with the super-senior about the possibility of redshirting — although Burt played in all nine of KU's games during his senior season of 2020, the NCAA's blanket COVID waiver for that year makes it possible for him to return for a sixth season in 2022 by utilizing a redshirt this year.
Leipold said the staff gave Burt the option of returning as soon as he was healthy and playing out the rest of the season, or taking a redshirt, which would mean playing in only three more games this year.
After some time and consideration, Burt decided to redshirt and come back for another year in the program. Leipold said the coaches asked the D-lineman which three games he wanted to play in.
"He said it really didn't matter. But he wanted one of those to be the Kansas State game," Leipold reported of the in-state veteran's response.
Beginning with this Saturday's game at Texas (6:30 p.m., ESPNU), the Jayhawks have three games left on the schedule. Burt can play in two of them and not exceed the redshirt maximum of four appearances. Leipold said as of Tuesday the coaches had yet to determine if they will have Burt sit or play versus the Longhorns (4-5, 2-4).
KU's head coach said he appreciated Burt's desire to remain a part of the program, and said the veteran D-lineman has a "passion" for helping turn things around.
While expressing what Burt brings to the team, Leipold cited the captain's maturity, confidence, leadership and work ethic.
"All those types of things are very valuable, especially when you're as young as we are," Leipold said of KU's roster.
Burt was an unrated prospect in the Class of 2017 when he decided to join KU as a walk-on. He appeared in all 12 games on special teams in both his true freshman and sophomore seasons. In 2019, as a junior, Burt became a part of KU's D-line rotation, made 15 total tackles and started in one game.
A year ago, Burt started seven of KU's nine games at nose tackle, finishing with 15 total tackles.