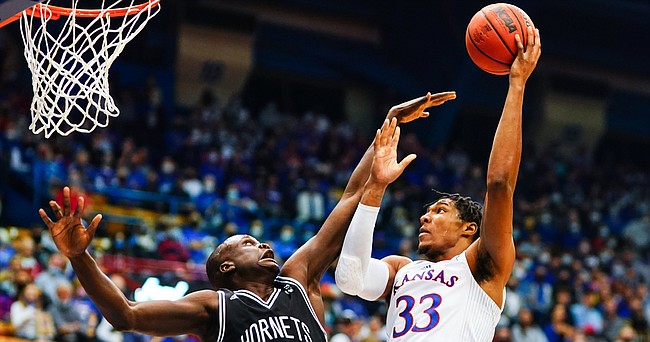 2021 CHAMPIONS CLASSIC
No. 3 Kansas Jayhawks (0-0) vs. Michigan State Spartans (0-0)
Time: 6 p.m., Tuesday, Nov. 9, 2021 | Location: Madison Square Garden, New York, N.Y.
TV: ESPN | Radio: IMG Jayhawk Radio Network
Keys for Kansas
1. Defense wins
It should come as no surprise to Kansas fans that KU coach Bill Self has emphasized defense during the early stages of the 2021-22 season. But it might come as a bit of a surprise that so many of his players are emphasizing it, as well.
Earlier this week, junior guard Christian Braun said "defense and turnovers" would be the biggest keys to success in the season opener against the Spartans.
"It's tough place to play, there's a lot of pressure, so hitting shots is probably not something that will win you the game," Braun said. "It will be defense and making the other team play worse than you play."
More than some of Tom Izzo's teams in the past, this Michigan State group is one that wants to run. Self said being ready to handle that element of the Spartans' attack will be as critical as anything Kansas does to dictate things on the offensive end.
"I've always been impressed with his guys' first two or three steps when they go from defense to offense," Self said. "I mean, it's a full-out sprint. They really, really push it every time to score. But if it's not there, it's not like they have to shoot fast."
That dynamic will test this Kansas team, particularly the eight newcomers who will be playing in a game like this for the first time.
Attention to detail and blocking out the noise that comes with playing the season opener on the biggest stage possible will be a huge factor for KU's chances.
"I'd like to see how this team locks into that scout," KU senior Mitch Lightfoot said. "There's good teams and there's great teams, and the great teams are the ones that can take that scout and really commit it to memory and also (execute) it on the court."
2. Embrace the Garden
A handful of current Jayhawks have played in Madison Square Garden in the past, but their roles in those games were smaller and this experience figures to be drastically different.
Braun called MSG one of the best places to play in all of basketball, saying simply, "There's nothing quite like it."
"It's a great venue, great city and the energy that's there is definitely felt by the players and the coaches," he added. "So it'll be a different level of hype."
Self acknowledged that this game — in this arena — is one that gets a coach's juices flowing just as much as the players. The stage, the courtside celebrity sightings and the intensity and talent of the opponent all figure to present challenges for both teams that simply cannot be recreated in a practice-type setting.
"I've told them a lot, 'If you're struggling with me yelling at you now because of the pressure or whatever, wait until Tuesday,'" Self said. "You run out there, first time in the Garden, and you've probably got some really famous people maybe sitting on the front row and the stakes are high and Michigan State is ultra-competitive and they're coming at your throat. I mean, it's a different feel."
Asked how he planned to address how to deal with all of that with his players, Self said knowledge was power.
"I don't know that I will do much to try to temper it or anything, except just talk about (it)," he said. 'Hey, Spike (Lee is) going to be sitting right here, and this is who's going to be sitting next to him or however you want to do it. That way they're not just totally blown away by the atmosphere.
"The bottom line is all the guys playing in this need to learn how to adjust and play in this because this is what we're hopeful to be playing in later as well."
3. Be prepared for a fight
Three years ago, in Indianapolis, a young Kansas team did just about everything right and built a double-digit lead over Izzo's Spartans by halftime. Despite the hot start, MSU trimmed the Kansas lead to one or two possessions in the final minutes.
The Jayhawks held on to win, but the Spartans showed their true colors in that one, continuing to battle on a night when they did not play very well on the stat sheet.
"I don't know if anybody does it better than what they do, (taking) guys and (molding) them into what they want them to be from a physical standpoint and from a mental toughness standpoint," Self said this week.
Although this Michigan State team also has a handful of new faces and has put just two exhibition games on film, Self and Lightfoot both said they saw familiar things while watching them play.
"They're rebounding the ball and they're really guarding hard," Self said. "They don't really pressure, like extend as much, but if you step outside of 3-point line they're guarding hard, and they're long."
Lightfoot said hearing about it and watching it is one thing, but facing a Tom Izzo-coached team is something completely different.
"If you haven't played in games like this, you don't quite understand yet," the KU senior said. "You have to have to be in those games to understand that kind of speed, that kind of athleticism. … I don't imagine them getting too far away from (what they've always done). I'm excited to see how our guys react to that."
Marquee Matchup
KU senior David McCormack vs. Michigan State senior Marcus Bingham Jr.
A year ago, Kansas forward David McCormack got off to a rough start in a high-profile game against Gonzaga and All-American Drew Timme, which led to the Jayhawks losing and McCormack needing most of the first half of the season to find his footing.
He finished strong in conference play and wound up as a second team all-Big 12 selection, but he hopes to get off to a much better start this season.
"Last year, I didn't get off to a great start," McCormack said after the Emporia State win. "I think this game allowed me keep that same free-heart, free-mind aspect and just allowed me to play loose and free."
In MSU big man Marcus Bingham Jr., McCormack will have another bona fide big man to test himself against in Game 1.
Bingham stands 7-foot, 230 pounds and is known as a shot-blocking big who can also stretch the floor on offense.
"He's a terrific defensive center," Self said of Bingham, who had 10 points, seven rebounds and six blocks in MSU's exhibition victory over Grand Valley State. "He blocks and alters (shots) and sometimes Dave can shy away from contact. When you shy away from contact with a shot blocker, that's not a good formula for success. He's got to be able to play through some contact."
Although both are seniors, McCormack has a notable advantage in terms of playing experience. Bingham averaged just 11 minutes per game in each of the past two seasons, producing 3.5 points and roughly 3.5 rebounds per game during each season. He also averaged 1.4 blocks per game in both seasons.
McCormack played a career-low 11 minutes per game in 2018-19 and followed that up with 15 mpg as a sophomore and 23 last season.
While Kansas can scheme to attack Bingham as a shot blocker, his biggest impact could come on offense. If he's able to step out beyond the 3-point line, as he has shown in MSU's exhibition games, that will put more pressure on McCormack to defend on the perimeter.
It also will free up opportunities for the rest of Michigan State's lineup to go to work on the offensive glass against KU's smaller lineups.
"It's totally different when your 5 man can stretch it," Self said. "So I hope it's a good matchup for us, but I'm sure they're hoping the same thing for them."
Jayhawk Pulse
Six days removed from a high-energy exhibition win over Emporia State, the Jayhawks enter this one eager to find out how well they can play against one of the most consistent programs in all of college basketball.
Self was largely pleased with the way Kansas played in the first half against the Hornets and less pleased with how the second half went. And that came following a short stint of practices that Self said lacked intensity.
In the days since then, the arrow has started to point back up.
"I think the attitudes and effort and everything's been good," Self said. "We went really hard last week. Really hard."
While the dress rehearsals can help prepare players for what it takes to make it through the grind of the season, Self said building reliable chemistry will take time. He pointed to the last time Kansas played in Madison Square Garden as an example.
That night, in 2019, the Jayhawks turned it over 28 times in a two-point loss to Duke.
"We were trying to play two bigs and hadn't figured out who our team was," Self said of that group, which lost just two more games the rest of the 2019-20 season. "(It'll) be the same thing in this game. I hate to tell our fans (this), but we don't know who we are yet. And, of course, not having a J-Will (Jalen Wilson) and J-Cole (Jalen Coleman-Lands) (hasn't helped). So we don't know what we'll be or who we'll be yet."
Despite nursing a toe injury that has limited his participation in recent weeks, Self said Coleman-Lands would be available against the Spartans. Wilson will sit out for the second game of a four-game suspension.
The Jayhawks enter this one as a 4.5-point favorite in the eyes of oddsmakers in Las Vegas, but both Self and Braun said the rankings and projections don't mean much.
"I think we're about as ready as we can be," Braun said. "Every (team) has a lot of room to grow at this point, but we're excited. A lot of the guys are really excited to get to the Garden; it's a lot of people's first time playing there. And I think we'll learn a lot about who we are, what we have and where guys are at specifically."
Probable Starters
No. 3 Kansas
G – Dajuan Harris Jr., 6-1, 180, Soph.
G – Remy Martin, 6-0, 195, Sr.
G – Ochai Agbaji, 6-5, 210, Sr.
G – Christian Braun, 6-6, 205, Jr.
F – David McCormack, 6-10, 265, Sr.
Michigan State
G – Tyson Walker, 6-0, 175, Jr.
G – Max Christie, 6-6, 190, Fr.
G – Joey Hauser, 6-9, 230, Sr.
F – Gabe Brown, 6-8, 215, Sr.
C – Marcus Bingham Jr., 7-0, 230, Sr.