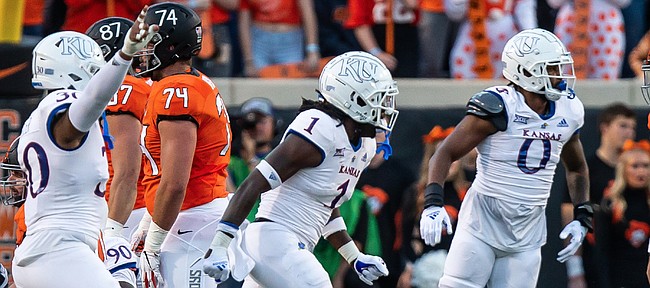 — Kansas (1-7 overall, 0-5 Big 12) vs. Kansas State (5-3, 2-3) • 11 a.m. kickoff, David Booth Kansas Memorial Stadium • Game-time forecast: 52 degrees, sunny, 0% chance of rain • TV: FOX Sports 1 • Radio: KLWN, FM 101.7 / AM 1320
Keys for Kansas
1. Don't let Deuce get loose
In recent weeks, the Kansas football defense has encountered running backs such as Coastal Carolina's Reese White (102 rushing yards, three touchdowns), Baylor's Abram Smith (123 yards, one TD), Duke's Mataeo Durant (132 yards, one TD) and Iowa State's Breece Hall (123 yards, two TDs). But KU defensive coordinator Brian Borland said the back the Jayhawks are facing this week, Kansas State sophomore Deuce Vaughn, might be "the most impactful player" that they've gone up against this year.
It's the versatility that makes the 5-foot-6 Vaughn, who is averaging 88 rushing yards and 43.9 receiving yards a game, a matchup nightmare.
"He's dangerous as a ball carrier. He's dangerous as a receiver. He's dangerous out in a formation. He's dangerous as a back coming out of the backfield in pass routes," Borland said. "And they have a great scheme. They have all kinds of ways to utilize him, get him in certain matchups and really exploit those matchups."
KU's rushing defense has struggled enough this year that the Wildcats may make the Jayhawks prove they can stop Vaughn as a runner before they open up the entire bag of tricks.
On the year, KU is surrendering 250.6 rushing yards a game. Opponents have rushed for 279 or more yards four times during KU's current seven-game losing streak. In Big 12 play, opponents are averaging 269.2 rushing yards a game and 6.7 yards per carry.
Just last week, although Dominic Richardson was OSU's leading rusher with 79 yards, he did that on just 11 carries and the Cowboys as a team piled up 292 yards on the ground, averaging 6.2 per carry.
As the KU defense prepared for K-State this week, Borland likened Vaughn to being the Wildcats' right hand, telling his players they'll need to make K-State play left-handed.
"There's not just one perfect call that's going to stop everything with how they use him," Borland said. "So it's an awareness and making sure that guys know the responsibilities, because they're going to test you in every way."
Earlier this year, Vaughn reached 2,000 career all-purpose yards in his 17th game at K-State, pulling off that feat more quickly than Wildcats legend Darren Sproles (19 games).
2. Watch out for No. 91
One area where the struggling KU offense (259.2 yards and 10.8 points per game in Big 12 play) has found some consistency is in its ability to avoid sacks. But that could be tested against rival K-State.
The Jayhawks' offensive linemen will have to be keenly aware of the Wildcat wearing No. 91: sophomore defensive end Felix Anudike-Uzomah. Entering this week's slate of games, the 6-3, 255-pound pass-rusher ranks No. 1 in the country in sacks (10) and forced fumbles (four). Just last week, Anudike-Uzomah tied a school record with 4.0 sacks in K-State's win over TCU, and he created two fumbles on separate QB pressures that would have been sacks, too, if the ball didn't bounce across the line of scrimmage.
KU offensive coordinator Andy Kotelnicki said the Wildcats' breakout D-end's athleticism stands out.
"He's a twitchy young man, and he plays pretty technically well," Kotelnicki said. "You can see that he enjoys rushing the passer — that's his forte, and that's what he wants to be able to do."
Though KU quarterback Jason Bean's effectiveness has fluctuated in recent weeks, the 6-3, 189-pound junior has only been sacked two times during the past six games.
That fact wasn't lost on K-State head coach Chris Klieman this week when he was asked during his press conference about how KU would try to handle Anudike-Uzomah.
"He avoids a lot of sacks because he's so athletic and he feels pressure," Klieman said of Bean. "He does a good job of getting rid of the football and avoiding negative plays. That's a credit to him. It's a credit to their offensive staff to make sure that he is avoiding those negative plays."
Sacks, of course, will only be one part of the defensive equation for K-State, but the pressure created by Anudike-Uzomah — and the attention he draws — could impact the Jayhawks' offensive output.
"They're going to want to pressure the quarterback — that's for sure," Kotelnicki said. "They have that about their schemes. You can see they have a blitz package, they have an exotic pressure package that they want to be able to run. But fundamentally, they're gonna probably look at whatever they feel like they need to do to either create turnovers or minimize explosive plays."
While speaking with reporters this week, Anudike-Uzomah called Bean a "pretty good scrambler," and said the challenge for K-State's defense will be making sure they keep him in the pocket and get to him quickly.
Perhaps unfortunately for Bean and the blockers in front of him, though, Anudike-Uzomah seems to have some extra motivation for the rivalry game. A high school standout from Lee's Summit (Mo.) who was rated a two-star prospect by Rivals in the Class of 2020, the D-end also mentioned he wasn't offered a scholarship by the previous KU coaching staff.
"They didn't recruit me because I was undersized," Anudike-Uzomah said. "So, that's basically the fuel I'm going to use. I used that last year and got a sack against them. So hopefully I can get a sack against them in this game, too."
3. Offensive revival
Not just Bean, but the entire KU offense will need to bounce back this week after a dreadful outing in a 55-3 road loss at Oklahoma State last week.
The Jayhawks had their worst rushing output (99 yards) since the season opener (82 versus South Dakota) and a season-worst 44 passing yards against the Cowboys.
In practices this week, Kotelnicki said he noticed intention in Bean's preparation and a desire to improve.
"And that's not exclusive to him. I think all of our guys are acting that way," the O.C. added.
How do the Jayhawks keep from having a game like their last one, which included three turnovers, discourage them?
Said Bean: "I think it's just the mindset that you have, coming in knowing that the past is the past. There's nothing that we can do about that game. It's over now. I think just coming out and making sure that we start fast this week is the main thing for us."
Kotelnicki said one of the more positive aspects of the up and down season for the offense has been the way players respond during practices each week.
"Guys want to get better, they want to be coachable," KU's O.C. said.
Whether the Jayhawks get the ball first against K-State or the offense has to wait for the conclusion of the Wildcats' first series, Bean said the KU offense needs to set a positive tone for the day.
"Whenever we have a good first drive, we tend to play a little bit well," Bean said. "I think just starting fast for us is the main goal this week."
KU went three-and-out on its first two possessions at OSU last week, and each of the next two drives concluded with an interception. In arguably KU's best showing of the year a week earlier, versus Oklahoma, the Jayhawks' first series lasted 14 plays and 5:45, and the 80-yard drive ended with a touchdown.
Prediction
K-State 37, KU 20