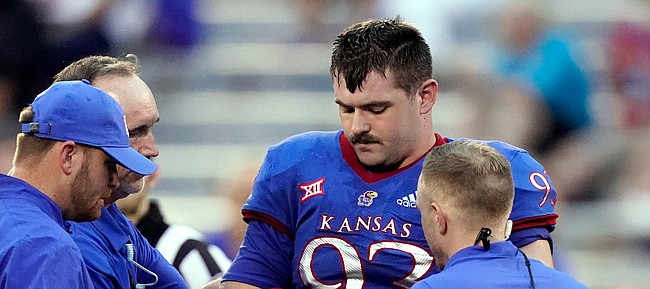 One of the Kansas football players most fired up for this week's Sunflower Showdown might not get to play one snap versus Kansas State on Saturday at David Booth Kansas Memorial Stadium. Nonetheless, super-senior Sam Burt is having an impact for the Jayhawks during their rivalry week.
A fellow defensive lineman, super-senior Kyron Johnson said the annual game against the Wildcats might mean more to Burt, a former KU walk-on from Abilene, than some of the Jayhawks from outside of the state.
"He's been really talking more this week. And I say that because he talks a lot, he always talks a lot, but like he's been more in tune to the details now," Johnson said of Burt, a veteran nose tackle who has missed the past seven games due to an arm injury.
Saturday's rivalry game against K-State (11 a.m., FOX Sports 1) will be the first for head coach Lance Leipold, as well as the assistants who followed him to Lawrence from Buffalo.
To provide some background to anyone unfamiliar with the series, which dates back to 1902, Leipold had Burt talk to the Jayhawks at Thursday's practice about the Sunflower Showdown.
Defensive coordinator Brian Borland said Burt's message helped some players get a better sense of the rivalry.
"He just talked about for your Kansas residents, like a lot of places, you're on kind of one side of the fence or the other," Borland said, adding Burt shared what the rivalry means to him.
Junior safety Kenny Logan Jr. said Burt's passion for KU and the rivalry game showed up even before that talk.
"Sam Burt always feels more this week because he's from around here," Logan said. "So this game means probably the most to him. So we all just try to feed off the energy and listen to words that he tells us and just try to go out and play at a high level."
A team captain for the Jayhawks (1-7 overall, 0-5 Big 12), Burt hasn't played since the early minutes of the season opener, when the starting nose tackle injured his right arm. Burt wore a cast on the arm for several weeks, and then a wrap.
Burt has suited up on game days recently, but not checked into a game. This past weekend at Oklahoma State, the 6-foot-4, 288-pound nose tackle didn't have his right arm wrapped or protected in any way as he went through pregame warmups.
So might this home game against K-State (5-3, 2-3) be the week Burt finally returns?
"Ahh, he's trying to do something," a smiling Johnson replied, when asked if Burt is angling for a return. "I don't know what it is, but he's trying to do something, though."
Added Borland: "Well, yeah, I'm sure that he wants to play. But at the end of the day we've got to do what's in his best interest, also. And I guess that's not really for me to say so much as him and our medical staff."
Borland described Burt, who first joined the program in 2017, as even keeled, and said the veteran D-lineman is mostly focused on working his way back to being comfortable enough to play confidently after hurting his arm.
"I don't know whether it's this week or not," Borland said. "We'll see."