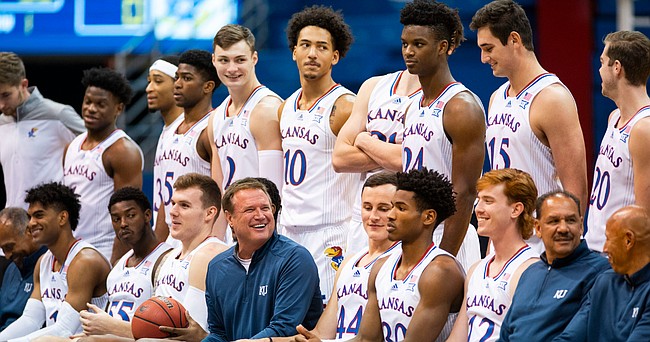 Kansas senior David McCormack has played in 92 games during the first three years of his KU career, but there's something about Wednesday's exhibition game against Emporia State that has him buzzing.
"It feels like I get to experience Christmas all over again," an energized McCormack said during Tuesday's Kansas basketball media day at Allen Fieldhouse. "It's a brand-new start in the sense that we had a completely different world last year, and now we've hit a semi-refresh button. It kind of feels like freshman year again."
After playing inside a far-less-than-half-full Allen Fieldhouse throughout the 2020-21 season because of the pandemic, McCormack and his teammates will get reacquainted with the program's rocking home venue at 7 p.m. tonight against the Hornets. The game will be televised on Big 12 Now via ESPN+.
A KU spokesperson said Kansas basketball will follow campus guidelines regarding current COVID-19 protocols, meaning Allen Fieldhouse will be open to its full capacity of 16,300 spectators and masks will be required.
For veteran players like McCormack, getting back to a full fieldhouse means a return to the good old days, when the Jayhawks leaned on the home crowd to give them energy and make life hard on the opponent.
For the 10 newcomers on the roster, the matchup with ESU will go down as one of those games they'll never forget — and it likely won't have anything to do with statistics or the final score.
"I'm excited to see people in the building again, just the fans and to feel their passion," said KU junior Christian Braun. "But I'm also excited for the young guys to feel that, too."
There will, of course, be important elements of the actual game. And the Jayhawks are hoping to put on a good show and prove to themselves and their coaches that they're ready for next week's regular season opener against Michigan State in New York.
"I want to see us play well together," Self said. "We need to get confidence. And I'm not saying confidence just by making shots."
The confidence Self referred to was much more operational than anything else.
"We need to get confidence by being able to leave a timeout and do what you're supposed to do," he said. "By being able to call something and execute it and try to run it right regardless if you score. We need to have confidence in knowing that you know how we're going to guard. We need to get confidence in those type of things (to) allow us to play without thinking as we move forward."
While proper execution, the final score and the lessons they learn about themselves in the tune-up will all be important, the overwhelming emotion surrounding this team on the eve of returning to a full-throat Allen Fieldhouse was one of appreciation for the opportunity to play in an environment regarded by many as one of the absolute best in all of college basketball.
"I'm excited," Self said. "Christian and Jalen and Juan (Dajuan Harris) are the youngest guys on our team that actually have experienced anything like what Kansas basketball is really about. Nobody else has. Even on a visit. So this is going to be new for most of our team, and that's exciting to me. They'll understand why you grind and why you put in the work you do and appreciate it more after playing at this place when fans can attend."
What about the nerves and adrenaline rush that comes with that? Most of the newcomers are fully expecting that to be a part of what they'll have to compete with in this one.
"Of course there'll be jitters, with the fans and just being here," Drake transfer Joseph Yesufu said Tuesday. "It's high expectations here, but I'm definitely ready for it."
Added freshman KJ Adams: "My juices have been running all week. I'm just excited to get out (there). Late Night was a little taste and I loved that too, so I can't imagine what it's going to be even though it's just an exhibition game."
About the Hornets
Picked to finish ninth in the MIAA by the league's coaches — and seventh by the media — the Hornets enter the 2021-22 season the heels of an 11-12 mark in 2020-21 that featured an 11-11 record in MIAA action.
The 11 wins in league play were a seven-game improvement from the season before, and it marked the first time ESU has finished .500 or better in MIAA play since the 2013-14 season.
Second-team all-MIAA selection Jumah'Ri Turner returns to lead the Hornets this season. A senior from Minneapolis, the 6-foot-2, 184-pound Turner averaged 19.1 points and 3.5 rebounds per game for ESU last season.
The explosive guard scored in double figures in all but one of ESU's game last season. That run included 13 games of 20 or more points.
Turner started all 23 games for the Hornets last season, and he is joined on this year's squad by three other players with starting experience from last season — redshirt freshman big man Mayuom Buom (11 starts), sophomore big man Mason Thiessen (11) and sophomore forward Gage McGuire (9).
The Hornets are coached by Craig Doty, who is in his fourth season in charge of the ESU program. Doty enters Year 4 with a record of 35-46. His first game on the sidelines for the Hornets came against Kansas during an exhibition matchup to kickoff the 2018-19 season.
Series history
Wednesday's clash will mark the 25th meeting between KU and ESU, with the Jayhawks leading the all-time series 21-3. That includes a 9-0 record in exhibition games. KU has won the last 12 meetings with the Hornets, dating back to 1992. All of those games were played at Allen Fieldhouse. The overall series dates back to 1904.

Probable starters
Kansas
G – Dajuan Harris Jr., 6-1, 170, RS-Soph.
G – Remy Martin, 6-0, 175, Sr.
G – Ochai Agbaji, 6-5, 215, Sr.
G – Christian Braun, 6-6, 218, Jr.
C – David McCormack, 6-10, 250, Sr.
Emporia State
G – Tray Buchanan, 6-1, 184, Sr.
G – Kaden Evans, 6-4, 188, Fr.
G – Jumah'Ri Turner, 6-2, 184, Sr.
F – Mayuom Buom, 6-10, 214, RS-Fr.
F – Mason Thiessen, 6-10, 216, Soph.