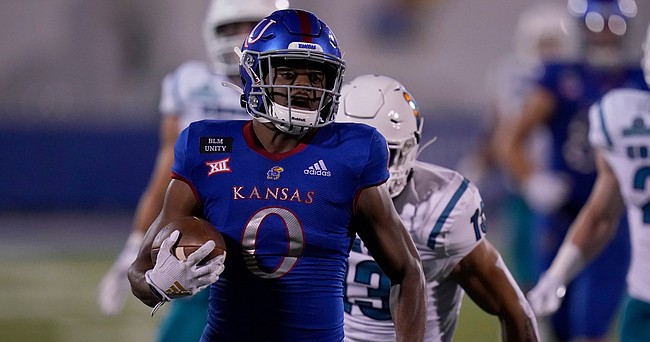 Lance Leipold's first season leading the Kansas football program will now include back-to-back Friday night dates to open the 2021 campaign.
KU announced Thursday that both the home opener versus South Dakota and the Jayhawks' Week 2 road game at Coastal Carolina have been moved up a day, slightly altering the previously released schedule.
Leipold's KU debut will come Sept. 3 at David Booth Kansas Memorial Stadium, with a 7 p.m. kickoff. The Jayhawks' third meeting with Coastal Carolina in three years will be on Sept. 10, and air on one of ESPN's networks, with the kickoff time still to be determined.
"It's going to be a thrill to open up the season under the lights of Memorial Stadium," Leipold stated in a KU release. "Since I've gotten here, the reception and reaction of our fan base has been nothing short of remarkable. Our fans have shown how eager they are to support this program, and I can't wait for our team to take the field for the first time together on that Friday night against the University of South Dakota."
KU Athletic Director Travis Goff noted in the release that the 2021 opener will mark the first time since the 2019 season that the football stadium "will be able to be near capacity," after pandemic protocols limited attendance in 2020.
"Kicking off the season and Labor Day weekend on a Friday night is exactly the type of excitement we're looking to generate as we build this football program," Goff said.
KU last played a Friday home game on Black Friday in 2018, closing that season with a loss to Texas. The Jayhawks' most recent Friday game came at Boston College in 2019, with a nonconference road win.
With the schedule changes, KU won't play on a Saturday in 2021 until Week 3, when Baylor comes to Lawrence for a Sept. 18 conference game.
2021 KU football schedule
Sept. 3 — South Dakota, 7 p.m.
Sept. 10 — at Coastal Carolina
Sept. 18 — Baylor
Sept. 25 — at Duke
Oct. 2 — at Iowa State
Oct. 9 — Bye week
Oct. 16 — Texas Tech
Oct. 23 — Oklahoma
Oct. 30 — at Oklahoma State
Nov. 6 — Kansas State
Nov. 13 — at Texas
Nov. 20 — at TCU
Nov. 27 — West Virginia