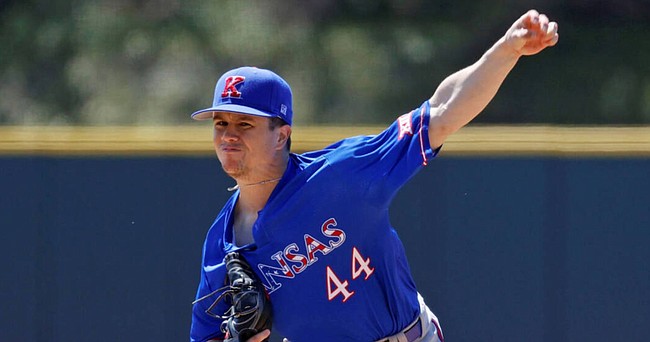 Less than a week after getting no-hit in a home loss to Oklahoma State, the Kansas baseball team tossed a no-hitter of its own in a 10-0 victory that capped a doubleheader sweep of rival Kansas State on Friday at Hoglund Ballpark.
Sophomore Eli Davis threw seven innings of no-hit ball, striking out four and walking just two in the run-rule win.
The Jayhawks have now won three in a row since their 19-0 loss to OSU last Saturday.
Davis, a 5-foot-8, 145-pound southpaw from Shawnee, Okla., threw 97 pitches and faced just 23 batters in picking up his sixth victory of the season.
With Davis (6-5) keeping the Wildcats' bats quiet, the Kansas offense got all it needed early.
KU (28-23 overall, 7-13 Big 12) scored six runs in the first inning and added two more in the third and two in the fifth, finishing with 10 runs on eight hits.
First baseman Dylan Ditzenberger went 2-for-4 with 3 RBI and teammates Skyler Messinger, Brett Vosik, Anthony Tulimero, Tom Lichty and Casey Burnham all drove in one run apiece.
Ditzenberger, Vosik, Lichty and shortstop Maui Ahuna all doubled, marking the only extra-base hits of the game for Kansas. Eight of KU's 10 runs were earned, as the Jayhawks also took advantage of four K-State errors.
In Friday's Sunflower Showdown opener, the Jayhawks outlasted the Wildcats (28-20, 7-13) 2-0 behind yet another strong pitching performance.
Kansas State managed just four hits against KU starter Cole Larsen, who struck out five and walked just one to improve to 5-5 on the season.
KU closer Jonah Ulane pitched the ninth inning to pick up his ninth save of the season.
Vosik and Tavian Josenberger drove in the only runs of Game 1. In all, KU outscored K-State 12-0 and outhit the Wildcats 15-4 in Friday's sweep.
The series opener was turned into a doubleheader because of the expectation of inclement weather the rest of the weekend.
The Jayhawks and Wildcats will look to complete the series at 1 p.m. Saturday, weather permitting. The game will mark the final home game of the 2021 season for KU.
Junior Everhett Hazelwood is expected to start Game 3 on the mound for Kansas, which moved ahead of K-State into seventh place in the Big 12 standings with Friday's victories.
Game 1: KU 2, KSU 0
Kansas State 000 000 000 — 0 4 0
Kansas 000 110 00X — 2 7 1
Game 2: KU 10, KSU 0, 7 innings
Kansas State 000 000 0 — 0 0 4
Kansas 602 020 X — 10 8 0