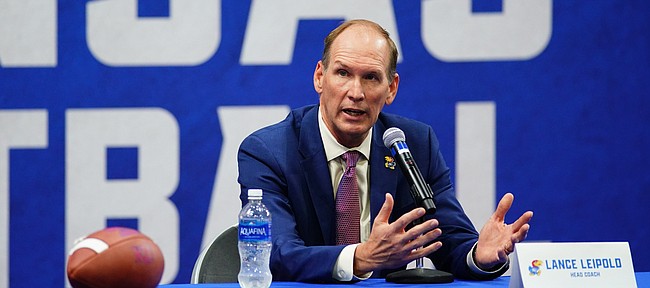 Although the University of Kansas hasn't yet announced any of the new assistants head football coach Lance Leipold will be adding to his staff, the names of several of his former Buffalo football staff members already appear in KU's online directory.
The coordinators and position coaches from Leipold's most recent UB staff who appear to already have been hired are: Brian Borland (defensive coordinator at UB), Andy Kotelnicki (offensive coordinator), Chris Simpson (linebackers), Jim Zebrowski (quarterbacks), Scott Fuchs (offensive line) and Taiwo Onatolu (defensive ends).
It's possible not all of those coaches will have the same role at KU as they did at UB.
Additionally, the names of some UB football support staffers also show up in KU's online directory: strength coach Matt Gildersleeve, director of football operations Michael Painter and director of player personnel Grant Murray.
As of Wednesday morning, the name of Rob Ianello, UB's associate head coach and recruiting coordinator under Leipold, was not in KU's directory.
Yahoo Sports' Pete Thamel previously reported Borland, Kotelnicki, Simpson, Zebrowski, Fuchs, Onatolu and Ianello were expected to follow Leipold to KU.
A few KU assistants from the Les Miles era are expected to remain with the program, too, and work on Leipold's staff. That group includes receivers coach Emmett Jones, inside linebackers coach Jacob Schoonover, defensive backs coach Chevis Jackson, defensive line coach Kwahn Drake, running backs coach Jonathan Wallace and safeties coach Jordan Peterson.
Exactly what responsibilities the new hires and returning assistants will take on has yet to be announced by KU.
NCAA rules allow for a head coach to have 10 full-time assistants who handle on-field coaching responsibilities, so between the former UB assistants coming in and KU assistants being retained, it appears some who were position coaches in 2020 will move into analyst or other behind the scenes roles for Leipold.