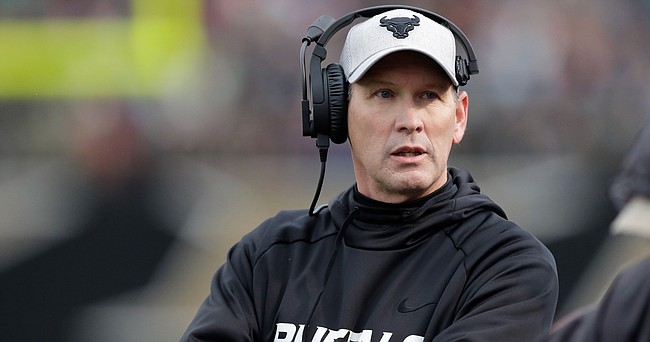 When Lance Leipold became the new head football coach at the University of Kansas, he signed a six-year contract that will pay him an average of $2.75 million per year.
The deal for the Jayhawks' new coach, which will pay him $16.5 million in total, includes a pay increase each year. So although Kansas Athletics Inc., agreed to pay Leipold $2.2 million for his first year on the job, if the former Buffalo head coach is still in Lawrence in 2026, he'll see that number grow to $3.3 million in his sixth year.
The $2.2 million Leipold will make this year is less than any Big 12 coach was paid in 2020, per USA Todays database of NCAA head coaches salaries. Kansas State's Chris Klieman made $2,323,958, the lowest figure among the Big 12's coaches (Baylor's salary for Dave Aranda wasn't published). KU paid Les Miles $3.3 million in what proved to be his final full year with the program.
KU published the terms of Leipold's contract for the first time Sunday night, after announcing the hire on Friday. Leipold's base salary is set at $500,000 per year. But his income from the deal gets hefty boosts with annual personal services payment beginning at $1.36 million a year, as well as a yearly royalty payment of $340,000.
Leipold's personal services payment, for his multimedia services, which include educational, public relations and promotional duties assigned by the athletic director, increases by $200,000 each year of the contract — except for the fourth year, when it goes up by $300,000.
According to USA Today's database, Buffalo paid Leipold $624,300 in 2020 to lead its MAC program. Leipold's contract with Buffalo reportedly included a $600,000 buyout. Leipold's contract with KU states that KAI agreed to pay Buffalo that amount.
Potential buyout scenarios between KU and Leipold, however, would be much more expensive. If while under contract Leipold wanted to leave KU for a job at any other college football program or in the NFL, it would cost him $6 million in 2021, $5 million in 2022, $4 million in 2023, $3 million in 2024, $2 million in 2025 and $1 million in 2026.
If KU wanted to fire Leipold without cause, KAI would owe him 70% of his remaining salary (base salary, professional services and royalty payments) on the six-year deal.
The contract also includes a number of potential incentive payments, tied to the Jayhawks' potential success.
Leipold would get a bonus payment for each of the following scenarios:
• $500,000 for a berth in the national title game
• $350,000 for a berth in the College Football Playoff
• $150,000 for a berth in a New Year's 6 bowl game
• $100,000 for any other bowl berth
• $150,000 for reaching the Big 12 title game
• $50,000 for seven wins in the regular season
• $100,000 for being named a national coach of the year
• $50,000 for being named the Big 12 coach of the year
• $50,000 for a top 25 finish in one of the polls
• $75,000 for a single year Academic Progress Rate equal to or greater than 970 (first eligible to earn the incentive in September of 2022)
The potential bonus scenarios are cumulative, so in theory Leipold could get $150,000 for KU playing in the Big 12 title game and then get another bonus payment for the bowl invite that followed.
If at some point KU, the Big 12 or the NCAA found Leipold to be committing "repetitive or intentional" rules violations "or a pattern of conduct which may constitute or lead to a major NCAA violation," KU could suspend the coach without pay or terminate him for cause. The contract states KU also could take such action if violations by the coach occurred at one of his previous jobs.