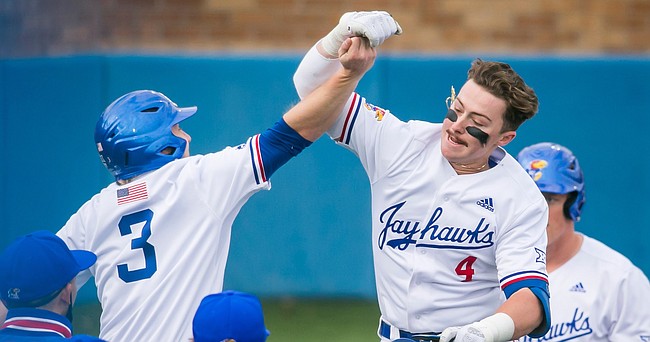 An eight-run rally in the bottom of the seventh inning propelled the Kansas baseball team to a 10-9 victory over Missouri on Tuesday afternoon at Hoglund Ballpark.
The visiting Tigers built leads of 5-0, 7-1 and 9-2 before Kansas (15-8, 1-2 Big 12) got all it needed in the bottom of the seventh inning.
The KU explosion followed a two-run seventh by the Tigers.
Nolan Metcalf started things off by drawing a bases-loaded walk and Tavian Josenberger scored on a groundout.
Skyler Messinger was initially called out coming home on a wild pitch, but the call was reviewed and overturned, which cut the Tigers' lead to 9-5 and shifted the momentum to the KU dugout.
Document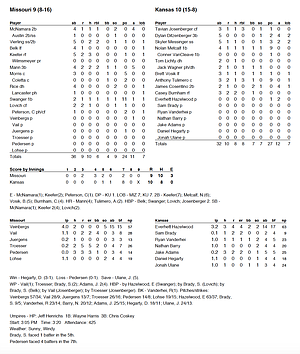 Soon thereafter, Anthony Tulimero launched a ball to deep left center for a three-run home run (his second of the season), trimming the Tigers' lead to just one run. Kansas put two more runners in scoring position and Josenberger delivered in the clutch, driving in both runners with a two out single to give Kansas a 10-9 lead heading into the final two innings.
Junior lefty Daniel Hegarty, who entered the game in the top of the seventh to help Kansas get out of a jam, shut down Missouri (8-16, 1-5 SEC) in the eighth inning and secured the win to improve to 3-1 on the season.
Missouri tried to start a rally in the top of the ninth, but Jonah Ulane came in to close the door for Kansas, earning a save and securing the win for the home team against its longtime border rivals from the east.
Josenberger and Tulimero each drove in three runs, and Casey Burnham delivered two hits and two runs scored.
The Jayhawks return to Big 12 play this weekend, when Texas visits Hoglund Ballpark for a three-game series. All three games will be available on Big 12 Now on ESPN+.