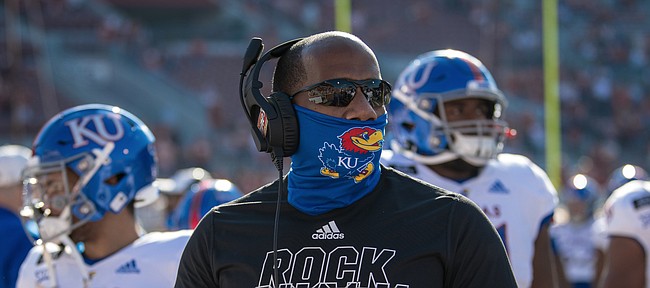 About to lead the entire Kansas football team through a practice for the first time, interim head coach Emmett Jones hopes his approach this spring will set the wheels in motion for the Jayhawks' longterm success.
The players already have spent much of the semester up to this point doing strength and conditioning workouts, but now the Jayhawks will finally put on helmets, go through drills and run some plays on Tuesday, kicking off the 15-practice spring calendar.
Jones, who hasn't yet been made available for interviews with local media outlets, said recently on "The Jayhawker Podcast," produced by KU, that one of his points of emphasis this spring will be getting the players in sync.
"Discipline, detail, establishing who we are and being very competitive on a day-to-day basis," Jones said of his general outlook for what's ahead. "And at the same time, everybody just being on the same page and knowing exactly what we're thinking about, how we operate, how we breathe, how we move. I mean, it all has to be unification. If we're all stepping right, we need everybody to step right. We don't want anyone stepping left."
From what Jones already has observed from the players in recent weeks, he likes their frame of mind. Jones said he and the rest of KU's coaches want to build off everything director of strength and conditioning Ben Iannacchione and his staff established leading up to spring practices.
According to Jones, the players are heading into this crucial stage of the offseason with a winning mentality.
"It's up to everybody that's on the second level in this facility — and that's mainly the adults, the coaches, everybody that assists the players with becoming the best football players as possible — we've just got to get on the same level as the players," Jones said. "And that starts with me. The true reflection of your leader, the face of the program, that all starts with me. Those kids, they already know exactly what I'm about."
Here are five questions facing the Jayhawks as spring practices get underway.
What type of impact will new offensive line coach Lee Grimes have?
In their winless 2020 season, the Jayhawks' offense regularly failed to keep them in games. And when the offense went nowhere, trouble up front and a lack of protection and/or blocking often was to blame for KU's problems.
Several times last year, then head coach Les Miles and some KU players brought up how much a lack of spring practices in 2020 hurt the Jayhawks' development, especially along the offensive line. That won't be an issue in 2021.
And with new assistant Lee Grimes in charge of the group, the O-line will have a different voice leading it. A fresh start is likely welcome for the O-linemen, considering their struggles last season.
Can Grimes salvage the O-line, which returns super seniors Chris Hughes, Malik Clark and Adagio Lopeti, and added a grad transfer at center in former Notre Dame walk-on Colin Grunhard?
There are younger players up front, too, of course — you may recall Armaj Adams-Reed, Garrett Jones and Bryce Cabeldue all started late in 2020 as true freshmen out of necessity. It will be up to Grimes to find the right five O-linemen, young or old, who can give the rest of the offense a chance to succeed.
What will Mike DeBord's offense look like?
When new offensive coordinator Mike DeBord was introduced in early February, he admitted he didn't know at the time what types of packages he would install for the Jayhawks this spring.
Even with the discontinuity KU has endured since then, with Miles' departure as head coach, DeBord certainly has a much better idea about the offensive personnel by now, having had time to thoroughly review game footage from the 2020 season.
There will likely be some tinkering and perhaps even some significant revelations for DeBord during spring practices, as he works directly with the players — he'll also coach quarterbacks — for the first time.
DeBord and Jones, the receivers coach and passing game coordinator who now is leading the entire program, will have to figure out quickly what works and what doesn't for a new-look KU offense.
Will a No. 1 QB emerge this spring?
The starting quarterback job at KU, per usual, is up for grabs. That means this spring could give one of the contenders the chance to separate himself and win over his coaches and teammates.
QBs Jalon Daniels and Miles Kendrick both started for KU in 2020. But given how the offense stumbled behind a poor O-line, neither turned in the type of performances that would make him a frontrunner heading into next season.
Both Daniels and Kendrick could face serious competition for the top couple of spots on the depth chart from a pair of true freshmen, Conrad Hawley and Ben Easters. Both Class of 2021 signees, Hawley and Easters graduated from high school early in order to enroll at KU this semester and participate months in advance of when most freshmen arrive.
What's more, the QB question may well stick with the offense for months to come, regardless of how things play out this spring. Because former North Texas starting QB Jason Bean, who is transferring in, won't be officially joining the program until this summer. One would think Bean will have a chance to compete for the starting job, too, even if the field is narrowed down when preseason camp gets here.
Can the defense take another step in the right direction?
In a mostly forgettable 2020 season, more signs of promise for KU's future appeared on the defensive side of the ball than anywhere else.
With young starters such as cornerback Karon Prunty, defensive end Marcus Harris, defensive tackle Da'Jon Terry and safety Kenny Logan returning for third-year defensive coordinator D.J. Eliot, the Jayhawks appear to be trending upward on defense.
They'll bring back super seniors in linebacker Kyron Johnson, nose tackle Sam Burt and safeties Ricky Thomas and Nate Betts, too, so the unit could benefit from having some continuity and experience, as well.
The defense often was asked to do too much in 2020, with the offense so frequently going 3-and-out and punting. Even so, the group concluded last season with a strong showing in defeat, giving up a season-low 16 points at Texas Tech.
Will KU's next athletic director provide the program with some clarity for 2021?
Once KU finds its athletic director, the new person in charge could do Jones, the players, and the entire KU football staff a favor by letting everyone know as soon as possible how the rest of the year will play out.
The Jayhawks know Jones is the interim head coach now. But they don't know yet if the next AD will want to keep him in place for the entire 2021 season, or try to hire a new head coach sometime between now and the start of preseason camp.
For coaches and players trying to get a rebuilding program moving in the right direction, looming uncertainty won't do the Jayhawks any favors.
Will Jones, a popular coach among the players, be given the keys to the program for the remainder of the year, and a chance to keep the job on a permanent basis?