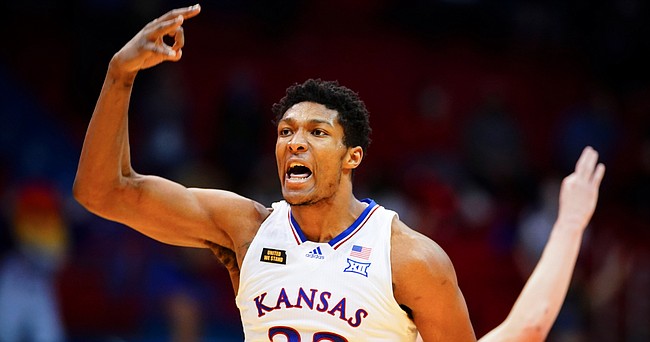 Kansas basketball coach Bill Self's streak of top 4 seeds or better is alive and well, as the 11th-ranked Jayhawks enter the 2021 NCAA Tournament as a No. 3 seed in the West.
Kansas will face 14th-seeded Eastern Washington in the first round next Saturday in Indianapolis.
KU and EWU will face off at 12:15 p.m. at Farmers Coliseum in Indianapolis.
KU is in a region with No. 1 overall seed Gonzaga, No. 2 seed Iowa, No. 4 seed Virginia, the defending champs from 2019, and No. 5 seed Creighton.
No. 6 seed USC is also in the region and could face Kansas in a second-round matchup if both teams win their openers.
Wichita State (11), Oklahoma (8) and Missouri (9) are also teams of note in KU's region.
In his 18 seasons at Kansas, Self's teams have never been seeded lower than fourth in the Big Dance. And while it looked like that run could be in jeopardy back in January, Self's squad responded to a rough first month of 2021 by winning eight of its final nine games in February and March. The only loss in that stretch came at Texas, which won the Big 12 tournament over the weekend.
KU's inclusion in this year's bracket pushes the program's NCAA-record streak of consecutive trips to the NCAA Tournament to 31 straight.
It would be at 32 in a row if not for the cancelation of last year's NCAA Tournament at the outset of the COVID-19 pandemic. KU was 28-3 and ranked No. 1 in the nation when last year's tourney was canceled. KU was poised to be the No. 1 overall seed in the 2020 tournament.
Kansas entered Sunday ranked No. 11 overall in both the Associated Press poll and the NCAA Tourament Evaluation Tool (NET) rankings.
KU's 15 games against Quadrant 1 opponents this season were among the most of any Division I program. And the Jayhawks were 7-8 in those games while going 12-0 against Quadrant 2, 3 and 4 foes. KU also has a win over Division II Washburn, which did not count toward its NET ranking.
The Jayhawks enter this year's NCAA Tournament on the heels of a quarterfinal victory over No. 25 Oklahoma in the Big 12 tournament. That victory gave Kansas its 20th win this season, extending another streak of note — 32 consecutive seasons of 20 wins or more.
Kansas (20-8) withdrew from the Big 12 tournament hours after that victory because of a positive COVID-19 test that surfaced Friday morning. And it remains to be seen what kind of impact that will have on the Jayhawks' run in the upcoming tournament.
Second-seeded Kansas already was without junior big man David McCormack and sophomore guard Tristan Enaruna for the Big 12 tourney after those two were ruled out because of COVID-19 protocols.
Both are expected to be back sometime this week, though they are not likely to travel with the team to Indianapolis on Monday.
Per NCAA Tournament guidelines, all Tier I personnel (which includes players and coaches) is required to post negative tests on seven consecutive days before traveling to Indianapolis. Programs need just five eligible players to be eligible to compete in the NCAA Tournament.
Andy Katz, of NCAA.com, reported early Sunday morning that no programs informed the NCAA that they would not be able to travel to Indianapolis ahead of Saturday night's 10 p.m. deadline to pull out of the event.
Check back with KUsports.com throughout the night for more on KU's seed and road in Indianapolis, including reaction from Self and the players as well as more from our special NCAA Tournament section.