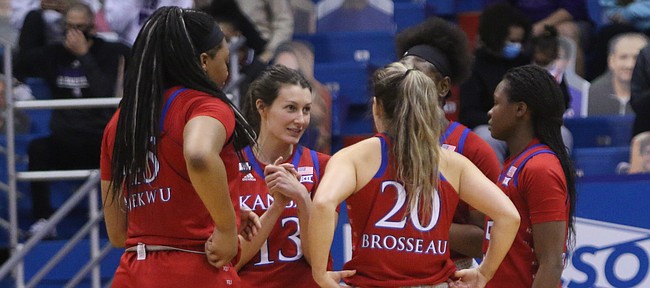 Ahead of his team's trip to the Big 12 tournament in Kansas City, Mo., Kansas women's basketball coach Brandon Schneider had one specific, yet wide-ranging, word in mind when asked about areas where he would like to see his team improve.
"Consistency," Schneider said, in the days leading up to KU's first round matchup with TCU tonight at Municipal Auditorium.
That's a sentiment the sixth-year KU coach often has referenced in recent weeks, as the Jayhawks frequently challenged foes before falling short of victory.
KU, which hits the postseason on an eight-game losing skid, went 3-15 against Big 12 opponents, finishing tied for last in the standings with rival Kansas State.
Schneider admitted the Jayhawks weren't in five of those 18 contests, but pointed to 13 games (they won three of them) in which they were "right there."
"Typically it was a quarter — a poor quarter — that put us (in a spot) where we weren't able to finish," Schneider said, referencing the various times KU had to rally from a large deficit just to come within striking distance, or better, in crunch time. "It's just consistency of putting together four quarters."
What: Kansas (7-17 overall, 3-15 Big 12) vs. TCU (9-14, 4-14)
When: 5 p.m. Thursday, ESPN+
Where: Municipal Auditorium, in Kansas City, Mo.
Quick Note: As one of the four teams playing on the opening day of the conference tournament — the top six all await Thursday's winners in the quarterfinals — KU won't have to go up against a team it struggled to beat during the regular season.
The Jayhawks actually split the series with the Horned Frogs. KU's most recent victory came on Feb. 7 against TCU, 82-72, in Allen Fieldhouse. In the first meeting, Jan. 17 at TCU, it took overtime for the Frogs to prevail, 81-78.
This will be the first time this year, though, that KU faces TCU without Tina Stephens, who opted out late in the regular season.
Streaking: KU's leading scorer, sophomore guard Holly Kersgieter (16.7 points per game) has produced double digit points in 12 consecutive outings.
In the first two games against TCU, Kersgieter averaged 15.5 points.
One of her biggest strengths has been getting to the foul line, where she averages 4.8 attempts a game and shoots 85.5 percent. She attempted at least nine free throws in three of KU's past five games.
Slumping: TCU, in beating Oklahoma on the road, 83-79, on March 4, has more experienced a win more recently than KU.
But neither team ever really took off during Big 12 play. The Frogs have lost five of their past six games.
TCU finished eighth in the league standings, just one win ahead of both KU and K-State.
Last game's starters
Kansas
G — Zakiyah Franklin, 5-7, so.
G — Holly Kersgieter, 5-10, so.
G — Aniya Thomas, 5-7, jr.
F — Katrine Jessen, 6-3, fr.
C — Chisom Ajekwu, 6-3, so.
TCU
G — Lauren Heard, 5-9, sr.
G — Ashliyah Jackson, 5-10, gr.
G — Aja Holmes, 5-8, fr.
G — Tavy Diggs, 6-2, so.
C — Kayla Mokwuah, 6-4, jr.