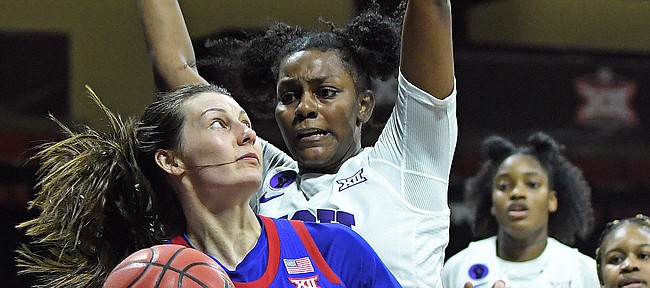 A furious fourth-quarter rally from the Kansas women's basketball team couldn't completely erase TCU's lead Thursday night in the opening round of the Big 12 tournament.
Despite an 18-3 KU run entering the game's final minutes at Municipal Auditorium, the Jayhawks never overtook the Horned Frogs in a 75-72 defeat.
A basket from KU's Big 12 All-Freshman team forward, Ioanna Chatzileonti, made it a one-point game with 1:19 to go. However, KU's final two field goal attempts of the night, which came on the following pair of possessions, both misfired, allowing TCU (10-14) to escape.
Chatzileonti finished with a double-double, posting 18 points and 13 rebounds in the loss, which extended KU's losing streak to nine and dropped the Jayhawks' record to 7-18 — all but putting an official end to KU's postseason WNIT hopes.
KU sophomore Holly Kersgieter led the team with 22 points in the loss, and came through with nine rebounds, as well.
The Jayhawks actually led by as many as 11 points early in the second quarter of their postseason defeat. But TCU recovered leading up to intermission, when the game was tied at 36.
The Frogs' lead grew to as many as 16 in the fourth quarter, before KU's rally fell short.