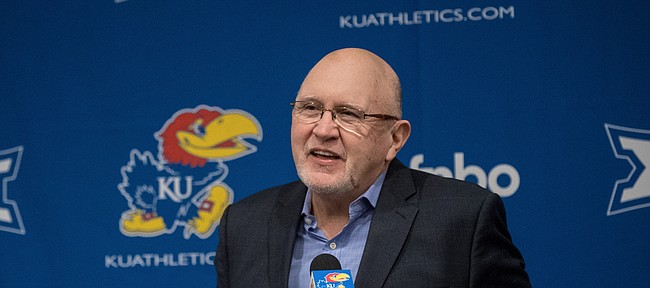 Although no interim head coach was named to step in for Les Miles when the Kansas football coach was placed on administrative leave on Friday, for now offensive coordinator Mike DeBord is KU football's acting head coach.
While KU Athletic Director Jeff Long didn't publicly identify who would take on such a role when he announced Miles was placed on leave, Dan Beckler, KU Athletics' associate athletic director for public relations, told the Journal-World on Monday Long tabbed DeBord.
The choice to go with DeBord apparently stems from Long's relationship with the assistant, dating back to when Long and DeBord crossed paths at Michigan in the late 1990s, when they both worked there.
Long didn't provide a timeline for how long KU's review of Miles will last, after the third-year KU coach was placed on leave in the wake of two newly published LSU reports that included allegations of sexual harassment by Miles when he was the head coach for LSU football.
Miles' lawyer this past weekend criticized KU's decision to put Miles on leave, and disputed KU's claim that it had no knowledge of LSU's 2013 internal investigation of Miles until the documents were released this past week.
DeBord has only worked at KU since Feb. 2, when Miles announced the hiring of his latest offensive coordinator and quarterbacks coach, after Brent Dearmon left to work at Middle Tennessee State.
Previously, before the allegations against Miles came to light, the KU coach told the Journal-World that the Jayhawks were scheduled to begin spring practices on March 23. It remains to be seen whether KU's review of Miles will be resolved by then.
Should KU ultimately decide to part ways with Miles, whom Long hired to take over the struggling program in November of 2018, it's likely an interim coach would have to be named.
Outside of DeBord, who last worked as an offensive coordinator at the college level at Indiana in 2018, the KU assistants who would seem most likely to deserve consideration for an interim tag would be defensive coordinator and linebackers coach D.J. Eliot and receivers coach and passing game coordinator Emmett Jones.
Both Eliot and Jones were hired by Miles and have been on the staff the past two-plus years. Eliot also has experience as a defensive coordinator at Power Five programs Colorado (2017-18) and Kentucky (2013-16).
Jones has proven to be one of the most important recruiters for KU since Miles took over, often helping the Jayhawks land touted high school prospects from the Dallas area and throughout Texas. Before coming to KU, Jones worked at Texas Tech for Kliff Kingsbury, as the Red Raiders' outside receivers coach (2016-18).
The five-year contract Miles signed with Kansas Athletics Inc. in November 2018 states that if Miles were fired without cause, he would be owed the remaining amount of his contract — which pays him $2.775 million per year.
The contract also identified a number of scenarios in which Miles could be fired with "just cause" — scenarios in which KU wouldn't have to pay him a buyout. Some areas that qualify as just cause include the coach's participation in "any act, situation, or occurrence, or any conduct, which in (Kansas Athletics') judgement brings (Miles) and/or KU into public disrepute, embarrassment, contempt, or ridicule or any public or private comments that disparage KU or Athletics, its personnel, programs, policies and/or departments, or that case damage to KU's reputation."