For more than 25 minutes of Thursday's 67-62 comeback victory over visiting UTEP, Kansas junior David McCormack was alarmingly quiet and more than a little off.
But, as he has done throughout the season, McCormack never let himself get taken out of the game entirely, setting the stage for a huge stretch that helped KU find a way to win.
Asked after the victory how he was able to stay patient after a first half that saw him score two points and hit just one of the six shots he attempted, McCormack pointed to always looking at the bigger picture.
"To be honest with you, it's hard," he said. "You just have to kind of kind of remind yourself that you can't win a game with 14 points in one possession or 15 points in one possession. You have to take it possession by possession, make sure you get stops, secure the possession and make the right plays offensively."
McCormack, who finished Thursday's game with 18 points and 10 rebounds, did all of those things in the second half.
He played tougher, made stronger moves in the post, attacked the glass with added energy and unleashed some serious emotion during a 10-2 run by Kansas in which he scored all 10 of the Jayhawks' points.
Photo Gallery
Kansas basketball v. UTEP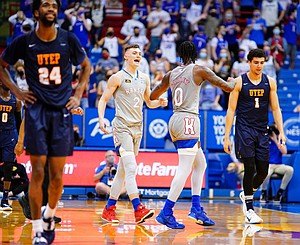 View a gallery from Thursday night's game between the Jayhawks and Miners at Allen Fieldhouse.
While McCormack was busy finding his rhythm, his teammates simply kept finding him.
Ochai Agbaji, Marcus Garrett, Christian Braun and Dajuan Harris — the four guards who played 89% of the backcourt minutes in Thursday's second half — all became willing passers, eager to throw the ball to their big man as soon as he found the position he wanted down low.
"I just kind of slowed down my game, read the defense, listened to coach (saying) how they were playing me and the rest just came easy," McCormack said after the victory.
He added that UTEP basically played the same defense against him in the second half, and that he used the lessons he learned from facing it during his 14 first-half minutes to make the necessary adjustments.
"I just changed my offensive game to (adjust) to their defense and get some production," McCormack said. "I know they wanted to be physical. So I made sure to get them in foul trouble. I know I'm a good free throw shooter and that was easy points to (help) us cut down the lead."
Even that wasn't automatic. McCormack, who entered the night shooting 80.7% from the free throw line for the season, missed two of the first three free throws he attempted before draining all five he shot in the final 8:19.
The free throws were important. And they came in bunches in the second half. After making just 2-of-4 from the line in the first half, Kansas hit 14 of 20 in the second half, with McCormack leading the way by hitting six of eight.
But it was his aggressive play in the post, where he scored over defenders who moved him off of his spots throughout the first half, that most impressed KU coach Bill Self.
"The way that David had to score real baskets over (UTEP forward Tydus Verhoeven), being bodied up and things like that, that was great for him to play through some contact and see some good things happen," Self said.
Self said after the game that neither McCormack nor Agbaji practiced much during the week leading up to the UTEP game. But he added that neither player was facing any type of serious injury.
"It's just nagging stuff," Self said. "So he'll be good to go. But I do think if you're going to rest guys going into postseason, this past week was the time to do it. So we were able to do that a little bit."
There was no rest to be had during Thursday's game, however, as the home team that was favored by 17 points needed all 40 minutes to hold off UTEP's upset bid.
While several players contributed to that on both ends of the floor, Self said his team demonstrated, once again, that it's at its best offensive when McCormack is playing
"We don't shoot the ball consistently well enough, nor do we get enough good shots, but we're at our best when we can play through David," Self said.
McCormack sent the credit for Thursday's victory the other direction.
"We just locked in mentally, listened to what coach said and got the job done."
Now, while eight other Big 12 teams finish their regular season schedules this weekend, the Jayhawks will get a little more down time while they wait for the final standings and the identity of their Big 12 tournament quarterfinal opponent next week in Kansas City, Mo.