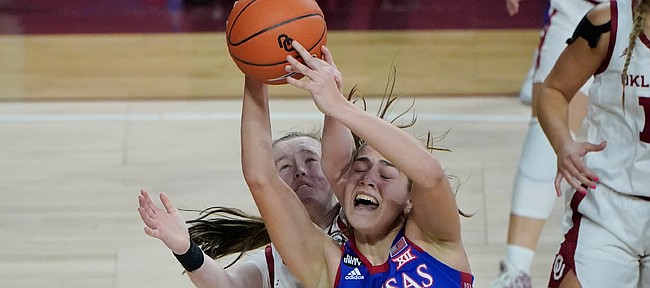 As the Jayhawks prepare to close their regular season Saturday afternoon against No. 6 Baylor, Kansas women's basketball coach Brandon Schneider hopes one problem area in KU's latest loss won't be a harbinger of more to come.
Iowa State, in its 30-point victory over Kansas on Wednesday in Ames, Iowa, destroyed the Jayhawks in rebounding, 54-32.
"Obviously when you have a tough night on the glass and Baylor is your next game, that's going to be an enormous point of emphasis," Schneider said.
Though ISU took advantage of some mismatches to beat KU up on the boards, Schneider thought the rebound margin shouldn't have been so vast.
"I think we got our hands on a lot of balls that we didn't come up with," he said. "We've got to play tougher, got to play stronger. When you've got a hand or definitely two hands on it, then you ought to be the guy to secure the rebound."
The Bears, in a 33-point win over KU in Waco, Texas, on Feb. 4, controlled the glass, 56-25.
What: Kansas (7-16 overall, 3-14 Big 12) vs. No. 6 Baylor (20-2, 15-1)
When: 4 p.m. Saturday, ESPN+
Where: Allen Fieldhouse
Quick Note: Sophomore Holly Kersgieter was one of the few Jayhawks to find some success in the team's blowout loss at ISU. The 5-foot-10 guard was the only KU player to reach double digits in either scoring (13 points) or rebounding (11 boards).
Still, Schneider said Kersgieter, who shot 5-for-13 and had one assist, hoped to do even more.
"It was a frustrating night for her, because they really crowded her," Schneider said of ISU defenders keeping Kersgieter in check. "They played her with a man and a half or two people every time she put the ball on the floor. We talked at halftime about her willingness to give it up probably sooner to open teammates. She just couldn't get into the creases like she's been able to lately, because they played in such strong help."
Streaking: The Bears and Jayhawks enter Saturday's matchup headed in completely opposite directions, as head coach Kim Mulkey's Bears haven't lost since Jan. 16.
BU already wrapped up the 2021 Big 12 title, thanks to its current 12-game winning streak.
The Bears are led by 6-2 junior forward NaLyssa Smith, who is averaging 18.1 points and 9.3 rebounds and shooting 53.5% from the floor this season.
Smith has scored in double figures 20 consecutive games and shot better than 50% from the field in seven of BU's eight most recent victories.
BU's leading scorer, Smith also gets to the foul line to stockpile points. She's hitting 81.7% of her free throws on 5.2 attempts a game.
Slumping: If the Jayhawks don't pull of the massive upset over Baylor they will close the regular season on an eight-game losing streak.
KU's three Big 12 victories to date all have come at home, against Oklahoma (in December), Kansas State (in January) and TCU (on Feb. 7).
The Jayhawks shot just 32.7% from the field in their loss at ISU, which marked their third straight game shooting below 40%.
Last game's starters
Kansas
G — Zakiyah Franklin, 5-7, so.
G — Holly Kersgieter, 5-10, so.
G — Aniya Thomas, 5-7, jr.
F — Ioanna Chatzileonti, 6-3, fr.
F — Katrine Jessen, 6-3, fr.
Baylor
G — DiDi Richards, 6-1, sr.
G — Moon Ursin, 5-6, sr.
G — Trinity Oliver, 5-9, jr.
F — NaLyssa Smith, 6-2, jr.
C — Queen Egbo, 6-3, jr.