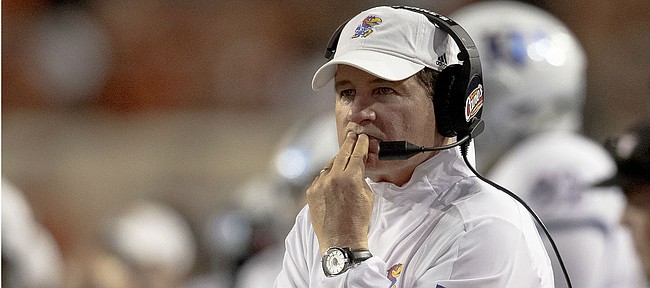 University of Kansas football coach Les Miles' lawyer is now calling for the release of a 2013 investigative report on allegations of Miles sexually harassing LSU student workers when he was the coach in Baton Rouge, La.
USA TODAY and other media outlets reported Wednesday that Miles' attorney said releasing the details of the eight-year-old investigation was necessary.
"Quite simply, Mr. Miles cannot defend himself against the inaccurate and unfair media attention that this matter has received during the past week without citing to the report's findings and conclusions," Peter Ginsberg, Miles' attorney, wrote in a letter to a judge.
Per reports, an outside law firm investigated Miles' behavior at LSU after allegations were made against the football coach.
Earlier this year, USA TODAY sued LSU for access to the report and LSU refused to release it. Miles' lawyers previously argued releasing the report would violate Miles' privacy.
The internal investigation of Miles at LSU first came to light as the result of USA TODAY's reporting on mishandling of sexual misconduct allegations at LSU through the years.
It's possible some details from the investigative report on Miles could be revealed on Friday, when LSU is expected to release the broader Husch Blackwell report on its handling of sexual assault cases.
KU Athletics, which hired Miles to take over the Jayhawks' football program in late 2018, has declined to comment on the matter other than when Dan Beckler, KU Athletics' associate athletic director for public relations, issued a statement on Feb. 24.
"The University of Kansas is aware of a media report today involving KU head football coach Les Miles," Beckler said at the time. "We have spoken with Coach Miles about the allegations in the story and will continue to gather information that is made available to us. KU was not aware of these allegations when Coach Miles was hired in 2018."