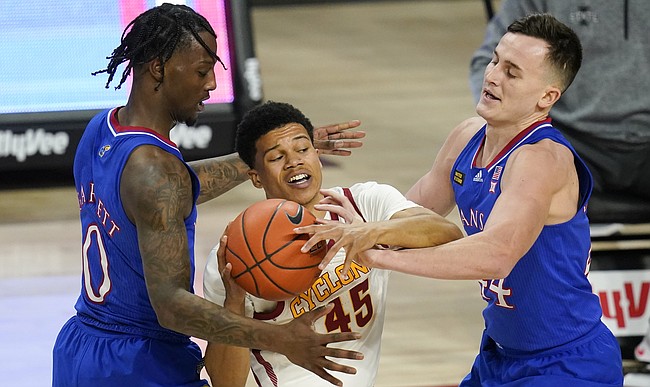 No. 13 Kansas Jayhawks (18-8 overall, 12-6 Big 12) vs. UTEP Miners (12-10 overall, 8-8 Conference USA)
Time: 7 p.m., Thursday, March 4, 2021
Location: Allen Fieldhouse, Lawrence, Kansas
TV: Big 12 Now/ESPN+ | Radio: IMG Jayhawk Radio Network
Log on to KUsports.com for our live game blog coverage and follow the KUsports.com staff on Twitter: @KUSports @mctait @bentonasmith & @SJacksonLJW
Keys for Kansas
1. Seize and build on the momentum
Both teams enter this one on a hot streak, with KU having won six of its last seven games — with three of those victories against ranked opponents — and UTEP riding a four-game winning streak.
Beyond that, both teams are looking to keep their positive vibes going heading into the postseason. So the importance of a fast start here cannot be overvalued.
Good starts have been a key for KU throughout the season, but coming out of the gate with energy and intensity figures to be even more important against an unfamiliar opponent.
Whichever side can grab the advantage in the game's first five minutes likely will immediately start to tap into those good vibes from their recent outings and use those to carry through the rest of the game. On the flip side, a slow start could create some doubt about what each team is doing and what it needs to do to wrestle away control.
KU enjoyed arguably its best start to a game this season last Saturday night in opening up a big lead over No. 2 Baylor and that allowed Kansas to play from ahead most of the way.
It may be hard for the Jayhawks to get as geared up for UTEP as they were for unbeaten Baylor. But given the fact that this is the final game before do-or-die season arrives, the Jayhawks appear poised for a quality outing.
"What I want to do is win," Self said on Wednesday. "I want to approach it just like a normal game. I don't want our guys to lose their edge, because we kind of built a little bit of an edge and we've got a little momentum and I want that to continue. I want to play the same way that we're going to have to play to be successful next week in the Big 12 tournament and beyond."
2. Get the offense going
There's little doubt that the Jayhawks' primary focus will continue to be on defending and making their opponents play bad. But just because that has become their identity during their recent hot stretch does not mean KU has abandoned its offense altogether.
In fact, Self on Wednesday said he wanted to see more consistency on the offensive end, particularly on shots from the outside.
He referenced the Baylor-West Virginia game from Tuesday night as an example of how far KU still has to go in some areas of its offense.
"The shot making was unbelievable there for a stretch," Self said. "I mean, it was guys just making shots. And they're semi-guarded or guarded shots. There wasn't a ton of wide open looks. And that's the one thing I feel like that we haven't quite put together yet."
Ranked No. 139 overall by KenPom.com, UTEP is a slightly better defensive team than an offensive team, ranking 131st overall in defensive efficiency and 163rd in offensive efficiency.
That defensive metric puts them in line with Big 12 programs Kansas State (136th) and Iowa State (141st), but well behind the Big 12 average of 65th, and has come against slightly easier competition, as well.
Regardless, Kansas is going to have to play the right way to have success against the Miners, using good ball movement and sharp offensive execution to score. Then, when those open looks do come, Self simply wants to see his guys knock them down.
Although UTEP's defense inspired Self to say the Jayhawks could learn a thing or two about the right way to guard certain actions from reviewing the game film, the Miners don't figure to pose much of a threat to KU on the interior.
Their block percentage of 6.3% ranks 288th in the nation, so as long as he's dialed in and composed, this could be another big game for KU junior David McCormack, both as a scorer in the post and a passer to KU's open shooters.
As a team, the Jayhawks are shooting just 47% from the floor (33% from 3-point range) in their last 10 games. Both marks rank slightly below the national average. Their lockdown defense, which has bumped them to No. 7 in the KenPom.com defensive efficiency rankings, has kept that from being a problem.
But while looking ahead a bit, it's easy to see that if KU can pair some better shooting with its strong defense, the Jayhawks quickly could become a tough out in the tournaments that await.
3. Garrett's encore
If it's defense that will carry them during the month of March, the Jayhawks should feel pretty good about having Marcus Garrett on their side.
As is the case in most of KU's games, Garrett will face a stiff challenge in this one, with UTEP junior Souley Boum.
Although he may not be quite as dangerous and dynamic as Baylor's Jared Butler, who Garrett shut down during KU's Senior Night victory last weekend, Boum's numbers certainly draw some attention.
The 6-foot-3, 163-pound guard is averaging 21.8 points per game in his last 10 outings — which ranks third in Conference USA — and he ranks second in C-USA in 3-point shooting (40.8%) and leads the conference in made free throws at 119. That number also ranks him 10th nationally.
So whether he's spotting up on the outside or driving it to the rim to get an easy basket or earn trips to the free throw line, Boum is the type of player who will need to be guarded tightly wherever he is on the floor.
Kansas, of course, will switch often and that will give others the challenge of checking Boum. But if he gets cooking and the Jayhawks need someone to step up and shut him down, they'll turn to their defensive stopper, the man Self said was the best defensive player in America, regardless of what the postseason awards say in a few weeks.
After playing through injuries and adjusting to his new role for much of the season, Garrett, like his team as a whole, has played some of his best basketball of the season of late and has looked as energized and locked in as anybody in the Big 12.
If he's able to bring that in this one, Boum could be in for a long night.
Marquee Matchup
Bench vs. Bench
The Jayhawks have started to get some more consistent production from their bench in recent weeks, and that second unit could play an important role in this game.
In a pair of wins over Charlotte to close out Conference USA play, UTEP got 47 points from its bench — 25 in one game and 22 in the other.
In its most recent game, the Jayhawks got 12 points and seven rebounds from Bryce Thompson, Mitch Lightfoot, Dajuan Harris and Tristan Enaruna. Thompson, Lightfoot and Harris have received the most minutes in KU's rotation, and each one has shown the ability to take over small stretches of KU's games.
The Miners' bench is led by Efe Odigie, Christian Agnew and Kristian Sjolund. Through 22 games, UTEP's attack features 10 players averaging 10 or more minutes per game.
Asked recently about what he'd like to see most from KU's bench heading into the postseason, Self spoke about their impact on keeping everyone's minutes at a more manageable level.
"I think it would it would benefit us if they could each play substantial minutes," he said. So that Marcus and Ochai (Agbaji) and certainly CB (Christian Braun) and Jalen (Wilson) could probably be more fresh to finish games."
If things go well for the Jayhawks early, that formula could be on display in this one, either with the starting five resting midway through or riding the game out on the bench if Kansas can take control of the outcome early in the second half.
Jayhawk Pulse
One of Self's big concerns about adding an extra nonconference game during the final week of the regular season was whether it would be worth the risk in terms of bringing another team in to face the Jayhawks in light of the pandemic.
But Self on Wednesday said that UTEP followed the same protocols that Kansas and the Big 12 Conference have utilized throughout the season, with all Tier 1 personnel taking three COVID-19 tests per week on non-consecutive days.
While Self said he believed that was consistent with what UTEP was already doing in Conference USA, he noted that it took place over a two-week period leading up to this game.
"So they've had five or six tests leading up until this game," Self said. "But I don't think they were doing anything special for us. I think that was what they were doing anyway."
Either way, it certainly took some of the concern out of the matchup and allowed Self and the Jayhawks to focus on using the game to their advantage to get ready for the rest of March.
The Jayhawks still don't exactly know what seed they will be in the Big 12 tournament or the NCAA Tournament. But that will be finalized by no later than Sunday night. It looks like KU will be a 2 or 3 seed next week in Kansas City, Mo., depending on how West Virginia does in its final two games.
With seven teams projected to be in the field of 68 in the NCAA Tournament the following week, the Jayhawks know that their stay in Kansas City, however long it lasts, will feature tough matchups against quality opponents.
That's why Self likes this game so much. He believes UTEP, in terms of style of play, personnel and coaching, offers a much tougher challenge than a lot of other nonconference games might.
"I like their team," Self said. "They're capable. This is a good game for us. Good game, good time to play it."
KenPom lists Kansas with a 15-point edge and a 92% win probability in this one, and the oddsmakers in Las Vegas set an opening line of KU -16.
UTEP is one of the rare programs out there that owns a decided advantage in the head-to-head series with KU. The Miners have won three of the four all-time matchups with Kansas, including two wins in NCAA Tournament action.
The most recent came in 1992, when UTEP upset top-seeded Kansas in Dayton, Ohio. The better-known of the two, however, came in 1966, when UTEP, then known as Texas Western, knocked off Jo Jo White's Kansas team in double overtime in a game that featured a controversial out of bounds call that many think cost Kansas a chance at a national title.
Don Haskins' Texas Western team went on to win it all that season, becoming the first program in NCAA history to win it all with an all-Black starting lineup.
Probable Starters
No. 13 Kansas
G – Marcus Garrett, 6-5, 195, Sr.
G – Ochai Agbaji, 6-5, 210, Jr.
G – Christian Braun, 6-6, 205, Soph.
G – Jalen Wilson, 6-7, 190, RS-Fr.
F – David McCormack, 6-10, 265, Jr.
UTEP
G – Jamal Bieniemy, 6-5, 185, Jr.
G – Souley Boum, 6-3, 163, Jr.
G – Keonte Kennedy, 6-5, 185, Soph.
F – Tydus Verhoeven, 6-9, 225, Jr.
F – Bryson Williams, 6-8, 230, RS-Sr.