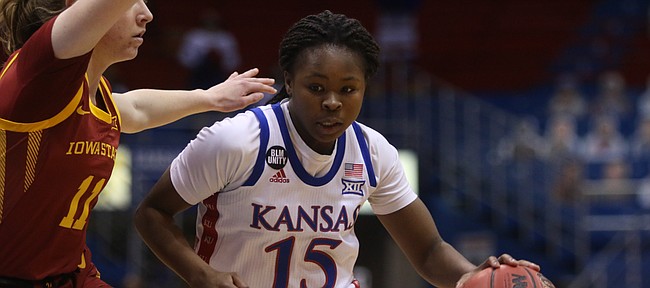 After coming out on the wrong end of more tight games than they would like to remember lately, players on the Kansas women's basketball team will try again at Iowa State Wednesday night to snag that elusive win.
In three of their past four games, the Jayhawks felt as if they were on the verge of putting an end to their losing streak, which now has reached six games.
Following a 72-68 Saturday home loss to West Virginia, ranked No. 18 in the country at the time, KU coach Brandon Schneider shared he is proud of how the players keep bouncing back after coming up short.
"They come back to work and they get locked in on the plan and go out and do their best to execute," Schneider said.
The Jayhawks got within two points of WVU twice in the final minutes of their most recent defeat. Prior to that, they led in the fourth quarter at Texas Tech on Feb. 20, before losing in overtime, 99-98. That setback came on the heels of the first ISU-KU game, which the Jayhawks dropped, 84-82, after trimming the Cyclones' lead to two twice in the final minute.
"You have to finish the key plays," Schneider said of the next step his team will have to take in order to win. "Whether that's getting a key rebound, (or) rotating defensively and stopping the ball instead of fouling."
Added Schneider: "We're young. And that's not an excuse. But it's just continued growth and development."
What: Kansas (7-15 overall, 3-13 Big 12) at Iowa State (15-9, 11-6)
When: 6:30 p.m. Wednesday, ESPN+
Where: Hilton Coliseum, in Ames, Iowa
Quick Note: The Jayhawks weren't bad at the free throw line in their loss to WVU, going 15-for-21 (71.4%). Nonetheless, misses at the charity stripe tend to stick out more in close games, and Schneider pointed to that area as a key factor in a four-point game.
"We've been an excellent free throw shooting team all year and (Saturday) we didn't shoot it as well from the line and make clutch free throws," KU's coach said.
Currently a 75.6% free throw shooting team through 22 games, the Jayhawks went 8-for-12 on their second half attempts against WVU. The third quarter was their worst stretch, as they went 3-for-6.
Sophomore guard Holly Kersgieter, an 85.1% free throw shooter this year, made both of her tries with 1:27 to go in the fourth quarter. Those were the only foul shots KU attempted in the final six minutes of the game.
Streaking: The Cyclones enter their regular season finale coming off a home win over West Virginia.
While ISU's lineup features plenty of important veterans, the team also has benefited from the strong play of freshman guard Lexi Donarski.
She shot 4-for-8 from 3-point range and scored 18 points in the Cyclones' win against WVU, leading to her being named the Big 12's freshman of the week.
Donarski, who is averaging 13.2 points and hitting 41.7% of her 3-pointers, has picked up the honor regularly this year, winning it three weeks in a row and five times overall.
Slumping: The Jayhawks haven't won a road game all season long, heading into the final true away game on their calendar. KU enters Hilton Coliseum on Iowa State's campus at 0-9 on the road.
Two of those losses came in overtime — at TCU on Jan. 17 and at Texas Tech on Feb. 20. Another close call away from Lawrence ended in an 84-81 defeat at Oklahoma on Jan. 27.
The Jayhawks finished 3-8 overall in road games during the 2019-20 season, and won just one Big 12 road game, at Oklahoma.
Last game's starters
Kansas
G — Holly Kersgieter, 5-10, so.
G — Aniya Thomas, 5-7, jr.
G — Julie Brosseau, 5-9, gr.
F — Ioanna Chatzileonti, 6-3, fr.
F — Katrine Jessen, 6-3, fr.
Iowa State
G — Rae Johnson, 5-7, sr.
G — Lexi Donarski, 6-0, fr.
G/F — Ashley Joens, 6-0
G/F — Madison Wise, 6-1, sr.
C — Kristin Scott, 6-3, sr.