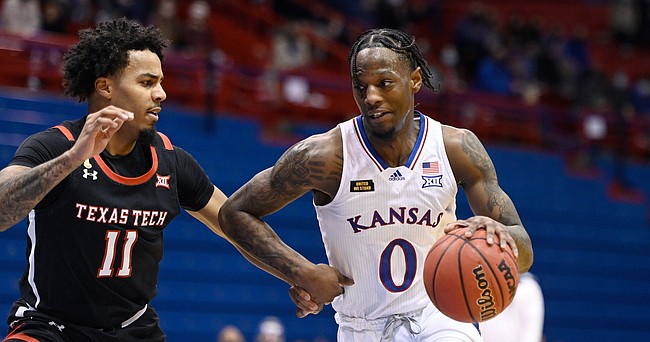 Former Kansas guard Marcus Garrett went undrafted in Thursday's NBA draft, leaving the Dallas native in search of a free agent deal to kickstart his professional basketball career.
The 6-foot-5 combo guard who was a three-year starter for Bill Self at Kansas had hoped to sneak into the back end of the second round on Thursday night. But all 60 picks came and went without Garrett hearing his name called.
Earlier this month, Garrett, who is known for his elite defensive ability, said getting drafted into the NBA had been a dream of his since he was little. But in an interview session following a workout with the Golden State Warriors, he acknowledged that even if he didn't get picked it was not "the end of the world."
Garrett watched Thursday's draft at his home in Dallas with his mother and a small group of family and friends.
As soon as the 60th pick was made in Thursday's draft, news came rolling in about some of the players who went undrafted signing free agent deals with various NBA clubs.
That's the route that Garrett likely will go (and may already have gone depending on when you're reading this).
That path will provide him a roster spot at the Las Vegas Summer League, where, if he shows well, he could play his way into a two-way contract with an NBA franchise and its G League affiliate.
One person who will not be betting against Garrett making an NBA roster in some capacity is Kansas coach Bill Self.
In a promotional video about Garrett put out by KU on draft night, the KU coach once again emphasized how much he enjoyed coaching Garrett, as much for his personality and toughness as anything he did on the stat sheet.
Not only was Garrett the first person in his family to graduate from college, but he also used basketball as an escape from poverty and a rough environment when he was growing up.
"Coaches shouldn't play favorites," began Self. "And I tried not to. But he'll always be one of my favorites because I'm always drawn to the guys that it was harder for them to do what they did just because of circumstances that they had no control over."
"The odds may have been against Marcus," Self added. "But he proved everybody wrong."
Now he gets to see if he can do it again.
Garrett capped his KU career 16 points shy of 1,000.
The 2019-20 Naismith Defensive Player of the Year ended his career with 181 steals in 129 games, which tied him with Adonis Jordan for 10th on KU's all-time steals list.
He also averaged 7.6 points, 4.1 rebounds and 2.7 assists in 27.4 minutes per game with 80 starts.