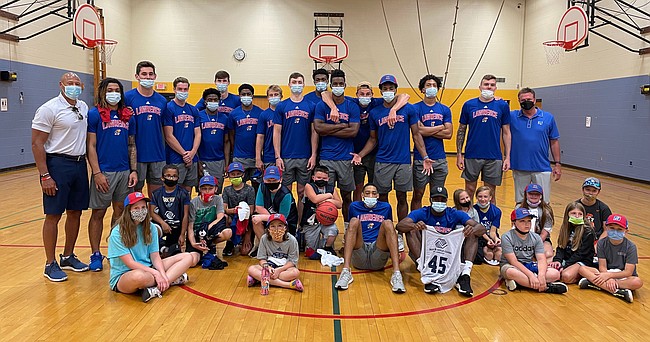 What was supposed to be a summer scrimmage between fourth- and fifth-grade Boys & Girls Club basketball teams on Monday morning turned into a wild surprise featuring the Kansas Jayhawks.
For a little more than an hour, nearly the entire KU men's basketball roster scrimmaged with 14 BGC members at Prairie Park Elementary School.
The Prairie Park kids thought a similar group from Deerfield Elementary School was coming over to play them. The cameras, background checks, waivers their parents signed and busier than normal vibe created a tough environment to pull off the feat. But some of the Jayhawks who participated said it was clear that the surprise worked.
"It was phenomenal," said KU newcomer Jalen Coleman-Lands after the event. "When we walked in, you could see the energy change. They were in for quite a surprise."
Alissa Bourneuf, BGC's director of marketing and communications, said keeping the event a secret up until game time was by far the hardest part.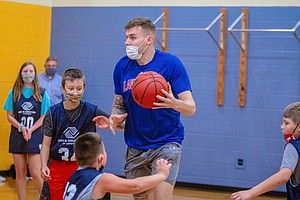 "These kids know everything," she said. "You can't pull one over on them for anything. So to be able to surprise them was a really fun part of this."
The idea for Monday's fun was born back in May, when KU officials reached out to Bourneuf to see if BGC would be interested in hosting the event.
Bourneuf said yes immediately, and she said watching the 13 BGC members experience a wide range of emotions on Monday — from all-out joy and laughter to trash talking competitiveness and heartfelt smiles — was "what mentorship is all about."
"Boys & Girls Club has such admiration for KU," said Bourneuf, who also worked as one of two "coaches" for the BGC team. "So, for our kids to get to meet some of those guys and see that they were willing to take the time to come hang out with us and be in our gym and play against us, that means the world to them and to our staff. It really shows that they care."
For the first 20-30 minutes of Monday's fun, it was Jayhawks versus kids in half-court games on both ends of the gym floor. For the final 10-15 minutes it was all 14 Boys & Girls Club members against five or six Jayhawks at a time in a full-court setting.
Before any of the games began, Coleman-Lands and KU super senior Mitch Lightfoot said one BGC member made it known that he was the best player there.
"(He) was saying he was going to dominate," Lightfoot said. "He had a couple of baskets. We told coach he's got about six years before he can be recruited, but he should keep an eye on him. Local Lawrence product coming your way."
Added Coleman-Lands: "He locked eyes with everybody."
Near the end of the action, Coleman-Lands, sophomore point guard Dajuan Harris and senior forward Cam Martin grabbed BGC jerseys and began playing for the home team, which Bourneuf said thrilled the young hoopers.
"When they kids made shots, you could see the excitement in their eyes and them light up," Coleman-Lands said. "They were ecstatic. I'm grateful to be in the position I am now, to be somebody's light, and we all enjoy doing this. I love it."
Lightfoot agreed.
"Just being able to give back to a place that's given me so much, it's really rewarding," he said. "These kids get to experience a little bit of fun and I'm excited we were able to do it."
A handful of KU coaches and staff members also were on hand Monday, including head coach Bill Self, who ran a game of "Simon Says" that had a reward attached to it. If all 14 BGC students could survive the game for a full 7 seconds, Self said there would be ice cream.
Not only did they reach the goal, but it was Self who went to the store to pick up the ice cream bars.
That element appeared to be as much fun for the older players as it was the BGC kids, who also received KU hats and shirts from the Jayhawks.
"It kind of just takes you back to when you were younger," Coleman-Lands said. "When you see the impact one person can make or a team can make, it really kind of brings things full circle and it's just something that you cherish."