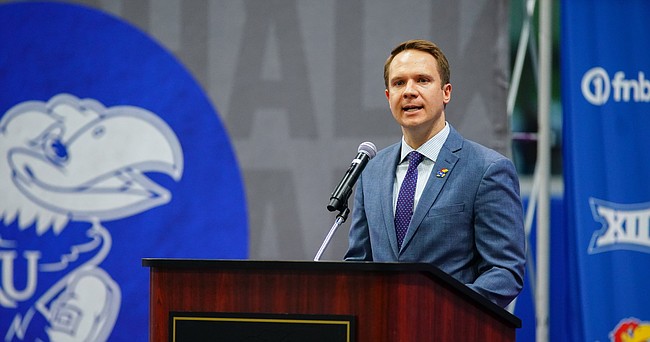 University of Kansas Athletic Director Travis Goff has turned to fellow-KU graduate Jason Booker to serve as his Deputy AD for External Affairs and Revenue Generation, KU announced Monday evening.
Goff also announced Monday promotions for KU administrators Nicole Corcoran and Paul Pierce II. In addition to many of her existing roles, Corcoran now will serve as KU's Deputy AD for sports administration and student-athlete well being and Pierce will move into a newly created position for inclusive excellence.
Booker, a native of Hutchinson who will begin at KU immediately, has served as the Senior Director of Corporate Partnerships and Broadcast Sales for the Kansas City Royals since 2014.
Prior to that, he worked for seven years as the General Manager of Jayhawk IMG Sports Marketing and made stops at South Carolina, Oklahoma and TCU after graduating from KU in 1999.
"Jason Booker is an outstanding sports business leader with a deep track record of elevating brands, generating revenue, driving attendance and building partnerships," Goff said in a news release announcing the hire. "As a fellow alum of KU, Jason is passionate about the university and is committed to a shared vision for our athletics programs. He will play a critical role in resource acquisition that will fuel our student-athletes' pursuit in the classroom, community and in competitions."
In addition to his role with IMG, Booker served as a professor in KU's sports management program during his previous stint in Lawrence.
Corcoran, KU's Senior Woman Administrator, now can add Deputy Athletics Director for sports administration and student-athlete well being to her title.
According to Monday's news release, Corcoran provides administrative oversight for KU's women's basketball, volleyball, men's and women's golf, and track and field and cross country programs and works with all 16 sports on student-athlete con-duct and accountability.
She also serves as the liaison with Kansas Team Health, the partnership created with The University of Kansas Health Systems and Lawrence Memorial Hospital, responsible for the health of student-athletes.
"From the moment I arrived in Lawrence, Nicole has proven herself to be an outstanding administrative leader and dedicated Jayhawk," Goff said. "Her commitment to enhancing the lives of our student-athletes and serving our coaches and pro-gram is inspiring and the depth and breadth of her work is felt across the department and university."
Corcoran joined Kansas Athletics in 2009 as the chief of staff to the athletic director.
Pierce moves into the newly-created role after serving as KU's Assistant Athletics Director for compliance and interim chief diversity officer.
According to the release, his new role will move Pierce away from compliance duties and into a lead role on all diversity and inclusion initiatives for Kansas Athletics.
"Paul's commitment to and passion for improving our diversity and inclusion efforts is evident every single day," Goff said in the release. "This new position, and our enhanced commitment to diversity and inclusion, will provide Paul the platform and support necessary to further impact our student-athletes, coaches and staff in the days ahead."
Pierce, a graduate of KU's William Allen White School of Journalism, has worked at his alma mater since 2019 after serving as the assistant AD for compliance at Northern Illinois University.