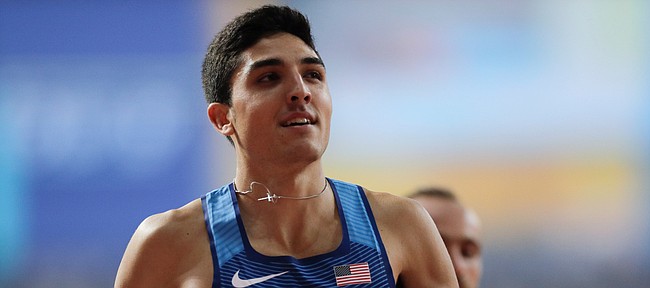 Bryce Hoppel's string of successes in the 800 meters over the past couple of years made a trip to the Tokyo Olympics seem inevitable for the former University of Kansas track star. But his path toward qualifying turned more dramatic than Hoppel was counting on when he suffered an injury just a month before the U.S. Olympic Trials.
While gearing up in late May to leave for the adidas Boost Boston Games, Hoppel was speed training when he decided to challenge himself during a race with a teammate. That's when the five-time college All-American, two-time NCAA champion and 2020 USA indoor champion in the 800 felt a "jolting pain" in his right quadriceps.
"That was like the first time I've ever been injured," said Hoppel, while reflecting recently on the challenge of adding rehab and uncertainty to his training schedule before finishing third at the U.S. trials and securing his spot on the national team for the Olympics.
Not only did Hoppel have to drop out of his scheduled race in Boston, but he felt "blind" to what would come next, with the U.S. trials just four weeks away at that point. Hoppel couldn't afford to test his quads for some time, otherwise he was likely to aggravate the injury further.
"Literally the only thing that could help it was time and rest — the two things we did not have," said Hoppel, able to grin about it now that he made it through to become an Olympian.
It was the first acute injury Hoppel, a KU alum and native of Midland, Texas, ever had experienced, adding to the consternation. Just going to KU's training room — Hoppel is a volunteer assistant coach for the Jayhawks, as well as a professional runner with adidas — for treatment felt frantic for Hoppel, as he received massages and muscle stimulation to loosen his quads. The driving force behind it all was to try to prevent a tear once he was ready to run again.
"That kind of took me out a little bit to where going into trials, normally you'd be focusing and sharpening your speed and stuff," Hoppel said. "But that injury was preventing me from doing exactly that. So it was kind of stressful and super scary to only be able to do volume work, instead of sharpening up on that speed."
The steady buildup toward an incalculable result ultimately paid off. Prior to Hoppel's first race at the prelims in Eugene, Ore., he could tell during his first stride of warmups the recovering injury wasn't hurting him too much. It was one of the first days since hurting his quads that he thought he could get through an 800.
Hoppel made it to the final, where he wasn't restricted with his stride or sprint, but could tell the muscles were "inflamed and agitated with me."
Though his body wasn't happy with him, Hoppel took third place in the final, finishing in 1:44.14. The 6-foot, 152-pound runner had performed at such a high level dating back to his indoor and outdoor NCAA championships with KU in 2019 that he figured he was on track for the Olympics before getting hurt. That made qualifying feel like more of a relief than anything.
"As soon as all the trials were over, it was such a weight off the shoulders," Hoppel said, adding he experienced "nowhere near" that level of stress when competing previously at the 2019 World Championships.
Getting only one shot every four years to make the U.S. team makes it a bit "overwhelming," admitted Hoppel, who said ahead of the trials when he went to bed at night sometimes he took measured breaths to calm himself down and go to sleep.
KU assistant coach Michael Whittlesey has known Hoppel since the 23-year-old soon-to-be Olympian was a junior at Midland Senior High, and has continued to work with Hoppel since the standout collegian turned pro.
After Hoppel failed to qualify for the NCAA championships as a freshman, Whittlesey saw the young runner begin to take off as a sophomore. Following that season, they had a conversation about where Hoppel's career was capable of going, and the end goal was getting to the Olympics and "doing something special."
Now that Hoppel is feeling better physically, Whittlesey thinks that will free the runner up mentally and emotionally, too. The goal ahead of the Olympics is to get Hoppel running "free" in every aspect during his next competition, on Friday in Monaco.
To Hoppel, the loaded 800 race ahead looks like an Olympic final preview.
"All the great guys are going to be in this, so I think it'll be something special to get to race all those international guys that I haven't got to race this year," Hoppel said. "That'll be a whole lot of fun, just to kind of see where I'm at, because this whole injury was not fun to deal with."
After gauging where he stands in Monaco, he will have three weeks to fine tune everything before making his Olympics debut. When he gets to Tokyo, the stakes will be much higher, but Hoppel doesn't anticipate the stage being too stressful now that he's navigated a less than ideal route to get there.
"I think I have a few Olympics ahead of me, as well, in my career," Hoppel added.
And if he can reach his peak at the optimal time this summer?
"I think we have some medal possibilities," a smiling Hoppel said. "I'm excited for that."