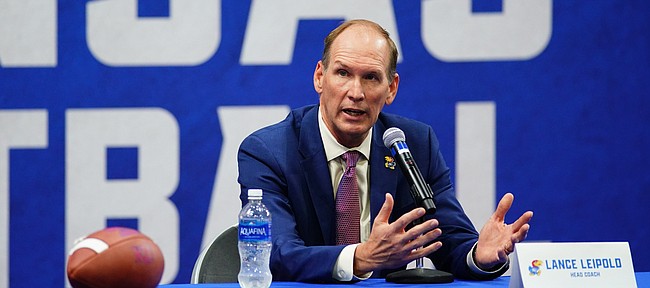 Thursday marked the dawning of a new era for college athletics, with the NCAA clearing the way for athletes to make money off their names, images and likenesses without violating any rules. Exactly how that will impact football players at the University of Kansas remains to be seen.
While at a high profile program such as Wisconsin, starting quarterback Graham Mertz had a personal logo ready to be trademarked just in time for the revamped NIL landscape, as well as a merchandise website up and running as soon as possible, KU football players have yet to unveil details of any such ventures.
Several Jayhawks retweeted the news of the interim NIL policy being put in place and some celebrated the change on Twitter and Instagram. Sophomore quarterback Jalon Daniels posted a poll to his Instagram stories asking whether he should start a Youtube channel.
The excited players' head coach, Lance Leipold, told the Journal-World during a recent interview — which took place before the NCAA's temporary plan came to light — that he expected it wouldn't be long before KU football players would be able to get in on various NIL projects, just like other athletes nationwide.
"I think it's going to be interesting for us," Leipold said. "We want our players to have the fullest opportunities."
The NCAA's interim rules allow for schools and conferences to adopt their own NIL policies, too. Neither KU coaches nor Athletic Director Travis Goff have yet to discuss the topic publicly, but further clarity for KU athletes is expected in the coming days, as Jayhawks throughout the athletic department can now profit through such ventures as sponsored social media posts or advertisements, autograph sales, Youtube channels, private training lessons and endorsement deals.
While Leipold figured the forthcoming NIL era will impact college football significantly and he wondered what types of imbalances it may cause, he thought the change would be beneficial for coaches who work at the Power Five level. Had he not just become KU's head coach in late April, Leipold thought it would have been a different situation for him at Buffalo, where he said MAC budgets are "tight" compared to the Big 12.
"You're probably going to see Group of Five players that are looking at their own personal brand that are going to look for opportunities to capitalize on that," Leipold said of one possible consequence of new NIL rules, especially when more players than ever are looking to make use of the NCAA's transfer portal.
Although Leipold anticipates various programs will take different approaches, KU's head coach supposes it will be inevitable that NIL opportunities become incorporated into a team's recruiting approach. He theorized how a given program goes about that could be determined by such factors as community size, alumni base and success on the field.
Leipold, whose national title-winning seasons at Division III Wisconsin-Whitewater and rebuilding project in the MAC with Buffalo led him to his first Power Five job, said being a head coach at this level is still new to him and the NIL era will be a novel aspect of college football he will learn to incorporate into his approach.
The head coach also noted he would want to make sure the administration and the KU football staff were on the same page before putting any type of NIL recruiting pitch in place.