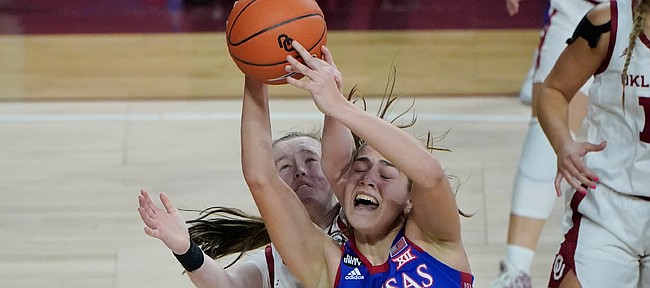 After seeing his team fall behind significantly in three of its previous four games, Kansas women's basketball coach Brandon Schneider hopes his Jayhawks can put an end to the trend when they face Oklahoma State Saturday afternoon.
KU found itself in a 10-point hole after one quarter of play at TCU on Jan. 17. Then the Jayhawks trailed by 13 early in the second quarter versus Kansas State on Jan. 23 — a game they ended up winning. Next came an Oklahoma onslaught on Wednesday, in Norman, Okla., where the Sooners put up 28 points in the first quarter while Kansas had 14.
"Yeah, it's not ideal to come from behind. And giving up 28 points in a quarter is ridiculous and borderline embarrassing," Schneider said of the Sooners' hot start in their win over KU.
So how do the Jayhawks turn it around against OSU? It could come down to personnel.
"I think obviously the matchup will be a little bit better for us, in terms of we've got some post players and Oklahoma State does, as well," Schneider said. "We weren't aware that OU was going to have all guards (with just six players available) until right before the tip. So any type of game plan or adjustments were having to occur on the fly, and we didn't handle that the best."
What: Kansas (6-6 overall, 2-4 Big 12) vs. Oklahoma State (11-5, 7-3)
When: 4 p.m. Saturday, ESPN+
Where: Allen Fieldhouse
Quick Note: Although it came in a loss at OU, the Jayhawks put up more points (81) than they had in any other Big 12 game this season.
They shot 46.9% from the floor versus the Sooners after failing to reach 40% in their previous three outings.
"I thought we executed well," Schneider said of KU's offense.
The coach said senior forward Tina Stephens (19 points, 10 rebounds at OU) did a good job of building off her 22-point outing against K-State in the previous game.
Schneider also noted freshman forward Ioanna Chatzileonti (14 points, eight rebounds) produced for KU inside and junior guard Brooklyn Mitchell (13 points after going scoreless in her previous three appearances) provided a spark off the bench.
Streaking: The Jayhawks are about to face one of the best interior players in the country, OSU senior forward Natasha Mack.
The 6-foot-4 veteran averages a double-double (18.9 points and 11.7 rebounds) for the season, but is even more of a force as a defender. Mack leads the country with her 4.1 blocked shots per game.
A few weeks back, at TCU, Mack recorded just the second triple-double in OSU history, with 28 points, 17 boards and 10 blocks.
Slumping: KU continues to struggle to find reliable production from beyond the 3-point arc.
The Jayhawks made just 26.9% of their shots from long range at OU, marking the fourth game in a row they shot 33.3% or worse on their 3-point attempts.
Through 12 games, KU is only making 29.8% of its 3-pointers this season. The Jayhawks now have shot below 30% in seven of their games.
Last game's starters
Kansas
G — Zakiyah Franklin, 5-7, so.
G — Holly Kersgieter, 5-10, so.
G — Julie Brosseau, 5-9, gr.
F — Tina Stephens, 6-2, sr.
F — Ioanna Chatzileonti, 6-2, fr.
Oklahoma State
G — Ja'Mee Asberry, 5-5, jr.
G — Lauren Fields, 5-9, so.
G — Lexy Keys, 5-7, fr.
F — Taylen Collins, 6-2, fr.
F — Natasha Mack, 6-4, sr.