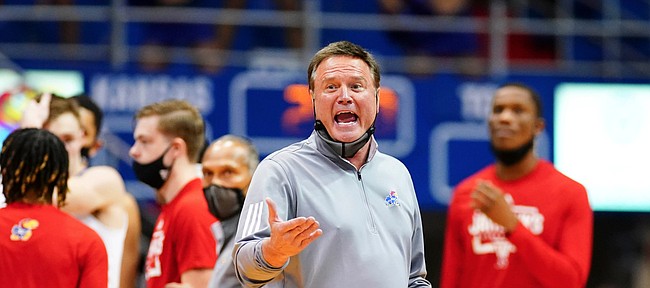 The shake-up that Kansas basketball coach Bill Self was hinting at all week did not come until the second half of Thursday's 59-51 victory over TCU at Allen Fieldhouse.
But it paid off big time when it did.
After exploring the idea of mixing up the lineup, Self on Thursday went with the same starting five to open the game that he has used for most of the 2020-21 season.
Senior Marcus Garrett started at point guard. Juniors Ochai Agbaji and David McCormack joined him. And sophomore wing Christian Braun and redshirt freshman Jalen Wilson rounded out KU's first five.
That quintet has been used as KU's starting lineup in 14 of the Jayhawks' 16 games so far this season.
From there, things got interesting. KU changed it up significantly to open the second half, going with redshirt freshman Dajuan Harris and junior college transfer Tyon Grant-Foster to start the final 20 minutes, after KU scored just 18 points in the first half, its lowest first-half total since scoring 13 in a loss at TCU in 2013.
"We were going to try anything," Self said of the move to go with Grant-Foster and Harris. "I just decided we need something different. We needed energy. And the best way to create energy a lot of times is through athleticism."
Photo Gallery
Kansas basketball v. TCU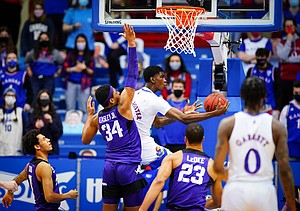 View a gallery of images from Thursday night's game between the Jayhawks and Horned Frogs at Allen Fieldhouse.
The Harris move made sense. After all, the Garrett backup played 12 minutes in the first half and has been a popular choice for someone who could crack the lineup if Kansas elected to change things up.
Grant-Foster's inclusion, however, was a bigger surprise. Not only did the junior not play a minute in the first half, he entered Thursday night having played just nine minutes total in KU's four games leading up to Thursday.
By game's end, that duo had combined for 16 points, six rebounds and three assists in 40 minutes, effectively giving the Jayhawks production from a place they had gotten very little.
"We just came out with energy, with a spark," McCormack said of the group that started the second half. "Tyon came out and played to his strengths, 'Juan (Harris) did his thing and it just kind of got us into a groove early."
Agbaji a finalist
Midway through his best season as a Jayhawk, Kansas junior Ochai Agbaji has been named a top-10 candidate for the Jerry West Shooting Guard of the Year Award, the Naismith Memorial Basketball Hall of Fame announced Tuesday.
Agbaji, who leads 15th-ranked Kansas in scoring at 14.4 points per game, entered Thursday ranked second in the Big 12 and 32nd nationally in 3-point percentage (43.2%) and also second in the conference at 2.73 3-point makes per game.
Agbaji's 34 assists also rank second on his team, trailing only point guard Marcus Garrett, who has 54.
Asked recently what aspect of Agbaji's junior season has impressed him most thus far, Kansas coach Bill Self pointed to Agbaji's play on offense.
"I just think he's been very efficient and he's been aggressive and you know he's had a pretty solid year," Self said.
Self noted that the junior from Kansas City, Mo., has been better as both a ball handler and distributor this season than he was during his first two years in the program. And he added that one of the biggest reasons Agbaji has been so efficient this season is his ability to score from both inside and outside the 3-point line.
According to hoop-math.com, Agbaji is shooting 59.5% at the rim this season as well as 71.8% at the free throw line.
Agbaji's name also came up on Monday night on Self's "Hawk Talk" radio show, when the KU coach talked about this team's need to find more energy and intensity to get back on track.
"I think Ochai's the best we've got," Self said. "I mean, I think he's terrific. He's so positive and everything. He's great."
Agbaji is one of two players from the Big 12 Conference (Baylor's MaCio Teague) in the top 10 for the Jerry West Award, which will be handed out on April 9.
Garrett on watch list
The Naismith Award's reigning Defensive Player of the Year is back in the mix in 2021.
Kansas senior Marcus Garrett was one of 15 Division I basketball players named to the award's midseason watch list, the Atlanta Tip-Off Club announced Thursday.
Garrett currently ranks fourth in the Big 12 in assist-to-turnover ratio at 2.1, sixth in steals per game (1.4) and 11th in assists (3.7).
The Dallas native entered Thursday's game with TCU averaging 10 points and 4.9 rebounds per outing.
The Atlanta Tip-Off Club will announce the 10 semifinalists for honor on February 25 and then will pick four finalists on March 12.
New broadcasting option
KU fans watching from home will now have a new option for their viewing experience of select KU men's basketball games.
On Thursday Kansas Athletics announced the creation of "Legends Live," which will feature former KU All-American Wayne Simien and "another KU men's basketball guest" adding supplemental commentary to the television broadcast of a few upcoming KU games through the official Kansas Jayhawks app.
The first opportunity for fans to enjoy "Legends Live" will be Saturday, when KU travels to Knoxville, Tenn., to take on the Volunteers at 5 p.m. in the SEC/Big 12 Challenge on ESPN.
Simien's partner for each of the chosen games will be announced prior to each game.
Bob Davis book
Speaking of KU broadcasters, legendary Voice of the Jayhawks Bob Davis' new book, "The Dream Is Real," is now available in select Dillons stores throughout Kansas.
The book, co-written by Jeff Bollig, relives Davis' life on the air, from his childhood dream of becoming a broadcaster all the way through his final game on the microphone.
His story is complemented by the contributions of more than 50 coaches, athletes, media members and friends, who offer their memories of working with or listening to Davis.
"I figured after 50 years people had heard enough of me," Davis said. "But my friends said I needed to put the stories down on paper so the listeners could relive the experiences they enjoyed over time. Plus, it was fun to reconnect with so many people who were special in my life."
This and that…
KU's latest victory snapped a three-game losing streak and improved the Jayhawks to 11-5 or better for the 15th consecutive season… KU now has won eight consecutive games against TCU and leads the all-time series 22-2. That includes a 10-0 record in Lawrence and a 9-0 mark inside Allen Fieldhouse… The Jayhawks are now 7-1 in their home venue this season and 809-115 all-time in the building… Despite losing three in a row heading into Thursday night, the Jayhawks actually have improved their standing in the NET rankings since Jan. 4, when Kansas ranked No. 27 in the NCAA Tournament Evaluation Tool. The Jayhawks entered Thursday at No. 19 in the NET rankings and No. 15 in the Associated Press Top 25.