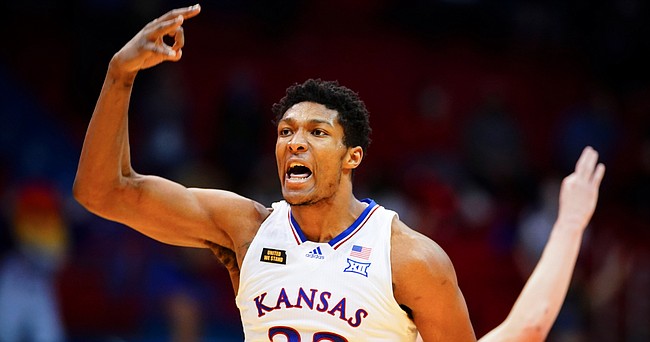 It took the 15th-ranked Kansas Jayhawks 35 minutes to flex their muscles on Thursday night, but a late surge sparked by KU's defense and offensive rebounding helped the home team push past a pesky TCU team, 59-51 at Allen Fieldhouse.
"We'll take it," Kansas coach Bill Self said after the victory, which snapped a three-game KU losing skid. "Guys feel pressure (after) losing three in a row. (And they're) great kids who want to do well really bad. Guys were a little bit too amped up and everything, but we'll take it. I'm not going to apologize for winning by eight at home."
No one in crimson and blue will much want to remember the first 30-35 minutes of Thursday's victory.
It featured KU's lowest scoring first half since 2013 and was littered with turnovers, sloppy plays in transition and missed shots.
"It was just a lid on the rim for both teams," junior forward David McCormack said of the first-half struggles that led to TCU taking a 19-18 lead into the locker room. "Once the ball started falling, things became easier, playing became easier."
But when the Jayhawks needed it most — and make no mistake about it, this team absolutely needed Thursday's win — a couple of KU veterans and a seldom-used newcomer delivered a flurry of knockout blows.
Never was that more evident than in the final five minutes, when Kansas used a 9-1 run, sparked by McCormack to turn a 45-43 lead into a 54-44 margin and smooth jog across the finish line.
One of the biggest plays of the game came with five minutes remaining from junior wing Tyon Grant-Foster, who played 17 second-half minutes after not playing at all in the first half.
Photo Gallery
Kansas basketball v. TCU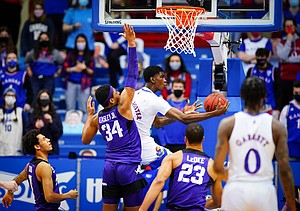 View a gallery of images from Thursday night's game between the Jayhawks and Horned Frogs at Allen Fieldhouse.
After missing the front end of a one-and-one trip to the free throw line, Grant-Foster crashed the glass on the missed jumper by Christian Braun that followed and put the ball softly off the glass to give KU a 47-43 lead with just under five minutes to play.
Not content to leave his impact there, Grant-Foster ripped down a defensive rebound on the TCU miss that followed and that set the stage for McCormack's shot-clock-beating 3-pointer with just under four minutes to play that put Kansas up 50-43.
The 3-point make was the first of McCormack's KU career and it momentarily sent the Allen Fieldhouse crowd into a wild celebration.
"I thought that was the biggest basket of the game," Self said. "And, yes, I was hoping he'd shoot it because there were two seconds on the shot clock."
McCormack, who has been known to have good range for a player his size, said after the game that the shot felt good when it left his hand and that he and the Kansas coaching staff had talked some about him shooting more from the outside this offseason.
What was the verdict from those conversations?
"Yellow light right now until I get some more shots to fall," McCormack said with a grin.
The KU big man delivered another big night inside, scoring 15 points on 7-of-13 shooting and grabbing six rebounds – four offensive – in 26 minutes.
Grant-Foster, who joined redshirt freshman point guard Dajuan Harris in the second-half starting lineup in place of regular starters Christian Braun and Jalen Wilson, also played a key role in KU's 41-point second-half surge.
He was not without his mistakes, three turnovers most notable among them. But he played hard, he attacked the rim and he brought the kind of athleticism to the floor that Self and company wanted to see.
"That's him being him," Self said after the victory. "I told him, 'Play to your athletic ability.' He's kind of labored shooting the ball in the game. So the best way to kind of get some confidence is to get an easy basket and not start off by just casting threes. And he did that and he got a little confidence. I thought he was good."
Adding to the contributions of Grant-Foster (nine points and five rebounds on 3-of-6 shooting) and McCormack during that late knockout run were back-to-back dunks by starting guards Ochai Agbaji and Marcus Garrett.
The first came when Garrett hit Agbaji on a back cut for a two-handed flush that put KU up 52-44. Garrett immediately followed that up by picking the pocket of TCU guard Taryn Todd near mid-court and racing in for a two-handed, breakaway dunk of his own.
"Coach was saying that players make plays," Agbaji recalled. "And those two plays were game changers that gave us the energy to close it out."
After starting in a 10-2 hole that prompted Self to call a timeout, the Jayhawks responded by holding TCU scoreless for the next 7:20 of the game.
That allowed Kansas (11-5 overall, 5-4 Big 12) to climb back into the game, and the Jayhawks took their first lead on an Agbaji 3-pointer from the corner with 11:13 to play in the half.
The catch-and-shoot jumper came off of a nice drive to the paint by Wilson, who found Agbaji in the corner after the KU junior relocated on the drive to give Wilson and easier passing lane.
Despite the quick spurt, Kansas answered with a hefty scoring drought of its own (8:24), which allowed TCU (9-6, 2-5) to reclaim the lead and brought further frustration to the Kansas offense.
The KU drought ended at the 2:49 mark when Agbaji connected on another 3-pointer from the wing to pull Kansas within a point at 15-14.
"What it did show you tonight was, if you defend, you can play like crap and still be in the game," Self said. "That's what happened tonight."
"When coach told me at half that I'd start, at that moment I knew we needed a spark, not on the offensive end but defensive end," Grant-Foster said in a postgame interview. "We weren't scoring. I knew if we started to get stops the lid would come off the basket."
As rough as this one might have been around the edges, the Jayhawks left Allen Fieldhouse encouraged by the opportunity to celebrate a win for the first time since Jan. 9.
"It feels good just to be back on track and be in the win column," Agbaji said with his signature smile splashed across his face.
Added McCormack: "It feels great. Like Marcus said earlier (this week), we get a new season. So we're starting off 1-0 and we want to continue to capitalize on everything that we've learned, apply it forward and continue to grow as a team."
The Jayhawks will need all of that and then some this weekend as they head on the road after little rest and short prep to take on No. 18 Tennessee in Knoxville, Tenn., in the SEC/Big 12 Challenge.
Tipoff for that one is slated for 5 p.m. Saturday on ESPN.