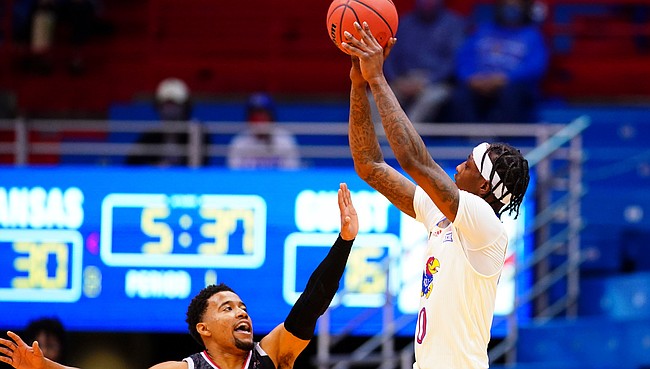 No. 15 Kansas (10-5 overall, 4-4 Big 12) vs. TCU Horned Frogs (9-5 overall, 2-4 Big 12)
Time: 7 p.m.
Location: Allen Fieldhouse, Lawrence, Kan.
TV: Big 12 Now/ESPN+
Radio: IMG Jayhawk Radio Network
Log on to KUsports.com for our live game blog coverage and follow the @KUsports staff on Twitter: @mctait @bentonasmith & @SJacksonLJW
Keys for Kansas
1. Home sweet home
It's been 19 days since the Kansas men's basketball team played a game inside Allen Fieldhouse, a fact that was not lost on KU guard Marcus Garrett.
"We had practice in there (Tuesday)," Garrett said. "And it kind of felt different. It was like, 'Dang, it's been a while since we've been at Allen.'"
Jan. 9 was the last time the Jayhawks played a game at home and the extended wait was the product of having the Jan. 16 Iowa State game called off and tonight's game pushed back two days, both because of COVID-19 protocols with KU's opponent.
Had either of those games been played as scheduled, the Jayhawks may be facing a slightly different reality. But as it stands, they enter this one looking to end a three-game losing skid and excited about the idea of playing at home again.
"I know the fans that'll be there will be jacked up and we've got to do this one for the fans," Garrett said. "… Momentum, confidence booster, everything. This is a big game for us."
Added KU coach Bill Self of the advantage of getting back home after three consecutive road games: "It certainly seems like it's been a while. And although we're not playing in the friendly confines of Allen Fieldhouse like we have in years past, I think the guys will be excited to get back home and hopefully have a little comfort from playing at home."
KU has played just twice in its home gym in 2021 and is 1-1 in those games, losing to Texas on Jan. 2 and knocking off OU a week later.
For the season, the Jayhawks are 6-1 at Allen Fieldhouse.
Garrett said tonight's game is essentially the start of "a new season" for the Jayhawks, who are looking to get back on track and build some momentum for a strong finish.
"I think every time you do something over a marathon or a long period of time, you probably have to push the reset button or the restart button at times," Self said. "We can't get back what we lost, but we can certainly do everything in our power to make sure that we put ourselves in a position to finish what we start."
2. Shrink the floor defensively
At lot has been made this week (and this season) about the Jayhawks' need to improve and "lock in" defensively.
Therefore, and not surprisingly, that will be one of the main aspects of their game plan against TCU.
But what does that mean exactly? Stops can come even if a team is not locked in on the defensive end. The first TCU game is a great example of that. While watching live, most believed that Kansas played a pretty solid defensive game that night.
When watching the game again this week, though, Garrett, KU's senior leader and best defender who did not play in that game because of a head injury, saw a different story.
"During the game it looked like we were getting stops," Garrett said on Wednesdady. "But most of the time they were just missing wide-open shots. So I feel like we still have to lock in defensively and try and come up with as many stops as possible."
Garrett, who has been responsible for more quality defensive possessions than anyone in recent memory, said the style of defense the Jayhawks need to bring to the floor might not be something a lot of his teammates are used to.
But he said repetition and high expectations can take care of that. Increased communication is another aspect that he believes can help the Jayhawks defensively.
"I just try to tell the guys I feel like we should kind of help each other a lot more on defense," Garrett said. "I feel like most of the time guys are kind of put on islands, where they kind of have no help. And I feel like if we can kind of shrink the floor and just make it a little crowded, I feel like that'll help us a lot on defense."
3. You rebound, you win
It stands to reason that better energy and effort, wherever it comes from, will translate into a better showing on the offensive glass.
And there are few stats that exist that are as telling as KU's offensive rebounding numbers.
In KU's 10 wins this season, the Jayhawks have recorded an offensive rebounding rate of 38.2%, which equals getting a second chance to score on roughly four of every 10 misses.
In KU's five losses, however, the team's rebounding rate has plummeted to 23.4%, including a season-worst 6.2% (just two total offensive rebounds) in its most recent loss at Oklahoma.
Even playing with just one true big most of the time, the Jayhawks are too long and big at all five positions to be OK with getting just two offensive boards in 40 minutes.
Part of that number may have been the matchup with OU. Kansas got just six offensive boards against the Sooners in the first meeting between the two programs. And the Jayhawks have turned in just two other games this season (five in a loss to Gonzaga and six in a win at Texas Tech) where they grabbed such a low total on the offensive glass.
In the last meeting with TCU, KU grabbed 14 offensive rebounds, with four different players matching or exceeding the total team output against Oklahoma.

The Jayhawks are not just one quick fix away from getting right again. But their recent emphasis on playing with more effort and energy could be the catalyst to improving several areas with one adjustment.
Marquee Matchup
KU big man David McCormack vs. TCU center Kevin Samuel
With 20 points and eight rebounds in the first meeting, including three boards on the offensive glass, McCormack was one of several Jayhawks who played well against TCU a few weeks ago.
But more important than the KU junior's point total, tough play in the paint or 7-of-9 shooting was the fact that most of his production came at the expense of TCU big man Kevin Samuel.
Samuel was able to get eight points on 4-of-5 shooting, but he also picked up four fouls, played just 18 minutes and did not record a single rebound, assist, block or steal.
That is a significant accomplishment given Samuel's track record.
The 6-foot-11 junior is TCU's all-time leader in blocked shots (193) and he leads the Big 12 and ranks 24th nationally at 2.2 blocks per game this season.
Samuel ranks second in the Big 12 with a 9.3 rebounds-per-game average that includes 3.7 offensive boards per outing.
He is one of just seven players in Division I to average nine points, nine rebounds and two blocks per game.
So there's little doubt that the quiet game against Kansas was one that stuck in Samuel's mind.
While it may be unlikely for McCormack to repeat the feat in this one, that should be the goal. And if it is, it will go a long way toward keeping McCormack — and perhaps senior forward Mitch Lightfoot — locked in defensively and playing with the kind of effort and energy the coaching staff is hoping to see from everyone in the Kansas lineup.
Jayhawk Pulse
Given the amount of success the Jayhawks have had during Self's 18 seasons in charge, it has been somewhat rare for conference foes to face Kansas on the heels of a loss.
But it's been almost unheard of for the same team to do it twice in one season. That's the position TCU finds itself in tonight, facing the Jayhawks on the back end of a three-game losing skid less than a month after catching KU after its 25-point home loss to Texas.
The Jayhawks' response was memorable in the first meeting with the Frogs. In addition to nearly winning by 30 on the road, Kansas delivered its best offensive game of the season.
"It was probably about as good of ball and body movement as we've had," Self said Wednesday.
And that was without starting point guard Marcus Garrett in the lineup.
"The last time we played TCU, the offense looked great," Garrett said this week of KU's 56.5% shooting (40% from 3-point range) and 21 assists on 35 field goals against the Frogs in Fort Worth, Texas.

When asked how much of that was because of the game played by redshirt freshman Dajuan Harris in his place, Garrett said simply, "a lot of it."
"He was getting downhill, finding open teammates, defending; he was creating for others that game," Garrett said.
While there has been talk about changing up the lineup and looking at giving some of KU's reserves a little more playing time in the coming weeks, Self said he has not considered Harris' solid play against TCU the first time when trying to determine what to do with the lineup this time around.
"What I like to (consider) is what's best for our team over time," Self said. "I've never been a guy (who says) let's start this guy this game and start somebody else another game because of matchups. And I really haven't been (into) benching guys or anything like that. How somebody performed last game will not have any bearing on how we start a game, but it may have a big bearing on how we attack or how we don't attack during the game."
Kansas leads the all-time series with TCU, 21-2, and is 8-0 all-time against the Horned Frogs inside Allen Fieldhouse. Self is 25-5 all-time against TCU (18-2 at Kansas) and TCU coach Jamie Dixon is 1-9 in his career against the Jayhawks.
TCU has missed its last three games because of COVID-19 issues in the program, including Dixon testing positive. So the Frogs figure to be both well rested and a little rusty when they hit the Allen Fieldhouse floor.
According to a report from the Fort Worth Star-Telegram, the Horned Frogs are expecting to have all but one player (sophomore guard Francisco Farabello) available for tonight's game.
Probable Starters
No. 15 Kansas
G – Marcus Garrett, 6-5, 195, Sr.
G – Ochai Agbaji, 6-5, 210, Jr.
G – Christian Braun, 6-6, 205, Soph.
G – Jalen Wilson, 6-7, 190, RS-Fr.
F – David McCormack, 6-10, 265, Jr.
TCU
G – Mike Miles, 6-2, 195, Fr.
G – RJ Nembhard, 6-5, 195, Jr.
G – PJ Fuller, 6-4, 175, Soph.
F – Kevin Easley Jr., 6-7, 225, Soph.
F – Kevin Samuel, 6-11, 255, Jr.
More like this story on KUsports.com