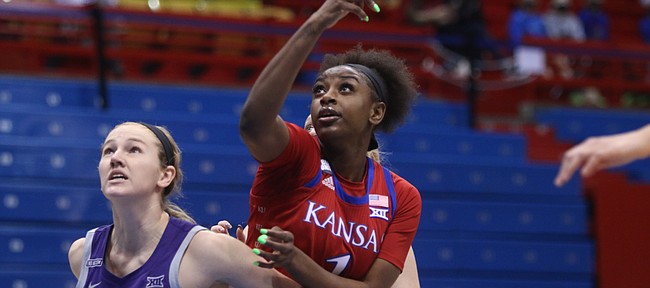 Late-game execution and a whole lot of free throws keyed a Sunflower Showdown victory for the Kansas women's basketball team Saturday at Allen Fieldhouse.
Although Jayhawks sophomore guard Holly Kersgieter could hear Kansas State coach Jeff Mittie imploring his team in the final minutes to keep the ball away from both Kersgieter and Zakiyah Franklin, KU kept finding them. The duo combined to go 12-for-14 at the foul line in crunch time, setting up a 70-63 Kansas win.
"It's definitely a pressure situation," said Kersgieter, who scored 17 points, "and I think we handled it really well."
Offensively, KU (6-5 overall, 2-3 Big 12) spent most of the game's final four minutes at the charity stripe, where sophomore guards Kersgieter and Franklin (12 points, four assists) took turns knocking down free throws. Kersgieter went 6-for-8, while Franklin was a perfect 6-for-6.
Kersgieter actually missed a free throw for the first time this season when she misfired on a pair with 11 seconds to go and KU up five. But Aniya Thomas hit her two foul shots in the final seconds, making KU 14-for-16 on its freebies in the fourth and 25-for-28 overall in the victory.
KU senior forward Tina Stephens' career-high 22 points also played a large part in the Jayhawks keeping K-State (5-6, 0-4) winless in Big 12 play.
"It starts with Tina handled the game mentally very well," KU head coach Brandon Schneider said, explaining K-State's zone defense provided Stephens with many chances to score. "Tina didn't let it get to her mentally. She just stepped into shots and shot them with confidence."
Stephens, who finished 10-for-17 from the field and 2-for-3 on 3-pointers, eclipsed 20 points for the first time this season.
"Really I was just trying to shoot, get myself back in a rhythm, get that confidence," Stephens said. "I was just trying to do whatever I could to help my team out. Whatever open look I got I kind of just wanted to give it a shot."
KU led, 47-45, after three quarters, once K-State center Akoya Lee (14 points, 12 rebounds) closed the period by drawing Chisom Ajekwu's fourth foul and hitting two free throws.
Despite how the third quarter concluded, that was when the Jayhawks finally got going offensively and seized some momentum.
Trailing by nine early in the second half, after K-State's Christianna Carr (game-high 24 points) opened the third quarter with a layup, KU recovered quickly and capitalized on 3-pointers from Stephens and Julie Brosseau, as well as fastbreak baskets by Thomas and Kersgieter.
KU limited K-State to 3-for-11 shooting in the third, and outscored its rivals, 25-16, in the period.
"We wanted to make up for the last couple games that we had," Stephens said of KU's improved play in the rivalry game.
KU trailed by as many as 14 before halftime. But the Jayhawks put together a strong finish to the second quarter before the Wildcats had a chance to run away.
Stephens and freshman guard Mia Vuksic combined for a 9-0 burst in less than two minutes just ahead of intermission. Stephens, who scored eight of KU's 15 points in the second quarter, ignited the much needed spurt with a jumper and a layup. Vuksic followed that with a pair of successful free throws and a 3-pointer.
On the strength of that run, KU trailed by a much more manageable seven points at halftime, despite only scoring 22 points in the first half, when the Jayhawks shot 33% from the floor.
A rough start in the first quarter led to KU being in such a tough spot. The Jayhawks went 2-for-12 in the opening 10 minutes, leading to a 16-7 disadvantage entering the second quarter.
Schneider credited assistant coach Terry Nooner, who played for the KU men's team form 1997-2000, with delivering some inspiration in the first quarter, amid the rough start.
"He really got after our team in a timeout about our intensity level and our effort, and I thought it was warranted and everything he said was correct," Schneider said. "And our team responded. I thought we played really hard for the next three quarters."
KU is scheduled to play next at Oklahoma on Wednesday.