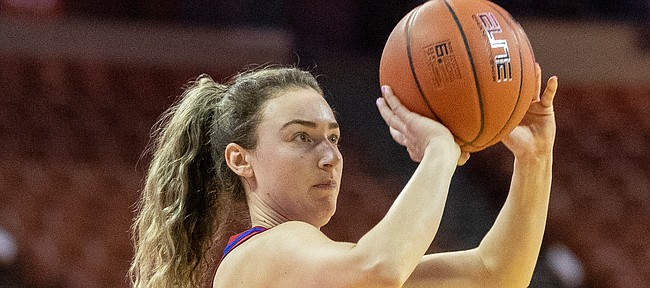 After a home loss on Wednesday, the Kansas women's basketball team will try to turn it around today against rival Kansas State — and the Jayhawks might have found another deep threat to help them out.
Kansas currently ranks near the bottom of the Big 12 in 3-point shooting, but graduate transfer Julie Brosseau is coming off her best shooting performance yet in a KU uniform. The 5-foot-9 guard from Quebec, who played previously at Utah and Maine, shot 4 of 9 from 3-point range in KU's loss to Texas Tech on Wednesday.
"Julie's a very high-IQ player," KU head coach Brandon Schneider said. "Made some big shots to keep us in it."
Brosseau's 14-point outing off the bench led the Jayhawks, and it was her biggest scoring night in Big 12 play to date. Since KU returned to action on Jan. 14, she's been averaging 11.7 points and has gone 9 for 27 from long range.
"I just kept shooting no matter what, because I haven't been shooting well in the past this season," Brosseau said. "Whether it goes in or not, I know my teammates and my coaches are behind me and giving me confidence to shoot the next one."
Thus far in Big 12 play, KU is shooting 26 for 89 (29.2%) from 3-point range, which ranks ninth in the league — ahead of only Texas Tech (28.4%).
Kansas (5-5 overall, 1-3 Big 12) tips off against Kansas State (5-5, 0-3) at 4 p.m. today at Allen Fieldhouse.
Quick note: With the return of freshman Ioanna Chatzileonti to the lineup after a two-game absence, the Jayhawks are getting closer to having their full rotation available.
The 6-foot-2 forward, who was a starter in Kansas' first seven games, was playing restricted minutes on Wednesday, Schneider said. She provided 7 points and six rebounds in a little less than 16 minutes off the bench against Texas Tech.
"She's done very, very little and is still in the middle of kind of a return-to-play protocol," Schneider said. "So we'll obviously have to be careful with not only how much she practices, but how much she participates."
KU was without both Chatzileonti and senior forward Tina Stephens on Jan. 14, when the Jayhawks were at Texas for their first game of 2021. Stephens came off the bench at TCU and then started versus Texas Tech.
Streaking: Although they've only been able to play three Big 12 games so far this season, the Wildcats have been a much better 3-point-shooting team than KU so far.
Led by Christianna Carr's 9-for-18 rate, K-State has made 22 of 52 shots (42.3%) from behind the arc versus league foes, a percentage that led the conference entering the weekend.
Carr, a 6-foot-1 junior, is 29 for 68 (42.6%) from 3-point range this season and is averaging 13 points per game in conference action.
Slumping: The Wildcats are the only winless team in Big 12 play. And it has proven difficult for them to get on track, in part because they lost even more of their schedule to COVID-19 protocols than KU did. When Kansas State lost, 65-56, at West Virginia on Wednesday, it was the Wildcats' first game in more than four weeks. They hadn't played since Dec. 21, when they lost to Texas.
Both KU and K-State enter the Sunflower Showdown at .500 for the season and on a three-game losing skid.