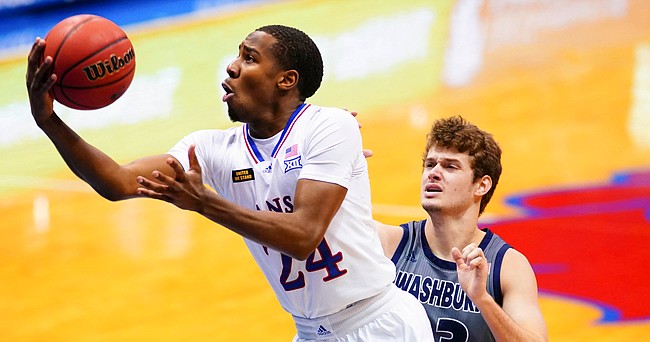 Kansas basketball coach Bill Self said Tuesday that freshman guard Bryce Thompson's recovery from surgery on a broken finger on his right hand has gone well but that no timetable had been set for Thompson's return.
"We did a check-up today on him," Self said Tuesday on "Hawk Talk" with Brian Hanni. "And everything was favorable, but I think it's too early to tell what's going on."
Thompson, who missed three games with a lower back injury prior to his return to action against Oklahoma State on Jan. 12, broke his right index finger during a scramble for a loose ball late in the game against the Cowboys.
Self said then that Thompson could return to light shooting drills two or three weeks after surgery and that his return to the lineup could be anywhere from a month to seven weeks out.
His comments on Tuesday night seemed to reiterate that the Jayhawks are planning on getting the five-star freshman back at some point this season.
"I think his attitude will allow him to come back and finish the season strong," Self said. "He's been terrific."
That attitude, along with his competitive nature and all-around skills, positioned Thompson to become KU's sixth man of sorts by the end of 2020.
In 10 appearances this season, including one start, Thompson is averaging 5.1 points, 1.3 rebounds and 1.2 assists in 17.1 minutes per game while shooting 35.3% from the floor, 25% from 3-point range and 71% at the free throw line.
Those numbers include just 37 total minutes in just three games of Big 12 competition.
"But he hasn't had a chance to play," Self said, noting that the 6-foot-5 combo guard has made just one basket against Big 12 foes this season. "He (didn't) get a chance to play a lot in the first two games and he hasn't played since, really."
While Thompson's second prolonged absence of his freshman season could bring a fair amount of rust to his game, Self said he had faith that the freshman guard's mental approach to his rehab and his desire to stay engaged in what his team is doing would give him a chance to make a positive impact upon his return.

"He'll maintain a great attitude," Self said. "If there's one guy who could handle a setback, even though it could be devastating to them, it would be Bryce. Because he'll find a way to see the glass half full."
Over the weekend, a few days after surgery, Thompson provided a glimpse of his positivity with a Tweet that read, "Surgery was a success. Can't wait to get back. Thank you all for the prayers."