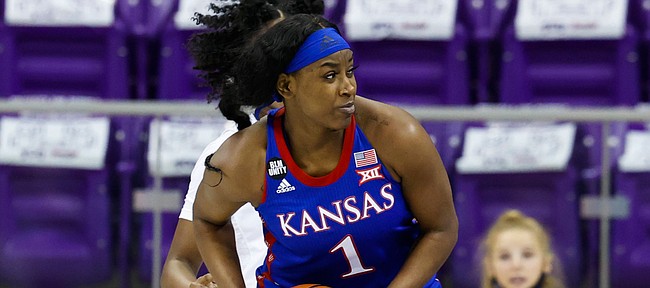 Although the Kansas women's basketball team ultimately came up short in an overtime road loss at TCU earlier this week, the return of senior forward Tina Stephens provided the Jayhawks with some optimism.
Stephens, a starter in the first seven games, came back in a reserve role after sitting out for the first time this season in a road defeat at Texas three days earlier, helping KU's lineup look a little more normal.
The 6-foot-2 veteran from Palmetto, Fla., provided 10 points on 4-for-6 shooting, as well as five rebounds in 22 minutes during the 81-78 OT defeat.
"It helped a lot," KU coach Brandon Schneider said of getting Stephens back. "And she was on limited minutes. But she should be. She's been out a long time and hasn't practiced much. Would've liked to play her a little bit less to be quite honest. But she wanted to play in overtime obviously."
The Jayhawks, who only had eight players available in their loss at Texas on Jan. 14, obviously were thrilled to welcome Stephens back.
"Tina's a big piece to this team," KU sophomore Zakiyah Franklin said, "and it definitely helped as far as rotation wise and getting a rest and getting back in there."
What: Kansas (5-4 overall, 1-2 Big 12) vs. Texas Tech (7-6, 2-5)
When: 7 p.m. Wednesday, ESPN+
Where: Allen Fieldhouse
Quick Note: Before Schneider wrapped up his postgame video press conference on Sunday, he made sure to bring up the showing from sophomore center Chisom Ajekwu in just the second start of her college career.
The coach said he wanted to celebrate Ajekwu's performance after she set new career highs with 10 points and eight rebounds at TCU.
Before fouling out in overtime, the former Lawrence High star played 28 minutes — far more than KU typically asks of her.
"For a young lady who's played really limited minutes in her time," Schneider said, "I was really proud of her today."
Ajekwu averaged 2.1 minutes while only appearing in five games as a freshman, and she only played a little more than two minutes in a pair of nonconference games earlier this season before getting inserted into the starting lineup at Texas this past week.
Streaking: Though it's not technically a streak, the Red Raiders arrive in Lawrence riding a wave of momentum after knocking off Texas, 74-66, on Sunday.
The Texas Tech victory put an end to its losing streak in Big 12 play, spanning its previous five conference games.
The Red Raiders are led by senior guard Vivian Gray, who has scored 23 or more points in four consecutive games. Gray also has scored at least 23 in each of her four career games versus KU — those came in an Oklahoma State uniform, before Gray transferred to Tech.
Slumping: KU sophomore guard Holly Kersgieter leads the Jayhawks in scoring (17.1 points per game) and has proven to be the team's best 3-point shooter (16-for-41) on the season. But the 5-10 sophomore heads into the Jayhawks' first home game since Dec. 29 on a little bit of a shooting skid.
In KU's three most recent games, Kersgieter shot 3-for-15 (20%) from 3-point range. As a team the Jayhawks connected on only seven of 29 3-pointers (24.1%) at TCU.
On the year, KU is shooting 30.1% on 3-pointers, which ranked ninth in the Big 12 entering the week.
Last game's starters
Kansas
G — Julie Brosseau, 5-9, gr.
G — Holly Kersgieter, 5-10, so.
G — Zakiyah Franklin, 5-7, so.
G — Mia Vuksic, 5-10, fr.
C — Chisom Ajekwu, 6-3, so.
Texas Tech
G — Maka Jackson, 5-8, sr.
G — Naje Murray, 5-6, jr.
G — Lexi Gordon, 6-0 sr.
F — Vivian Gray, 6-1, sr.
C — Khadija Faye, 6-4, fr.